Welcome to the Skull Session.
Cade Stover is a beast.
Cade Stover chip pic.twitter.com/9QFUrrugdr

— Cole Cubelic (@colecubelic) September 25, 2023
Let's have a good Tuesday, shall we?
 WHEN IT MATTERED MOST. Ohio State's 65-yard, 85-second drive to come back and beat Notre Dame in South Bend, Indiana, is the talk of the town this week – and deservedly so.
Still, I believe four plays deserve as much attention from Ohio State fans as the completions from Kyle McCord, the catches from Emeka Egbuka, Cade Stover, Julian Fleming and Marvin Harrison Jr., and the touchdown run from Chip Trayanum that put the Buckeyes over the Irish in the top-10 matchup.
Here is a look at all of them (in order of occurrence):
Cody Simon's Fourth-Down Stop
In Jim Knowles' 4-2-5 scheme, veteran linebacker Cody Simon doesn't receive many defensive reps behind Tommy Eichenberg and Steele Chambers. However, when Ohio State faces a team with a stout offensive line and talented running back room, the 6-foot-2, 235-pound hammer becomes a weapon for the Buckeyes. That was the case on Saturday, as Notre Dame often looked to pound the rock with Audric Estimé and Jeremiyah Love.
According to Dan Hope's world-renowned Snap Counts, Simon received 15 snaps behind Eichenberg (65) and Chambers (54). None were more important than when Notre Dame faced 4th-and-1 at the Ohio State 18-yard line. Simon, who was in pass coverage, knocked Irish quarterback Sam Hartman out of bounds before the first-down marker and secured a turnover on downs for the Buckeyes.
Lathan Ransom and Sonny Styles Lay the Wood
One fourth-down stop! Ah ah ah. Two fourth-down stops! Ah ah ah.
On Notre Dame's first drive of the second half, the Irish marched down the field and reached the Ohio State 31-yard line. Facing another 4th-and-1, Notre Dame head coach Marcus Freeman and offensive coordinator Gerad Parker elected to rush to the line of scrimmage. Hartman snapped the ball and ran left. Then he hit a brick wall – Big Ten Defensive Player of the Week Lathan Ransom and Sonny Styles (a.k.a. Him).
JT Tuimoloau Would Not Be Denied
This one is a two-parter.
On Notre Dame's second-to-last offensive possession (the final possession was with one second left), JT Tuimoloau activated his clutch gene and helped the defense deliver a crucial stop for the Buckeyes.
One second after Notre Dame snapped the ball to start the drive, Tuimoloau exploded past his blocker and into the backfield, securing a 5-yard tackle for loss that knocked the Irish offense off-schedule.
On the next play, Notre Dame attempted a screen pass that Tuimoloau read (almost) perfectly. After an initial rush, the 6-foot-4, 269-pound defense end backpedaled in the receiver's direction and deflected Hartman's pass, nearly coming up with an interception. Had Tuimoloau failed to get his hand on the football, Notre Dame "may have had us," Knowles admitted after the game.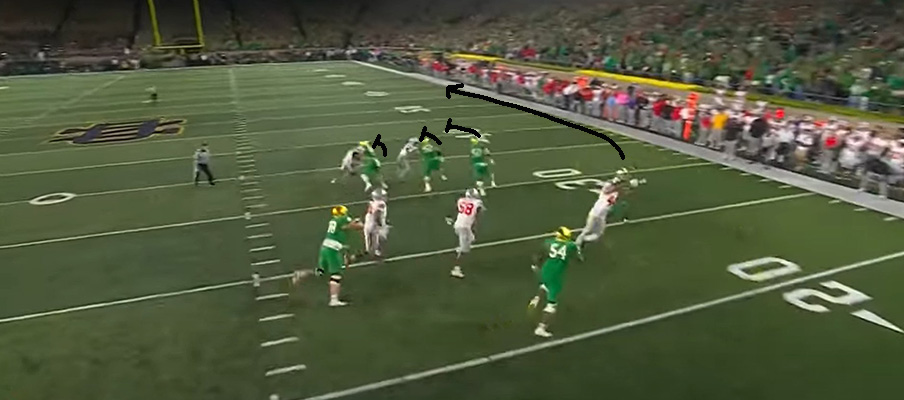 They had 'em.
They really did.
But JT Tuimoloau would not be denied.
"JT made a couple of great plays," Knowles said after the game. "You need the guys who will make the big-time plays at the end in crunch situations."
 "THEY WERE A GREAT TEAM." When Marcus Freeman met with the media on Monday, the second-year head coach had an opening statement that lasted over three minutes. His initial comments included an assessment of Notre Dame's performance in its top-10 matchup with Ohio State.
As was the case on Saturday, Freeman was disappointed that the Irish couldn't defeat the Buckeyes. Still, he complimented an Ohio State team he believes executed "when it mattered most." He attributed that to Ohio State's coaches and the resilience of the program's talented players.
"The outcome wasn't what we wanted. Great teams find a way to execute when it matters the most. That's what great teams do. We didn't. We needed to execute at the end. We didn't. Ohio State did. We have to learn from the critical mistakes we made in that game as a football program and use it to help us improve as we move forward. We made too many mistakes that ended up costing us a victory versus a great opponent like Ohio State. They were a great team. We had chances to win that game. They executed, and we didn't when it mattered the most – credit to them and their coaching staff. But this game didn't come down to one play. There were multiple plays all over the game that we have to learn from. We have to be better."
The more I hear him speak, the more I like Marcus Freeman. He seems a good man and a good coach. Is it bad that I like him? I don't know.
Regardless, I am thankful Freeman and his staff were smooth-brained on Saturday and did not realize there were 10 men on the field for the final two plays of the game, which made an Ohio State victory all but guaranteed. That was pretty cool of them!
As Notre Dame's season continues, I expect the Irish to perform well. They have a tough test again this weekend against Duke. Still, I like them to beat USC on Oct. 14 because Alex Grinch is a no-good, very-bad defensive coordinator, and I would not mind at all – like, at all – if the Irish handed Dabo Swinney and Clemson their third loss of the season on Nov. 4.
All of that said, it wouldn't surprise me to see Freeman and Co. in the College Football Playoff hunt when the season ends. Did someone say Ohio State-Notre Dame rematch in the Rose Bowl?
 PATE STATE. Another week, another Josh Pate analysis of the Buckeyes. This week, the owner, general manager and head coach of Pate State broke down Ohio State's win over Notre Dame in detail. He also commented on Ryan Day's emotional outpour in his interviews after the win, which I believe is worth a feature in the Tuesday Skull Session.
First, here is Pate's complete breakdown:
And more specifically, here is Pate's commentary of Day sounding off on Holtz and others who have doubted the Buckeyes' toughness over the past few seasons, namely since Ohio State's loss to Michigan in the 2021 regular-season finale:
Ryan Day has approval from the people he needs pic.twitter.com/ql0Q1jRbyu

— Josh Pate (@LateKickJosh) September 25, 2023
"When they won that game, and Ryan Day decided to go full 'Attitude Era,' WWF-style promo on the world targeting Lou Holtz, I didn't see it as him targeting Lou Holtz. Lou Holtz said some things last week, but it might as well have been anyone because all Lou Holtz was the temporary face of some long-standing criticism. People have criticized Ohio State's toughness for a little while. People have criticized their mental resolve for a little while. It's an indirect or a direct shot at Ryan Day. It's obvious he's heard that stuff.

"Now, when Ryan Day said what he said, I never took it as he's a dude who has relied on external factors this entire time for motivation. I don't think that's the way he's wired. What I do think is he's human, and at some point, you cannot ignore that stuff anymore. He was real (on Saturday). It was like he temporarily got cut open, and the real him bled out. The guy (Ohio State's players and coaches see) Sunday to Friday, you could see (on Saturday). If I were him, I couldn't care less if you like it or not. As Meemaw once said, 'Do not coach to please your enemies.'

"I don't think a single player was turned off or will be turned off by his comments. (His players will) go to the cliff and over the cliff for him. ... That's who he's accountable to his locker room, his organization. That's who he's accountable to. I stood in the back of his press conference (on Saturday) with an ear-to-ear smile because I liked to see it publicly.

"I also liked that as a guy who has previously had versions of Ohio State that felt like they had to score 45 and win some of these big games, they scored 17 and won on the road against an opponent with a top-10 offense. That's the story. We got the score at the very end. Yes, we have that. We got Kyle McCord's coming of age. Yes, we have that. (Ohio State has) a really good defense. They are a really good defense. What you saw was a fight at the line of scrimmage. You saw hard-nosed defense needed to win a game, and Ohio State was the team that checked those boxes more thoroughly."
As always, Pate smashed the nail on the head.
Holtz was an avatar that represented the countless people, including Ohio State fans, who have called out Day and the Buckeyes for their alleged lack of emotional, mental and physical toughness to beat Michigan, win Big Ten championships and win national championships.
After the Buckeyes' dramatic win over the Irish, Day's often stoic demeanor was cut open, unleashing the "real," more emotional version of the Ohio State head coach. Ohio State associate AD Jerry Emig did his best to keep that version contained (in a positive, well-intentioned way), which prompted Day to respond, "Watch this."
I hope Ohio State's come-from-behind win and Day's "Ohio Against the World" speech have created the foundation of the Buckeyes' identity in 2023.
I don't mean that Ohio State should rebrand to smashmouth football. Goodness, no. I mean that Ohio State should make their top-10 win over Notre Dame a catalyst to – and here's a phrase full of buzzwords – be the best version of themselves for the eight remaining Saturdays of the 2023 season.
With a top-10 offense and defense in the NCAA already, there's no telling what the best version of Ohio State can be.
That's what excites me the most.
 THE LOGO! The heart of the Ohio State football bye week is the perfect time to remind Eleven Warriors readers that Ohio State does, in fact, have a men's basketball team. This season, the Basketbucks will wear a commemorative patch that celebrates the 125-year history of the program.
Celebrating 125 years of Ohio State Mens Basketball

: https://t.co/TqqLYeiEAa pic.twitter.com/Vx1T8pIadU

— Ohio State Hoops (@OhioStateHoops) September 25, 2023
For the 125th year of Ohio State Basketball, the program will celebrate its milestones and former players throughout the season. The team will wear a commemorative patch on its uniforms and the program will honor different eras at various games throughout the year. #Team125 pic.twitter.com/6cyZsLvIew

— Ohio State Hoops (@OhioStateHoops) September 25, 2023
According to an Ohio State press release, the men's basketball program started in 1898-99. The Buckeyes have won 1,766 games over the past 124 seasons and have also racked up 20 Big Ten regular-season titles, four Big Ten Tournament titles, 30 NCAA Tournament appearances, 10 Final Fours and the 1960 NCAA Championship.
Ohio State went 16-19 last season with a 5-15 mark in Big Ten competition. The Buckeyes made a run to the Big Ten Tournament semifinals before Zach Edey and Purdue knocked them out. Ohio State did not appear in the NCAA Tournament or NIT.
This fall, Holtmann and Co. will look to bounce back from the porous season behind Bruce Thornton, Felix Okpara, Roddy Gayle Jr. and a talented cast of freshmen that features four-stars Taison Chatman, Devin Royal and Scotty Middleton.
"I am really excited about the potential of this group," Holtmann said at Ohio State's preseason media day on Monday. "I'm excited about what this group can grow into and be. Health is always an important part of that. There are a lot of guys I think have the ability to take the next step as players. If our team takes steps in terms of those areas we have identified that we have to improve in, I am excited about what this group can be."
 SONG OF THE DAY. "Pour Some Sugar On Me" by Def Leppard.
 CUT TO THE CHASE. With Pac-12 unsettled, CFP managers meet to make difficult decision on number of reserved bids... David McCallum, star of hit TV series "The Man From U.N.C.L.E." and "NCIS," dies at 90... Longest, fastest, zaniest: Guinness World Records celebrates the "crazy, fun, inspiring"... Powerball jackpot fourth largest in game's history... 25 of the best one-hit wonder tunes.