Don't look now, but it's almost February.
That means Ohio State's spring practices are getting closer and closer.
relentless effort #GoBucks pic.twitter.com/ByFOWB3kzh

— Ohio State Football (@OhioStateFB) January 27, 2023
Let's have a good Monday, shall we?
 A HOME RUN HIRE. Before the weekend started on Friday, Ohio State football announced former linebacker James Laurinaitis would return to the program as a graduate assistant – news that put a massive smile on my face.
Back to the Brotherhood pic.twitter.com/ZC0TeWS8tC

— Ohio State Football (@OhioStateFB) January 27, 2023
From 2018-22, my favorite sports radio show was Bishop and Laurinaitis (now Bishop and Friends and still phenomenal) on 97.1 The Fan in Columbus, which featured former Eleven Dubcast co-host Beau Bishop and Laurinaitis.
Whether the show was live or in podcast form, I listened religiously from Monday to Friday. I loved hearing the duo break down Ohio State athletics, especially the football team, mainly because of Laurinaitis' ability to make his limitless football knowledge digestible for my still-developing, college-aged brain.
Honestly, I still have Laurinaitis to thank for most of the football knowledge stored in my still-developing, young-professional-aged brain. Spend only a few minutes listening to him talk about the Buckeyes (or any football, for that matter), and you'll notice the dude's understanding of the sport is deeeeeeep.
And it's no wonder why. 
Laurinaitis is one of only eight players in Ohio State history to earn All-America honors three times. He also won the Bronko Nagurski Award and the Butkus Award during his four seasons in Columbus. In 2009, Laurinaitis was drafted by the then-St. Louis Rams and became the franchise's all-time tackle leader with 852 across seven seasons.
Welcome home, @JLaurinaitis55!

Thought of this Paul Keels soundbite when we saw that the @OhioStAthletics Hall of Famer is returning to @OhioStateFB. pic.twitter.com/3gfz5kUF38

— Ohio State on BTN (@OhioStateOnBTN) January 27, 2023
Now in 2023, Laurinaitis is coming home to Columbus. He brings with him all of the knowledge and wisdom acquired at Ohio State, in the NFL, as a broadcaster for 97.1 and the Big Ten Network and as a GA for Marcus Freeman at Notre Dame. It's also important to note that the knowledge and wisdom gathered at Ohio State includes knowing how to beat Michigan, as he has four pairs of Gold Pants from his time as a Buckeye.
All of that is incredibly valuable and makes Laurinaitis a home run hire for Day. I can't wait to see what becomes of him during his second stint at Ohio State – this time wearing a headset instead of a helmet.
 OHIO STATE OF WOE. It was a rough week for Ohio State hoops, as the men's and women's basketball teams combined for a 0-5 record to close out the month of January. Not great, Bob!
When the men's team had only lost three straight a few weeks back, I said I wasn't ready to abandon ship on them yet. At the time, there was still a lot to like about the Buckeyes, namely the ascension of Brice Sensabaugh, the continued growth of Bruce Thornton and a relatively easy schedule from that point forward.
In other words, this was me: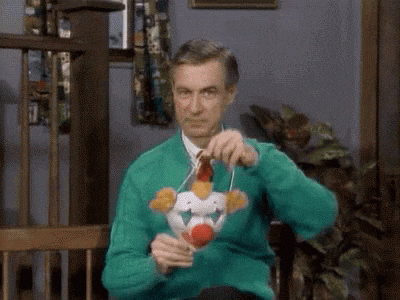 Ohio State lost two more after that (extending its losing streak to five), beat Iowa and then lost another two games – both in the last seven days. The first was to Illinois, 69-60, on Tuesday in a much more one-sided contest than the final score would indicate. They followed up that performance with an 86-70 loss to Indiana in primetime on Saturday.

It pains me to say this, but with those heartbreaking defeats, I'm ready to abandon ship on this year's Buckeyes. At 11-10 overall and a 3-7 record in the Big Ten, Ohio State needs to go on a big winning streak to salvage a trip to the NCAA Tournament. That's not looking likely as it stands today.
The Basketbucks are looking like a team headed to the NIT. Maybe winning that tournament can build some momentum for the program because I'm not sure what else would at this point. Possibly landing Bronny James?
As for the women's team, they are now on a losing streak of three games, which is the same length as it was for the men's team when I wrote about their future. However, while the men's team failed to meet my expectations, I don't think the same will be true about Kevin McGuff's squad.
McGuff said after Sunday's loss to Purdue that star guard Jacy Sheldon is now listed as "day to day" instead of "week to week" moving forward and is expected to play soon.
The Buckeye women dropped their third straight loss today. Afterwards I asked Kevin McGuff how close Jacy Sheldon is to returning. Here is his answer @nbc4i @OhioStateWBB pic.twitter.com/6hFFofQuWb

— Whitney Harding (@WhitneyNBC4) January 29, 2023
With Sheldon's return, the Buckeyes will add a leader who averaged 16 points, 3.4 rebounds, 3.2 assists and 6.1 steals in the five games before her injury. Her presence should stop the bleeding just in time for Ohio State to build momentum into the NCAA Tournament, where the team will be expected to make a deep run in March.
 IN THEIR SHOES. In his latest YouTube video, Ohio State walk-on cornerback Andrew Moore showed his viewers a look at what a day in the life of a Buckeye football player looks like during the offseason. Honestly, it's a lot different than I would have expected.
Watch as Moore, Cam Martinez, C.J. Hicks, Jordan Hancock, Steele Chambers, Kojo Antwi, Josh Proctor and many others offer Ohio State fans a glimpse into what day-to-day operations look like for a Buckeye footballer. You might gain a different perspective on the players who make up your favorite team.
 OLYMPIC VILLAGE. On the most recent episode of the Eleven Dubcast, Johnny Ginter and I discussed how Ohio State fans need a third sport to root for beyond football and men's basketball this time of year. That becomes even more true when the Basketbucks are in a down year, as they are now.
While the women's basketball team has made its case as the No. 3 option this year, may I also direct your attention to the No. 5-ranked wrestling team with an 11-1 record?
On Friday, I covered the Buckeyes' 23-15 win over Michigan in Ann Arbor – the program's first road victory over the Wolverines since the 2017-18 season. On Sunday, Ohio State dominated Michigan State, 36-3, at the Covelli Center, completing a sweep of That State Up North in 2022-23.
we call that a Michigan #GoBucks pic.twitter.com/ZKFt6rTYKL

— Ohio State Wrestling (@wrestlingbucks) January 29, 2023
Ohio State has the potential to win the Big Ten and be one of the top teams at the NCAAs in March. The Buckeyes can prove themselves as legit contenders for both titles if they can notch a win over No. 1 Penn State at the Covelli Center on Friday – a match I will cover in person for Eleven Warriors.
With that said, check out the grapplers if you are looking for another team to satisfy your Ohio State fandom while football is in its offseason and the men's basketball team is floundering. And if wrestling isn't your thing, check out Around The Oval later today for updates on the other Buckeye sports at the top of their games this winter.
 SONG OF THE DAY. "Bad, Bad Leroy Brown" by Jim Croce.
 CUT TO THE CHASE. Australia mining company is sorry for losing radioactive device... Japan firm opens whale meat vending machines to push sales... World champion says Rubik's Cube and violin go hand in hand... M&M's says it will replace iconic "spokescandies" mascots with Maya Rudolph... Time is so much weirder than it seems.