So here's the deal folks. Everyone's favorite Skull Session architect and one of the best dudes you could ever hope to meet will likely be out for a few days. If you're a daily reader here or on Twitter, you know Kevin's mom has been extremely sick and the outlook hasn't been great. 
If you're the praying type, Kevin and family could use them. Otherwise, virtual hugs will do. 
I wish you weren't stuck with me today but here we are. 
 HARBAUGH MIGHT FINALLY BE EMBRACING THE RIVALY. Michigan is feeling itself right now after a 2-0 start following beatings of Western Michigan and Washington by a combined score of 78-24. In all sincerity, the Wolverines have looked pretty good thus far. 
As a result, it seems Harbaugh is getting his swag back which is typically measured by how often he drops weird quotes. After the Washington game saw Michigan rely heavily on the run (343 rushing yards to 44 passing yards), prompting fans to question the lack of balance, Jim came strong: 
"There's a lot of ways to travel. Some people choose to travel on the ground, some people by air. George Patton was able to get his job done on the ground. Neil Armstrong through the air. Last Saturday night, we chose to grind it out on the ground and were also able to get our mission accomplished."
Okay, Private.
More notably, at least to Ohio State fans, it seems Jim has finally embraced The Rivalry. He had some forced "What are you doing to beat Ohio State today?" signage in the weight room installed earlier this summer and now it sounds like he's renamed a 9-on-7 drill "Beat Ohio." 
"Years prior, we'd call it a 9-on-7, which is what the drill is," offensive guard Trevor Keegan said. "But this year, we changed it to the 'Beat Ohio' drill.' Now we're blasting music, smelling salts, everything. It's a pretty physical period. We love it."
We'll see if that's enough come November but hey, better late than never to take The Game seriously. Gotta say though, this Harbaugh quote is still probably my favorite. 
Best Harbaugh Q is still this 2016 gem on his specs:

"This style in particular is a tip of the cap, a nod to Woody Hayes, to Michael Douglas in the movie Falling Down, and also a tip of the cap to Malcolm X, in honor of those three men."https://t.co/Jv4cFYmgLC pic.twitter.com/KA7Ob6cgku

— Rachel Bachman (@Bachscore) September 13, 2021
No doubt, Michael Douglas in Falling Down is Harbaugh's doppelganger. 
 CLAY HELTON OUT AT USC. The University of Spoiled Children decided it finally had enough of Clay Helton last night on the heels of Saturday's 42-28 loss to Stanford in the Coliseum. The defeat was USC's most lopsided to an unranked opponent since 2000 and came after a lackluster opening win over San Jose State and against the backdrop of a lot of fans disguised as empty seats in both games. 
By all accounts, Helton is a Grade A human so you hate to see it but it's a miracle he lasted this long. USC athletic director Mike Bohn simply felt like he couldn't wait any longer. 
We are making a change in the leadership of our football program. #FightOn pic.twitter.com/xChL8xi0oG

— Mike Bohn (@USC_mikebohn) September 13, 2021
With Bohn arriving at USC by way of Cincinnati, his ties to Ohio have the internet on fire with rumors of Luke Fickell heading west. Nothing substantial there as of yet but it's fun to think of it happening and UC fans melting down. You can't really overlook that Bohn hired Fickell in the Queen City. 
And hey, if Fickell did bolt at some point, I know a certain head coach down in Jacksonville that might be interested. Or at least some Jacksonville players that would be interested in him leaving. 
This picture has me weak pic.twitter.com/UVSNdH8FZy

— Malik Wright (@Wrightreportt) September 13, 2021
Watch your back, Urbz. 
 KERRY COOMBS TAKING LUMPS LIKE A MOFO. We all saw the carnage on Saturday as Kerry Coombs' defense gave up 505 yards - roughly 300 of that trying to stop the same play - and 35 points in Ohio State's thoroughly unimpressive loss to Oregon. 
Upon further review, it seems the performance was even worse than it felt live, if that's possible. Our very own Kyle Jones broke down the steamer in his latest Film Study which is required reading. 
The folks over at PFF, notably Seth Galina weren't impressed either:
we're gonna talk about it on the pod but the oregon O vs OSU D is the funniest tape in the history of football

— Seth Galina (@pff_seth) September 13, 2021
Ohhh, so those must've been tears of laughter I was shedding watching the debacle. Through two games, here's how your 2021 Ohio State Buckeyes defense stacks up nationally: 
OHIO STATE DEFENSIVE METRICS - NATIONAL RANKINGS

| DEFENSIVE METRIC | NATIONAL RANKING | RESULT THROUGH TWO GAMES |
| --- | --- | --- |
| SCORING DEFENSE | 109 | 33.0 |
| PASS DEFENSE | 77 | 220.5 |
| RUSH DEFENSE | 122 | 236.0 |
| TOTAL DEFENSE | 112 | 456.5 |
| PLAYS ALLOWED 10+ YARDS | 114 | 36 |
Coombs' squad also probably ranks first in the number of snaps taken by rotating third stringers. Coach, please find your best 11-15 dudes and hope for the best. And you might have to try some zone and 2-safety looks with Josh Proctor out for the season. I could also name three defenders in the back seven that shouldn't see the field for the foreseeable future but I'll stop here.
Of course, a head coach being shown the door after two games at a (once) marquee program has only emboldened Ohio State fans that are well over the Kerry Coombs Experience. 
For the record, Coombs seems like a super awesome guy and we know he's a solid recruiter and position coach. As a defensive coordinator though, I understand the argument the Peter Principle is in full effect. 
 OHIO STATE STILL IN THE BETTING MIX TO WIN IT ALL. If I understood Vegas futures well, I wouldn't be writing fill-in skullies so take this with a grain of salt but betonline.ag updated their CFP national title odds yesterday and Ohio State still has the fifth-best odds to win it all.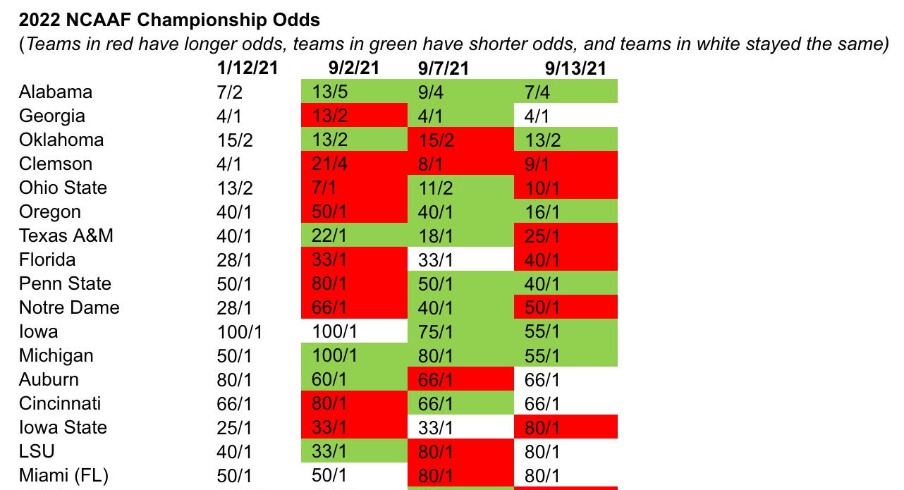 Yeah, I'ma go ahead and tuck my cash back in the ole wallet and keep it moving. 
 TITUS GOES BACK TO OHIO STATE - WITH LEG ODEN AS HIS ESCORT. Mark Titus is obviously a hilarious dude. He's also been really good to 11W over the years, donating auction items as part of our annual charity tailgate, The Eleven Dubgate. 
Hell, he even came to our second annual tailgate with Greg Oden back in 2011 when we weren't yet the megatron you visit today.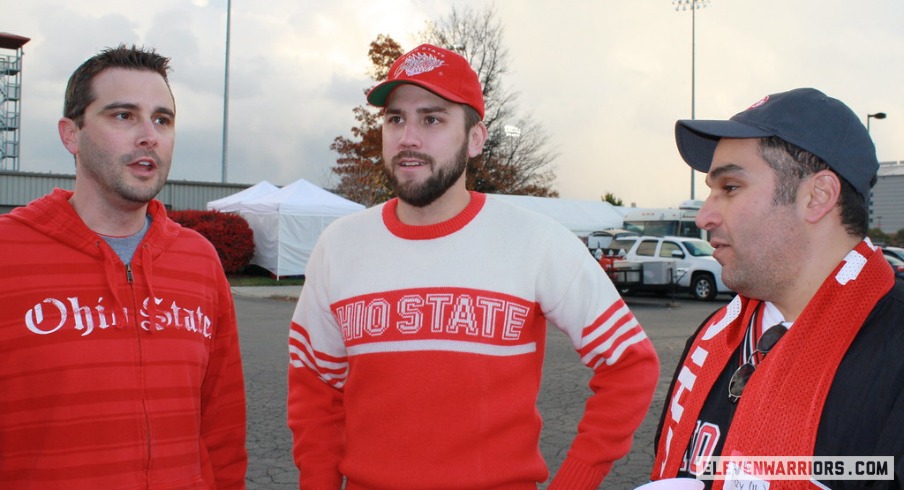 His most generous contribution to our auctions came in the form of some game-worn compression shorts with his autograph on the crotch and he kicked us down a signed, game-worn Final Four sock the following year.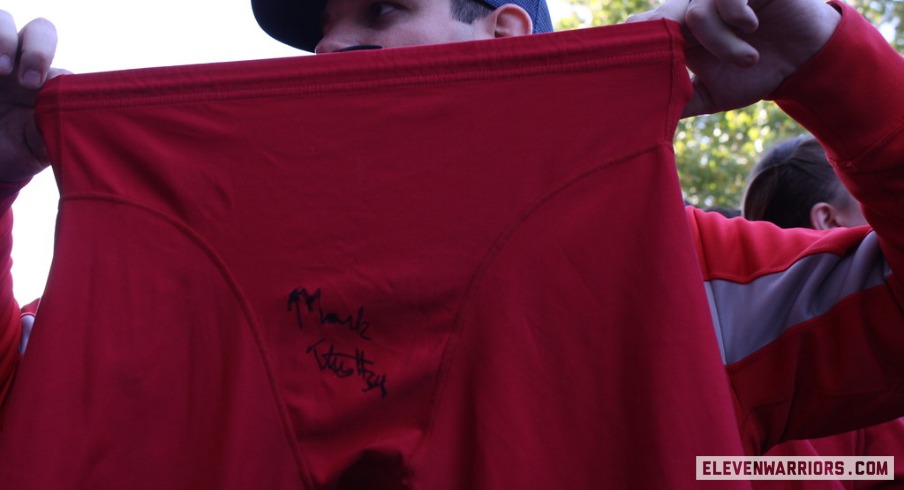 Anyhow, we're big fans of Mark around these parts. Like me, Mark was feeling nostalgic recently as he visited campus over the weekend and recorded this gem with Oden. 
Titus & Greg go back to school @clubtrillion went home to @OhioState and met up with Greg Oden to revisit some of their favorite places and memories from their time there.

Sponsored by @DosEquis #GetADos pic.twitter.com/sTBs7ML9Xp

— FOX College Football (@CFBONFOX) September 13, 2021
 DOTTING THE I. TBDBITL's twitter account released this yesterday and if you missed it, check it out. 
Today, live vicariously through i-dotter Luke Isler. #GoBucks pic.twitter.com/S33b0OkDei

— The Ohio State University Marching Band (@TBDBITL) September 13, 2021
 SONG OF THE DAY. "Soul Planet" by Phish, August 31, 2021 at Shoreline Amphitheatre, Mountainview, California. 
 PEBBLES AND MARBLES. Georgia State head coach Shawn Elliott is a crazy person... Back when Aspercreme had a cool ad campaign... Map showing legality of cannabis across the US and EU... G. Michael's Bistro in German Village shuts it down... Researchers potty-train cows to reduce ammonia emissions... This skull session brought to you by Redemption 10-Year Barrel Proof Rye... Again, send all your positive vibes to 11W Producer Kevin Harrish and family.