Two more sleeps.
Word of the Day: Limpid.
 TEAM TALENT COMPOSITE. If you're a firm follower of the "Stars Matter" doctrine, I have good news, and I have bad news.
The good news is, Ohio State has out-recruited almost everybody to assemble this current roster. The bad news is, I had to use that pesky word "almost".
The Buckeyes check-in at No. 3 in the 247Sports 2021 College Football Team Talent Composite, which effectively means that they have the third most talented roster in college football, according to recruiting rankings.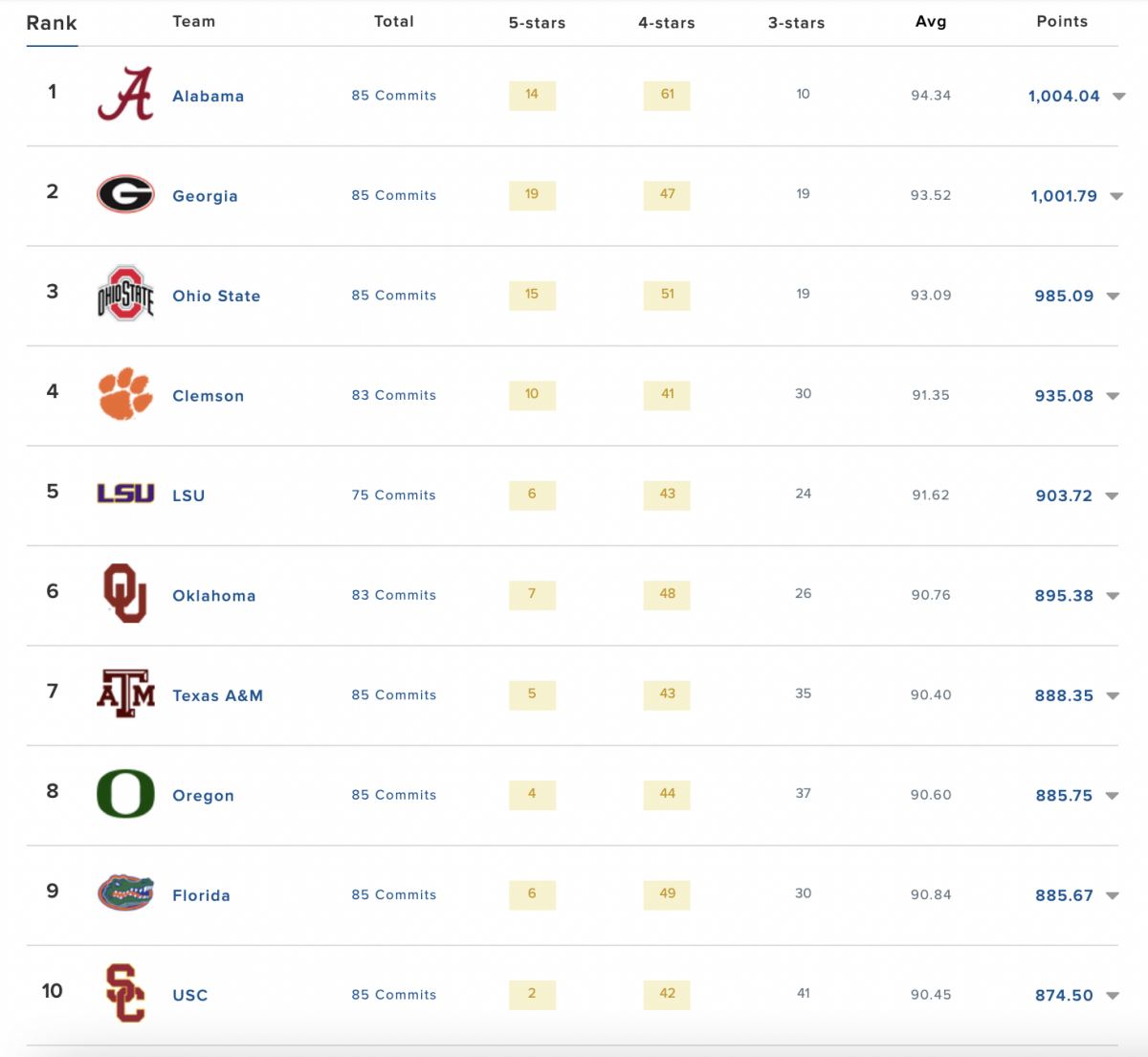 So, Ohio State has nearly as many five-star prospects as three-stars with 77 percent of its roster made up of either four-stars or five-stars. The most insane part about that is there are two teams that are technically even more talented (though, Lord knows Georgia isn't going to do anything with its talent).
Also, if you'd like to know just how far ahead the Buckeyes are over the rest of the Big Ten, the highest-ranked Big Ten team on this list checks in at No. 15. And it's... Michigan.
 FYRE FEST, BUT HIGH SCHOOL FOOTBALL. If you somehow missed what became probably the biggest story in sports the past couple of days, IMG Academy (one of the most talented and most famous high school programs in the country) somehow played a school called "Bishop Sycamore" that does not exist with players that are not in high school. And ESPN broadcast the whole thing on national television.
And somehow, none of that would even make the top-10 list of the craziest parts of this whole situation.
If you want the extensive rundown of what the hell happened here, please go read this piece from my good pal Ben Koo over at Awful Announcing. He did an extremely thorough job digging into and breaking down one of the most insane stories I've ever read, and even talked to a parent of one of the former players.
But here's an extremely brief rundown of some of the craziest parts:
There is very little evidence that this school even exists in any capacity.
There is no such person as "Bishop Sycamore;" it's just arbitrarily named.
This team played two games in a span of three days using the same players, many of which played both sides of the ball.
The vast majority of the players aren't even in high school; they're graduated.
The team claims to have multiple players with Division I offers, but there's absolutely no evidence of that.
There are players on the roster with fake identities.
The team was unable to give the broadcast team covering the game an official roster.
The team does not appear to even have an away uniform or enough helmets for the entire team.
They played IMG Academy last year... And IMG thought it was a good idea to just run it back on national television?
The team appears to have absolutely no money, to the point that they ghosted multiple hotels before getting kicked out of another one.
And then there's all of this.
He wasnt lying about the Netflix part either. Heres the footage of him on his visit to Bishop Sycamores facility pic.twitter.com/WnArcpOF9n

— Zion (@ZionOlojede) August 31, 2021
Reading so many stories on Bishop Sycamore today, so let me share this one They played a defender on Sunday thats originally a 2020 from Florida. Kid has reported over two dozen fake offers. Showed up once to a 7v7 tryout and used a fake ID. His HUDL is also fake. Amazing.

— Andrew Ivins (@Andrew_Ivins) August 30, 2021
This is the listed address of Bishop Sycamore, the school Duncanville is playing on 9/10. It appears to be a duplex. The other address listed on their MaxPreps accounts lists the Franklin University library building as an address. pic.twitter.com/6Zl0KDRbrO

— Texas Football Life (@TXFBLife) August 30, 2021
Imagine that. Bishop Sycamore didn't give the TV guys an accurate or complete roster.

This is the "roster" we were given when they played Archbishop Hoban last week... pic.twitter.com/e51OJCAuOA

— Ryan (@Isley23) August 29, 2021
You know what they say, fake it 'til you make it, or you probably get arrested for fraud, among other things!
 GOOD ANSWER! Chase Young was genetically engineered to do exactly one thing on this Earth, and it's not rushing quarterbacks.
It's doing "fast money" on Family Feud.
The dude almost won the entire game by his damn self (which, to be fair, ain't that different than what he's been doing on the football field his entire life).
 WEAR WHITE. Minnesota's gonna be doing the whole blackout thing when the Buckeyes visit Minnesota on Thursday, so Ohio State's parents want to make sure all Ohio State fans stick out from the crowd.
@OhioStateFB vs. Minnesota - Heard the Gophers are having a black out for the game, so let's wear white! #WhiteOut #BuckeyeNation #Fight pic.twitter.com/NIsNXihMQZ

— FPAOS Family Unit (@fpaos_board) August 30, 2021
If the Buckeyes busted out the white pants, I wouldn't be mad.
 SONG OF THE DAY. "song i made up to stop myself from having a panic attack just now" by Field Medic.
 NOT STICKING TO SPORTS. Parents must pay their son $45,000 for trashing his eclectic VHS porn collection... The epic family feud behind an iconic American weight-loss camp for kids... A jealous college student is accused of a wild plot to murder her lover's wife... Ireland is under attack from sex-crazed spiders 'the size of your hand'...