Welcome to Friday Jr.!
Word of the Day: Desuetude.
 NEW LONG SNAPPER. I'm pleased to inform you all that we have a victor in one of the most important and hotly-contested position battles in all of college football: Senior Bradley Robinson is Ohio State's new starting long snapper.
Matt Barnes said Bradley Robinson is currently in line to be Ohio State's new starting long snapper.

— Dan Hope (@Dan_Hope) October 14, 2020
I'll be honest, I had Roen McCullough pegged as the seemingly-obvious replacement for his older brother Liam, but following a trend you'll notice here, I was dead-ass wrong.
Matt Barnes said Bradley Robinson has been the most consistent long snapper during live periods, which is why he is in line to be the starter over Roen McCullough.

— Dan Hope (@Dan_Hope) October 14, 2020
Congrats, Badley. Now, get us through the without me ever having to even think about your existence and you'll go down as a proper Buckeye legend in my mind. Funny how that works.
 BARGAIN SHOPPING. My wife and wallet informed me that yesterday was Amazon Prime day, so in the spirit of finding incredible bargains, you will not find a better value buy than Ryan Day's current Ohio State contract.
USA Today updated its coaching salary database yesterday, and if you're looking for a good laugh...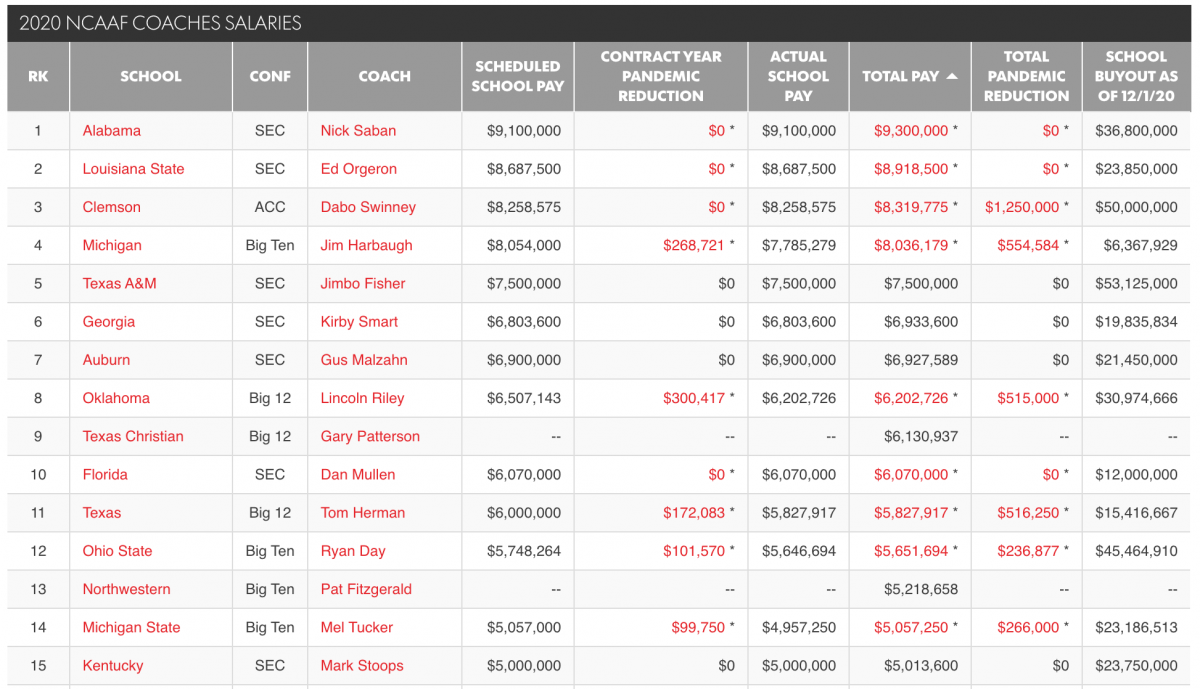 Jim Harbaugh makes over $2 million more to get flayed by Day every year. Ed Orgeron makes $3 million more to start the season 1-2 with a team that may as well might not even send a defense on the field. Tom Herman, Gus Malzahn and Jimbo Fisher all make more money despite years and years of failures and mediocrity.
Ryan Day is going to coach Ohio State to a national championship on a contract that pays him slightly more than Pat Fitzgerald. I think it's safe to say renegotiation is coming in short order.
 GET ON THE TRAIN. Well, well, well. It looks like little Hooker is getting a little bit of confidence, and it's looking like I've got a new hype train to conduct.
It must run in the family \_()_/ pic.twitter.com/quVdHmfnYO

— Eleven Warriors (@11W) October 14, 2020
Safeties coach Matt Barnes says Marcus Hooker is a "true center fielder" at safety with "freakish ball skills."

Um, sounds a little bit like another Hooker who's been in Columbus before.

— Colin Hass-Hill (@chasshill) October 14, 2020
Ignoring the fact that Colin could very well be describing a talented sex worker, I'm getting unreasonably stoked for Marcus Hooker's coming out party. If he's like, 30 percent as good as his brother, Big Ten offense are in trouble.
 CONGRATS, RUTGERS! Ohio State won't play its first game for more than a week, but I'm delighted to inform you that the Buckeyes are already officially bowl eligible.
Good news: all 127 FBS teams playing this fall are immediately bowl eligible as NCAA officially approves no win requirements to play in a bowl, sources told @Stadium. Bad news: only 78 teams are needed to fill 39 bowls this year

— Brett McMurphy (@Brett_McMurphy) October 14, 2020
Crazy that Greg Schiano has Rutgers bowl eligible in his first season as a head coach. He's really turned that program around in a hurry.
 SONG OF THE DAY. "Chop Suey!" by System of a Down.
 NOT STICKING TO SPORTS. A man is jailed for 30 months for repeatedly putting semen in his female co-worker's water bottle, honey jar and keyboard... The (mostly) true story of Vanilla Ice, hip-hop and the American Dream... How the FBI took down Russian spies living in the U.S. and posing as Americans... The miles of tunnels under the United States and Mexico border worth millions of dollars to traffickers...