You've made it all the way to Friday, which means you can certainly make it through the bad part of Friday and onto the very good part of Friday. I have faith in you.
Word of the Day: Largesse.
 FOOTBALL FOR THANKSGIVING. It looks like we could see Big Ten football this fall after all – but very, very late fall.
With parents groups continuing to demand Big Ten commissioner Kevin Warren further explain the reasons for shutting down the 2020 football season and eight Nebraska players filing a lawsuit in an attempt to overturn that decision, the league's football coaches continue working on a revised schedule. 

According to two college football sources familiar with the Big Ten, those talks have generated a new option.

The potential proposal features a Big Ten season of at least eight games, starting Thanksgiving week.

The Journal Sentinel reported earlier this month that league officials were working on a plan to play an eight-game season beginning in January, with the games to be played in indoor facilities.
So if this comes to fruition and Ohio State is sitting at 4-0 when the College Football Playoff selection committee makes its decision... Who says no?
Honestly, there's a non-zero chance the Big Ten could convince the College Football Playoff to delay for about a month anyway, especially because it's extremely unlikely every other conference gets to late December smoothly at this point since we already had multiple games postponed yesterday and we haven't even started playing yet.
So basically, Ohio State's title hopes ain't dead yet, they're just on life support.
 BRAXTON JOINS THE FIGHT. The fight to save the season just gained a new champion.
Braxton Miller just dropped a "CHARG1NG Against The BIG TEN" tee-shirt to help protest the conference's decision to postpone the season, and he's got a damn good reason why he thinks players should get to play.
"If I didn't have the opportunity to play my 5th year after switching positions and the season was cancelled..I wouldn't have experienced some of the best moments of my life. I had the opportunity to show I was able to play wide receiver and get drafted. The way the B1G TEN Conference has handled the postponement of the season lacked transparency, communication, and unprofessionalism. The student-athletes worked too hard for this to be taken away from them!! #WeWantToPlay"
Obviously, there aren't many (any?) quarterbacks making the switch to wide receiver during their final year of eligibility after a debilitating injury the year prior, but there are plenty who can empathize with desperately wanting and needing that one last season – Jonathon Cooper and Justin Hilliard, for example.
If you're interested, you can snag the shirt here, and a percentage of the proceeds will be donated to the Inside Out Youth Organization.
 OPTIMISM ABOUNDS. While we wait to see how football season is going to take shape this fall, it seems athletic directors across the country are unanimously optimistic about college basketball season.
Of 258 athletic directors surveyed, only 3.5 percent were not confident we'd see a basketball regular season and only 2.7 percent were not confident we'd see an NCAA Tournament.
But they've got varying thoughts about what that season's going to look like.
As a fan and blogger of sports, every one of those options sounds just fine and dandy as long as you can provide me with an NCAA Tournament this time, please and thank you.
 WELCOME TO FATHERHOOD. It looks like the one true and good Michael Jordan joined the fatherhood ranks yesterday.
We wish nothing but health, safety and Rimington Trophies for Kason.
 BUY ANDRE WESSON'S STUFF. My new favorite niche website has a new Buckeye seller and I feel an obligation to share it with you all.
If you're in the market for some new Buckeye gear, don't mind it being gently worn by a four-year letter winner and happen to be a size XL, I've got fantastic news – you can empty out Andre Wesson's closet for him.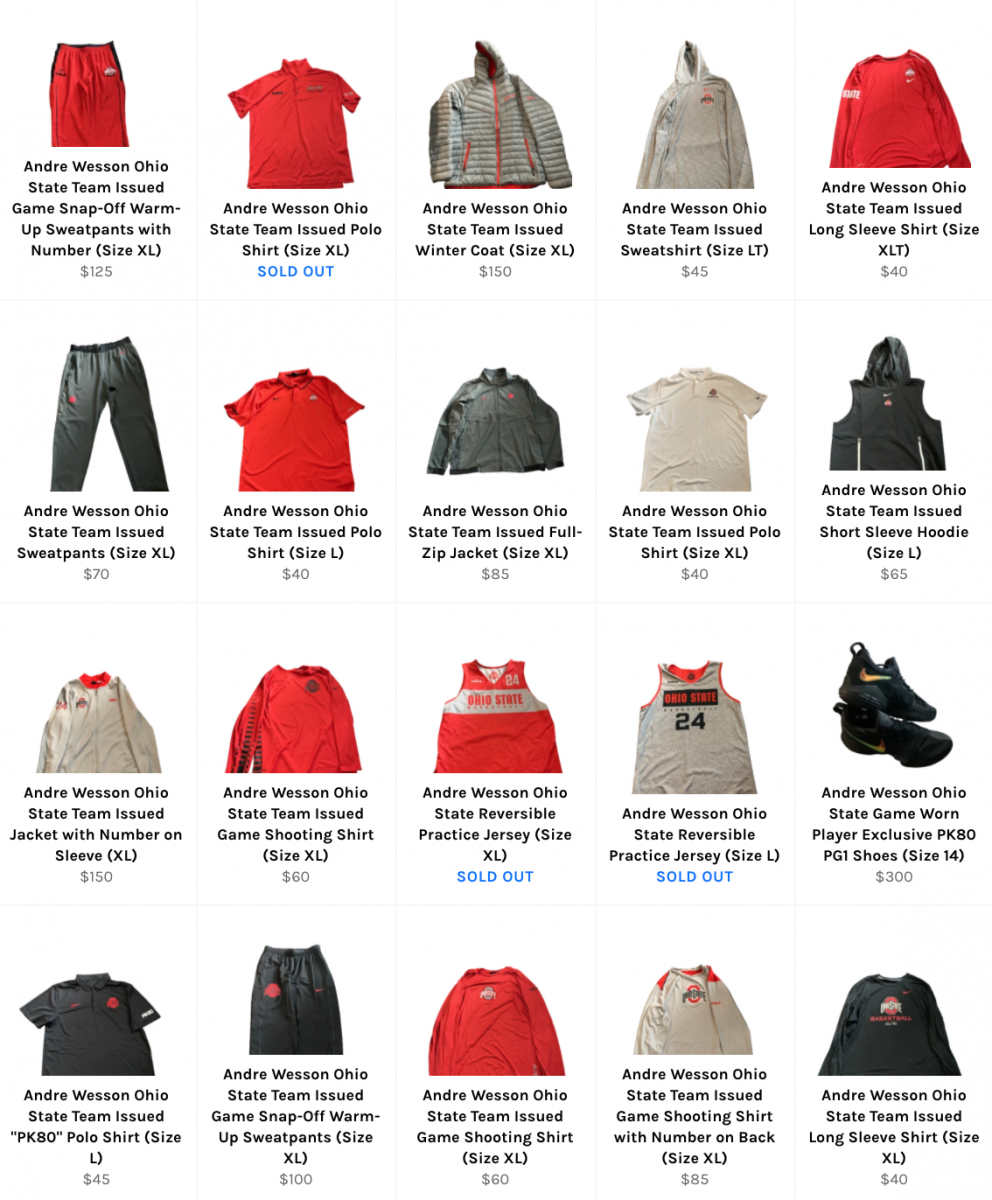 This is the second Buckeye I've seen pop up on this site after Marcus Baugh sold his stuff a few weeks ago, and I remain committed to informing you all every time you have the opportunity to purchase a former player's laundry.
You have my word.
 SONG OF THE DAY. "The Gift" by Angels and Airwaves.
 NOT STICKING TO SPORTS. Busch Beer wants to sell beer to your dogs... A man travels the world shopping for a new penis... DNA exonerates a man convicted of a 1983 murder... A man cuts off his ears and keeps them in a jar after paying £6k to make his head look like a skull... According to a 1919 screenwriter's manual, there are only 37 possible stories... The woman who brought her trafficker to justice...