Yesterday, the tap water in my house turned yellow for a few brief hours, but then it stopped. Celebrate the small victories.
Song of the Day: "Strangers" by Mt. Joy.
Word of the Day: Gossamer.
 BEHOLD, LARRY JOHNSON. There's probably one coach in the country that can challenge Kerry Coombs' proven ability to recruit and develop elite NFL prospects, and he just happens to be on the same staff.
247Sports named Ohio State "DBU" of the decade last week, and now it's time for Larry Johnson to get his due as the Buckeyes are also Edge-U.
1. OHIO STATE

You'd be hard-pressed to find a better resume for any position coach in college football than Ohio State defensive line coach Larry Johnson. His list of edge rushers over just the last five years would be a career's worth of work for any other coach. Joey Bosa, Nick Bosa and Chase Young were all selected within the top three picks of the NFL Draft. He's also added second rounder Tyquan Lewis, turned former safety Sam Hubbard into a third-round pick and saw Jalyn Holmes land in the fourth round.
Between defensive backs and edge rushers, Ohio State's had 10 first-round picks in the past seven years, more than half of which were top-five picks.
This rating system wasn't even designed to compute how insane that is (it gives Michigan the same number of points for Taco Charlton and Jabrill Peppers as it does Ohio State Nick Bosa and Jeff Okudah). But regardless, the Buckeyes are in their rightful place at the top.
 BEST MEN FOR THE JOB. If your job requires you to hire others, there's a solid chance you've whiffed on a hire at some point and handed a job to someone who radically underwhelms you with their performance.
(My boss has yet to realized his mistake in employing me for five (!!!) years, but keep those complaint emails flowing and you might finish me off one of these days.)
Bad hires happen – just not really at Ohio State. The past 25 years, the Buckeyes have not one, but two of the top-25 college football coaching hires.
11. Jim Tressel, Ohio State

Hired: Jan. 18, 2001

What he inherited: A historically elite program that had started to slip, especially against its archrival. Ohio State went 14-10 in John Cooper's final two seasons and had dropped five of its previous six games against Michigan. Cooper went just 2-10-1 against the Wolverines.

What happened next: Tressel, who had guided FCS (then Division I-AA) school Youngstown State to four national titles, quickly restored Ohio State as a championship-level program. He beat Michigan in his first season, fulfilling his famous introductory pledge, and then in 2002 guided Ohio State to its first AP national championship since 1968 and its first undefeated season since 1970. Although Tressel didn't win another national title, he dominated both the Big Ten (seven outright or shared titles) and Michigan (8-1 record). His teams finished in the top five in seven of his final nine seasons.

...

5. Urban Meyer, Ohio State

Hired: Nov. 28, 2011

What he inherited: A scandal-scarred program that had made a coaching change on Memorial Day 2011, and that fall recorded its highest regular-season loss total (six) since 1988. Weeks after Meyer's hiring, Ohio State received a postseason ban for the 2012 season.

What happened next: The looming ban didn't deter Meyer, who led Ohio State to a 12-0 record and a No. 3 finish in 2012. He started his Buckeyes career with 24 consecutive victories before stumbling in the 2013 postseason. Meyer followed by guiding Ohio State to a national title in the inaugural year of the CFP, behind third-string quarterback Cardale Jones. Although he didn't win a second championship, Meyer dominated both the Big Ten (54-4 record, three league titles, seven division titles) and archrival Michigan (7-0 record). Ohio State finished in the top six in six of Meyer's seven seasons and won four major bowl games.
Ohio State was the only school to make the list twice, and it easily could have been thrice, given that the dude they just hired took them to the playoff in his first year and is on the verge of signing potentially the greatest recruiting class in college football history.
Welcome to Buckeye football, where the past, present and future are all extremely bright.
 PROPERLY INDOCTRINATED. A few weeks ago, I spent an hour arguing with my closest friends the people I'm paid to interact with on a daily basis about whether we'd trade a loss to Michigan for a national title.
I was already quite clearly correct, but I'm proud to announce my take is now blue-chip #teen approved.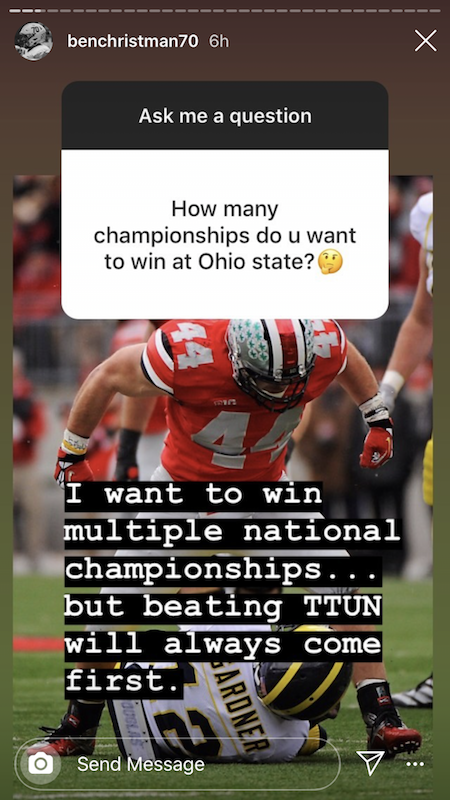 Thankfully, we live in a world where we don't have to make this decision since Michigan does the football equivalent of playing dead during a bear attack every November.
And may Jim Harbaugh live forever!
 CALLED HIS SHOT. Mike Doss could have gone pro after his junior year, but he wanted to win a natty. And the day before he played in the title game, he called his shot.
Let me take you into my personal archives. @THEMikeDoss came back to OSU for one reason. To win a National Championship. This was the day before the game at walk thru before we took down The Miami Hurricanes. #GoBucks pic.twitter.com/C5C7vQHWPs

— Dustin Fox (@DustinFox37) May 18, 2020
He wasn't wrong, but I don't have to tell you that.
 GOOD TRY, GOOD EFFORT! I generally refrain from blasting coaches that helped grant my favorite sports team a national title while serving as the position coach to one of the best players in program history.
However, when you move to a different program and Tweet dumb shit – like Stan Drayton recruiting players to a program that hasn't been a national title contender in a decade by telling them to "commit to the truth, not the hype" – I can't help myself. I mean, the dude's basically recruiting for other teams with that statement.
Commit to the truth, not the hypehuge difference.

— Stan Drayton (@StanDraytonUT) May 19, 2020
To be fair, Drayton did earn himself a little troll-proofing when he somehow beat out Ohio State for the services of five-star running back Bijan Robinson, but I'll enjoy the last laugh when his team predictably finishes 8-5 this season while the Buckeyes are in the playoff with a running back that averaged about 100 yards and a touchdown in three meetings against Texas.
Commit to the truth, indeed.
 NOT STICKING TO SPORTS. Korean football club apologizes for putting sex dolls in the stands... Why arent more highly intelligent people rich?... More than 50 people say this cop framed them for murder... Murder, mystery and a hit record: the unbelievable story of Ike White... A strip club celebrates reopening with a 'masks on, clothes off' party... How an inmate serving a murder sentence made a huge math discovery... One time, George Clooney gave brief cases containing $1 million to each of his closest friends... My unhealthy obsession with my dead middle school crush...