This photograph belongs to be blown up and hung in a museum alongside Renaissance art pieces.
February 5, 2020
Da Vinci could not create something so beautiful.
Word of the Day: Vitriol.
 JOSH FRYAR'S NEW FAMILY. Incoming Buckeye offensive guard Josh Fryar joined BTN on Wednesday to talk about his decision to spend the next three to five years of his life at Ohio State.
The way he answered, it's much less like Fryar is joining a new football team and much more that he's being adopted into a new family. And I'm sure that's music to Ryan Day's ears.
Why @OhioStateFB?

"The coaching staff and the players are just like a family to me." - @joshfryar2 pic.twitter.com/roYxUiBWaR

— Ohio State on BTN (@OhioStateOnBTN) February 6, 2020
Also, that quick and blunt "are you wearing makeup?" at the start had me absolutely rolling. This blogger is a huge fan of slobs with personality, and so far, it looks like Fryar is a five-star in that department.
 BEST OF THE BEST. Terry McLaurin is part of an extremely small group of Buckeye alums who got to see Joey Bosa, Nick Bosa and Chase Young each in action during his time in Columbus.
And if you make him tell you which one is better, he's picking Chase Young ahead of the two consensus rookie of the years.
Redskins receiver Terry McLaurin is in a unique position; he was a Buckeye himself from 2015-18, so he has played with the Bosa brothers -- each of whom won NFL Defensive Rookie of the Year -- in addition to Young. Out of those three, McLaurin thinks Young has the potential to be the best.

"I've seen them all," McLaurin told Voice of the Redskins Larry Michael and staff writer Kyle Stackpole on Radio Row ahead of Super Bowl LIV. "In college, I felt like Chase was the most productive of the three, and he has a chance to possibly be the best. That doesn't take anything away from [Joey and Nick]. That just tells you how good he can be."
I get it. As incredible and technically perfect as Nick and Joey are, neither of them look like a realistic incarnation of a mythical 90s alien race of sport hunters. Young is terrifying physically, and if he's even 80 percent as technically gifted as either Bosa, McLaurin's prophesy is going to come true.
 HOAK IS HAPPY. Given that Kentucky's best option at quarterback for the bulk of this season was a wide receiver, there's a solid chance Gunnar Hoak would have been the Wildcats' starter had he stayed at Kentucky.
Hoak's well aware of that, be he ain't playing that game. He's glad he came to Ohio State, regardless of what happened at Kentucky.
While Hoak was enjoying his first season as a Buckeye, he couldn't help but notice what was happening at his old school. Terry Wilson, the starting quarterback who had played ahead of Hoak at Kentucky, suffered a season-ending knee injury in just the second week of the season. If Hoak was still in Lexington, he likely would have been the new starter.

"You can play the 'what if?' game but I'm always big that there's always a plan. God has a plan for everything," Hoak said. "So that's the path I've chosen. I love it. I've been enjoying it. I'm glad to be here."

The path Hoak chose has already worked out pretty well. The little boy who heard stories about Gold Pants from his dad has now earned a pair of his own. He's getting a Big Ten championship ring, too.
Hoak's going to be competing with true freshmen C.J. Stroud and Jack Miller for the backup quarterback spot this offseason.
But even if he ends up as the fourth-string quarterback and rarely finds his way onto the field this season either, I guarantee he'll still look back on his decision to transfer to Ohio State as a positive one, because being a Buckeye means that much to him.
I respect the hell out of that.
 JUST LIKE FOOTBALL. Buckeyes dumped Michigan – a noted basketball school – at home on the hardwood, just the same as they did on the football field. I'm still not quite ready to move on from that, but thankfully, Ohio State's video team is still serving up Michigan tears.
#Team121 #GoBucks pic.twitter.com/FEVCumibIA

— Ohio State Hoops (@OhioStateHoops) February 6, 2020
Juwan Howard and Jim Harbaugh are a combined 0-6 against Ohio State with four of those six losses coming in Ann Arbor.
Life is good.
 WOODY-HAYES DRIVE. Our friends Newcomerstown, Ohio are continuing their quest to honor a proper legend. The fine folks have officially updated the high school's address to the glorious 1 Woody-Hayes Drive.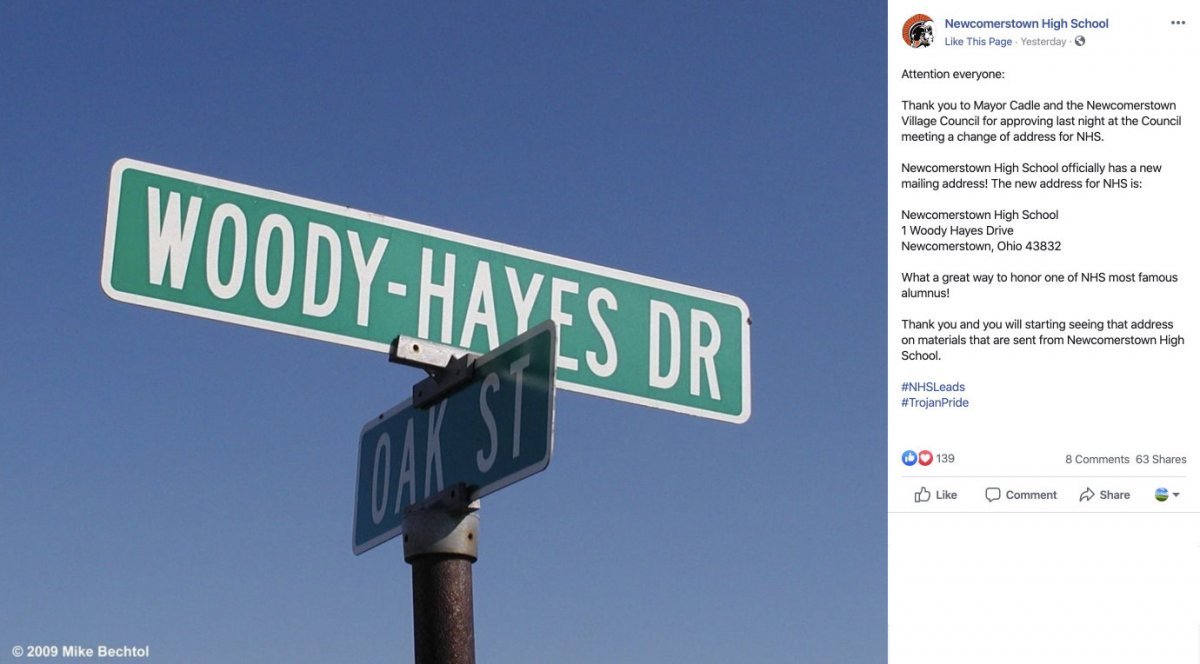 Well deserved, and just in time for his birthday.
 NOT STICKING TO SPORTS. A woman scares away a rapist by pretending she has coronavirus... The man who discovered umami... China sacrifices a province to save the world from coronavirus... A Utah man says he was selling drugs to help pay for a lawyer in a rape case... Photos of the stuff that fascinate people when they're tripping on LSD... The secret Nazi World War II bunkers discovered near D-Day beaches.