Last year, I forsook Ohio's professional basketball team when it went down 2-0 to the dastardly Golden State Warriors. I gave up on LarBon Jim and resigned myself to a Warriors repeat, like the feckless Lakers fan I am.
Never again.
Some may tell you the mutant mixture of Karl Malone and Magic Johnson is the underdog in this series. Fall into that honeypot if you want. Not me. I'm riding shotgun with the world's most famous Ohioan like I was there the whole time wearing my Tim Couch throwback.
Official prediction: The Kang and his boys wins in six over the testicle assassin and the role player that got punched in the face by the crying meme. 
La fiesta starts at 9 p.m. ET on ABC, which is bad news for patriots with an early office roll call Friday morning.
ICYMI: More kickoff times were announced.
If you don't give a damn about the World Series (the most justified #take of 2017) and disagree with the 3:30 p.m. kickoff for PSU, take it up with Jalyn Holmes:
Nah 3:30 perfect https://t.co/CShqvKBlwJ

— QB KILLA (@JayHolmes_) May 31, 2017
ICYMI Part 2:
Word of the Day: Drudge.
 DRAFT CURTIS SAMUEL. Curtis Samuel missed a large portion of his rookie OTAs due to a reported death in his family. This led to the usual smattering of NFL fans that think a missed OTA = ungrateful bust status. (See: Bosa, Joey.)
Samuel's play will turn that around quickly. 
From panthers.com:
"The main thing Cam [Newton] was emphasizing to me was that I don't need to try to do too much, do things too fast," Samuel said of a late-practice exchange with his quarterback. "Just slow down and let your talents take over.
Samuel also already earned praise from a Michigan Man.
The personal push to prove yourself is only natural, but one of Samuel's fellow wide receivers said it's not necessary. Devin Funchess, a Michigan product, is already a believer in Samuel, who hails from the other side of one of college football's fiercest rivalries.

"It's the same thing I saw at Ohio State – he's electric," Funchess said. "He's just got to put it all together. We can use that weapon and we will. He's got a high ceiling."
Samuel is my pick for this year's Mike Thomas Award, in that we'll see him routinely torching NFL defenses and wonder why he didn't touch the ball more.
 "VERY RARE" ARTIFACT SURFACES. You never know what you'll come across while browsing Craigslist, the unregulated internet clearing house for public wheeling and dealing that could end in a stabbing.
I've seen a lot of rare local artifacts surface on the internet over the years. I've never seen a three-foot Brutus Bobblehead, which is yours for the player's price of $700.
From dayton.craigslist.com (via @TomKnoxBiz1st):
Only 50 ever made this is #13/50 in excellent condition. Price is firm. P/U in Wilmington. Call or text my name is Justin. Thank you!!!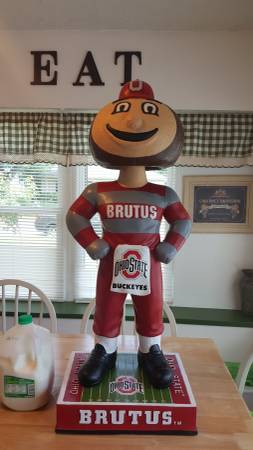 No, I did not text to ask if the $700 includes that two-thirds of a gallon of milk. I don't want anyone who bought a gallon of milk to have my number. Plus, if that thing appeared in the house and Whitney discovered I bought it off Craiglist for $700 she'd make me homeless instantly. She'd be right to do so, too.
I would be curious to see if Justin sells it for $700 or has to come off his price. Somebody text him in two weeks and let me know. The offseason #content train never sleeps.
 MARTELL BACKS CAMPBELL. Every Ohio State fan loves to know Demario McCall, the greatest footballer in school history. While McCall seems like a natural for the H-Back slot, he's currently battling true freshman J.K. Dobbins for backup minutes behind Mike Weber.
The belief is Parris Campbell will "put it all together" at H-Back this fall. Meyer issued encomia about the Arkronite throughout spring.
Tate Martell, who will only throw to Campbell in games this fall if something goes horribly amiss, is also a fan of Campbell, whom he predicts will be in the NFL this time next year.
From 247sports.com:
"Parris Campbell's one of the guys," Martell told 247Sports in a recent interview. "He hasn't played too much, but now this year he's our starting receiver. I think he has NFL potential and that's one of the guys."

This is not the first time Martell has brought up Campbell unprompted. On signing day, in the middle of the Buckeyes' winter conditioning program, the quarterback mentioned the wideout when asked about the step up in talent level.

"I mean, it's Ohio State," Martell said. "It's the best of the best. Every guy here, a lot of them that I've seen that haven't played, that were backups last year, are already NFL guys. Go look at Parris Campbell out there. You'll see that dude has wheels. Guys like that. He didn't play that much last year, but I'm telling you he'll be an NFL guy this coming year."
Campbell breaking out would go a long way to taking some of the onus of production off Zone-6.
I want to believe the hype. It's just a matter of Campbell's body cooperating.
 SOURCE: SUMLIN ON HOT SEAT. Man, it seems like just yesterday Kevin Sumlin was riding around in a helicopter and scoopin' croots as the King of Texas.
According to Texas A&M AD Scott Woodward, who didn't hire Sumlin before arriving from Washington in January 2016, the head ball coach needs to win big games (he probably won't win) to keep cashing Aggie paychecks:
Texas A&M AD Scott Woodward didn't mince words on Finebaum today. "Coach knows he has to win and he has to win this year." #12thMan pic.twitter.com/Qopj1oV1rB

— Colin Deaver (@KAGS_Colin) May 30, 2017
Prediction: A&M crumbles and all power shifts to Texas Tom Herman, who you might not know founded MENSA, the organization for geniuses. It almost seems like he saw the shift before accepting the job.
 THINK TWICE. Americans love new and cheap shit.
I get it. My endorphins fire like anti-aircraft guns whenever I see a tawdry product I delude myself into thinking "I need."
But we've gotta control our urges, folks. Columbus and Ohio, as #brands, can't have a vital interstate clogged on a weekend due to the opening of a Swedish furniture franchise.
But that's exactly what's going to happen.
TAKE ALERT: The fact that ODOT had to send this release for the opening of a store reflects poorly on Columbus and its quest for #coolness pic.twitter.com/rNyfSX5b12

— Tom Knox (@TomKnoxBiz1st) May 31, 2017
Take heed, Ohioans:
IKEA will be there next week. It will be there next month. It will be there when the American experiment collapses and it, along with Amazon and Wal-Mart, will be one of three corporate warlords to which we must bend the knee in order to secure our family's weekly bread ration.
There is no need to attack a furniture store in 2017 like a flock of geese after bread crumbs.
 THOSE WMDs. Ohio sues five drug companies over opiate epidemic... World War II postal acronyms... Our worst fears have become true... Cookie Monster's lesser known cousin: Biscuit Monster... How Tristan Thompson became the NBA's most elite roleplayer.