For at least one afternoon, there will be an NFL team in Columbus.
The Cleveland Browns are set to hold their "Orange and Brown" scrimmage Friday, Aug. 7, at Ohio Stadium, the franchise announced Thursday.
"The intrasquad scrimmage is an important element of our preparation for the 2015 season," Browns Head Coach Mike Pettine said in the press release. "Ohio Stadium will provide a great atmosphere for our team to compete, and I'm confident our players and fans will enjoy the experience."
The scrimmage is scheduled to be a part of an updated Family Day/Family Night for the franchise. The release states it will be a "late afternoon" scrimmage, and admission for fans will be free. Dawg Pound Drive, an interactive fan pregame event, is set to open three hours prior to the scrimmage at St. John Arena. Season ticket holders will have first dibs on registering for the tickets during a pre-sale June 16-19, the release said. All fans can acquire them beginning June 20.
"We are thrilled to bring the Browns to our State Capital and to our passionate football fans across the state," said Browns President Alec Scheiner. "The Dawg Pound extends across the state and nation, and we know they have a strong presence in the Greater Columbus area. We hope fans from throughout Ohio will be able to experience this event at The Horseshoe to complement our open practices in Berea. We are very grateful for the hospitality extended to us by Columbus, The Ohio State University, the Greater Columbus Sports Commission and the Columbus Partnership to make this event a success."
Ohio State's grown accustomed to winning under Urban Meyer, so maybe the Browns — in the midst of seven straight losing seasons — are looking for some Buckeye magic to rub off on the franchise.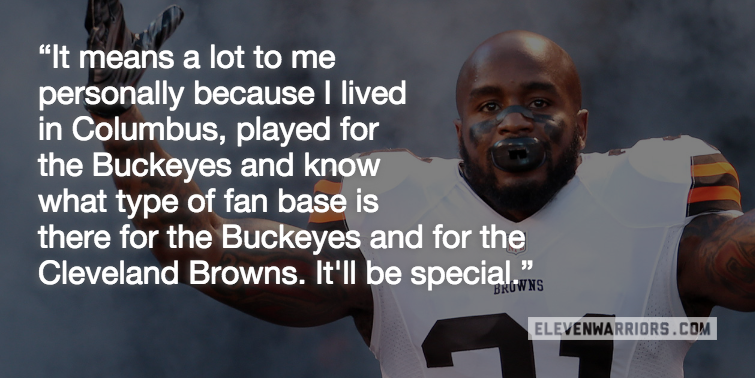 "What a tremendous opportunity for Columbus and all professional football fans in Central Ohio," said Ohio State University Associate Vice President for Business Advancement Xen Riggs. "Columbus continues to grow as a major sports town at all levels, and it is exciting to host an organization as storied in rich tradition and professionalism as the Browns."
"We are excited to host the Browns and have them in Columbus," Ohio State Vice President and Director of Athletics Gene Smith said in the release. "The Browns are a class organization, and it will be exciting for the citizens of Columbus to enjoy this experience."
If Meyer feels threatened by the Browns losing mystique hovering over the Ohio Stadium turf, he might just put a stop to it before the scrimmage is over.