No. 7 North Dakota got Michelle Karvinen back, but not even she could stop the red hot lady Bucks as they swept NoDak.
Women's Hockey

What Happened

Lisa Steffes (32 save shutout) and Chelsea Knapp (30 save win) turned in stellar performances in their final regular season games as Buckeyes. The senior netminders held North Dakota to just a single goal in the series. 
Their teammates provided the goalies with some great support as well. Kari and Sara Schmitt, along with Becky Allis combined for 23 blocked shots in the series. The Schmitts also provided the Buckeyes with all the offense they'd need in Friday's game. Kari scored the gamewinner on a power play early in the second period and Sara iced the win with an emptynetter.
North Dakota got on the board first on Saturday, but Ohio State's big guns took care of business. Ally Tarr and Danielle Gagne each recorded their 10th goals of the season. Clutch sophomore Kendall Curtis netted her third gamewinner of 2013-14 with an unassisted snipe in the opening minutes of the third period. 
What's Next

Ohio State's fifth place finish has earned them a first round conference tournament match up at Minnesota-Duluth. The ladies square off against the Bulldogs in a best-of-three series beginning on Friday, with Games Two and Three set for Saturday and Sunday.
Further Reading

Rachel Lewis photographed Saturday's game. You can see that gallery at Inside Hockey.
Short Shifts

Buckeye News

The men's team returns to action this week with a huge home and home series vs. No. 13 Michigan. After visiting Yost on Friday night, Ohio State will host the Wolverines at Nationwide Arena this Sunday at 1pm. Be sure to note the change of venue for this game. The Scarlet Liners are taking advantage of the rink swap to gather at The R Bar and you're all invited! Come hang out with fellow Buckeye puck fans and grab a bite to eat from 11am-1pm.
John Iadevaia checks up on the New Jersey Devils' prospects for Hockey's Future, including steady, stable defenseman Curtis Gedig. 
Former Buckeye women's hockey coach Jackie Barto is the subject of the latest Providence field hockey alumni update.
Around the Big Ten

Wisconsin tied a Kohl Center record for victories, earning their 15th and 16th home wins in a sweep of Michigan State. Those six points keep the Badgers in touch with league leading Minnesota, though the Gophers are still very much in the driver's seat for the Big Ten's regular season title.  Michael Mersch had a big hand in the sweep. He lit the lamp three times, taking over the lead in B1G goals from Ryan Dzingel.
In the conference's other, supposedly less interesting match up, Penn State traveled to Yost and split with Michigan. The Nittany Lions came back from 3-1 and 4-3 deficits to defeat the Wolverines in overtime. Although Michigan responded with an effective 5-2 win on Saturday, there is no joy in Mudville. Per Erin Lennon of The Michigan Daily, Michigan captain Mac Bennett went down in Saturday's game and is not expected to play against Ohio State this week.
Olympic Update

Congrats to golden girl Natalie Spooner! Though they fell a little short of their ultimate goals, Emma Terho and Minttu Tuominen represented Finland well. Ryan Kesler did US and Buckeye fans proud as well.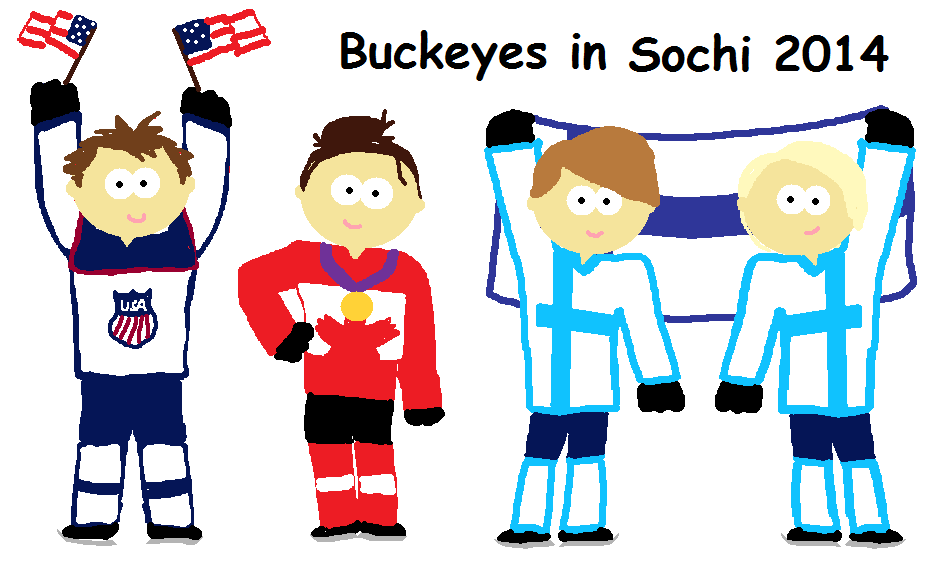 Future Nuts

While it wasn't a great night for his Green Bay Gamblers, Buckeye recruit Matt Weis scored twice against Youngstown, bringing his goal total to a team leading 17.
Chris Dilks' notes from the Tier I Elite playoffs include some thoughts on OSU commits Michael Davies and Gordie Myer (plus Jr. Blue Jackets forward Charlie Gerard).
Nuts Abroad

According to The Province's Ben Kuzma, Ryan Kesler may have been more banged up than we realized for those last few games in Sochi.
Peter Boyd is determined to get to the AHL. Andrew Miller of The Post and Courier writes about his decision to stay in the States, work hard, and wait for someone to notice. (You'd think his near point per game pace would have turned a head or two by now.)
The most difficult decision this week was not in determining which former Buckeye would be featured in the clip of the week. It was in deciding which of John Albert's highlights to use. He was named the AHL's Player of the Week after scoring five goals last week. His tallies included not one, not two, but three shorties! Check out full highlights from each of his games this past weekend, as well as this pregame interview

 with the man himself.  Here's the AHL's PotW highlight video.