The men's team is off, resting up and preparing for a showdown with Michigan next week. The ladies are in action this week, though. They close out their season at the Ice Rink with a big series against a tough but beatable opponent in shorthanded No. 7 North Dakota.
Women's Hockey

Your lady Bucks close out their 2013-14 campaign this weekend by hosting the seventh ranked North Dakota Team That Seriously Needs a Nickname or Something. UND has a fairly solid grasp on third place in the WCHA, but their at large status for the NCAA tournament is less secure. They'll have plenty to play for this week.
There's a lot on the line for Ohio State as well. They currently hold a slim three point lead on Bemidji State for fifth spot in the conference. A big series for the Buckeyes this week would mean a trip to Minnesota-Duluth in the WCHA tournament. While that wouldn't be any picnic it may be a more winnable series than facing North Dakota on home ice and with their full complement of players.
The...North Dakota has been three ladies short for their last couple series as sophomore Tanja Eisenschmid, senior Michelle Karvinen, and freshman Susanna Tapani have been representing their respective countries at the Olympics. The team has struggled in their absence.
UND is 1-2-1-0 in their last four games. They hit a low point last week when they were swept at home by Minnesota State. It was just the second time this season North Dakota failed to earn any conference points in a series.
Goals have been a little hard to come by with two of their top five scorers, Karvinen and Tapani, in Sochi. UND still has enough firepower to require the total concentration of Ohio State's defenders. Junior Josefine Jakobsen (13-18--31) averages better than a point-per-game and sophomore Meghan Dufault (10-14--24) is just shy of that. Dufault also leads the WCHA in shorthanded goals (3). 
That's a stat of which Buckeye fans should be aware as OSU had some trouble when shorthanded at Bemidji last week. Fans should also be aware that victories for the home team this week are very possible. Ohio State has already defeated North Dakota once this season, splitting a series in Grand Forks way back in October. 
Here's the lowdown on this week's promotions. Double Trouble night sounds interesting. As always, admission to Buckeye women's hockey games is 100% free. Per Ohio State's series preview the team's six seniors, Chelsea Knapp, Annie Svedin, Becky Allis, Madison Marcotte, Ally Tarr, and  Lisa Steffes will be honored following Saturday's game.

Conference Outlook
Minnesota wrapped up the regular season title last week. Wisconsin is set in second place as well. North Dakota is all but a lock for third. They only need to earn one point against Ohio State this week to guarantee their spot, though it isn't particularly likely that Duluth will sweep the Gophers. Ohio State and Bemidji battle it out for fifth and sixth. Minnesota State is technically still alive for those spots too, but may find it tough to make up points playing the Badgers this week.
| WCHA | w | l | t | sow | pts | this week |
| --- | --- | --- | --- | --- | --- | --- |
| No. 1 Minnesota | 24 | 1 | 1 | 0 | 73 | vs UMD |
| No. 2 Wisconsin | 19 | 5 | 2 | 1 | 60 | at MSU |
| No. 7 North Dakota | 14 | 8 | 4 | 2 | 48 | at OSU |
| Minnesota-Duluth | 11 | 9 | 6 | 4 | 43 | at MIN |
| Ohio State | 7 | 14 | 5 | 1 | 27 | vs UND |
| Bemidji State | 7 | 17 | 2 | 1 | 24 | at STC |
| Minnesota State | 7 | 18 | 1 | 0 | 22 | vs UW |
| St. Cloud | 3 | 20 | 3 | 2 | 14 | vs BSU |
Further Reading

We have a winner in Ohio State's Design a Goalie Mask contest!
Ally Tarr earned an honorable mention for WCHA Offensive Player of the Week for her efforts vs. Bemidji State.
Via Nate Handrahan on Twitter, check out this neat video featuring Handrahan, Julia McKinnon, and Ohio State's engineering wizards talking hockey sticks. 
Men's Hockey
Here's the missing "art" from Tuesday's post. Justin DaSilva has had quite enough of Wisconsin's roughhousing.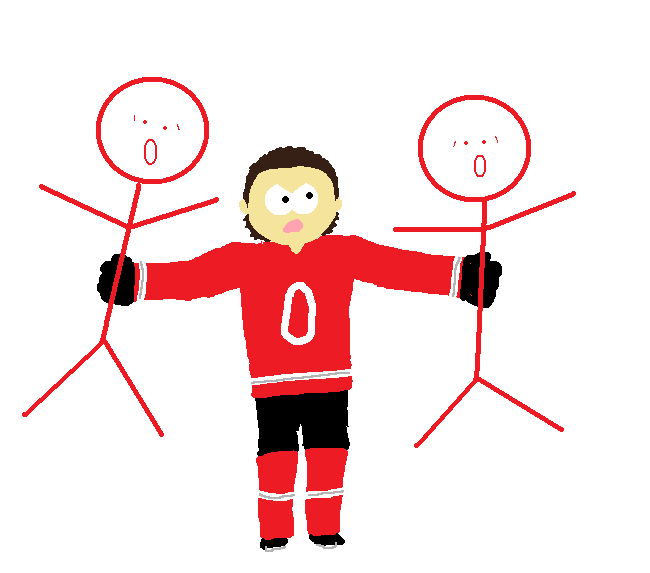 Nick Oddo, Tyler Lundey, and Darik Angeli help put together a win.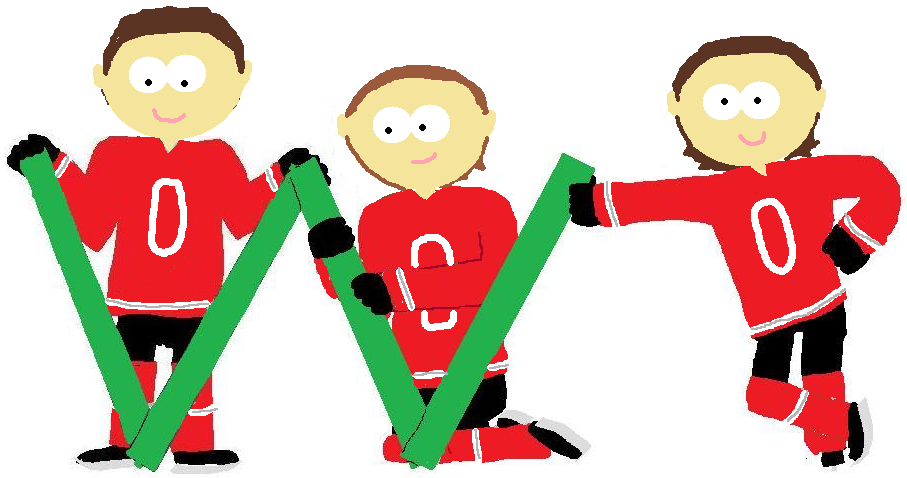 Ryan Dzingel scoops up point number 100.
Further Reading

Conference Outlook

The Buckeyes are going to lose some ground this week, but that just is what it is. Michigan will be without Michael Downing and Andrew Sinelli tonight as the two serve their single game suspensions. Wisconsin has a huge opportunity to make a run at Minnesota, though I'm sure Jake Hildebrand will have something to say about that.
| Big ten | w | l | t | sow | pts | this week |
| --- | --- | --- | --- | --- | --- | --- |
| No. 1 Minnesota | 10 | 2 | 2 | 0 | 32 | Bye |
| No. 8 Wisconsin | 8 | 5 | 1 | 0 | 25 | vs MSU (Friday at 9:00 pm on BTN) |
| No. 10 Michigan | 6 | 5 | 1 | 1 | 20 | vs PSU (Friday at 6:30 pm on BTN) |
| Ohio State | 5 | 6 | 3 | 2 | 20 | Bye |
| Michigan State | 3 | 5 | 6 | 4 | 19 | at UW (Saturday at 5:00 pm on ESPNU) |
| Penn State | 1 | 10 | 1 | 0 | 4 | at MCH |