Urban Meyer brought Ryan Day to Ohio State nearly two years ago to disrupt the offense. He wanted the innovative offensive mind to help take the unit to new heights.
Gene Smith and the higher-ups at the university selected Day as Ohio State's new head coach in order to maintain the status of a program that Meyer spent the past seven years building.
Big difference. But the Buckeyes are banking on a similarly successful result.
Smith believes Day is the man for the job, mainly because he believes in what Meyer left behind. When he began considering potential candidates to succeed Meyer – if he opted to step away – in the past couple weeks, Smith kept coming back to Day.
"Our program does not need disruption," Smith said on Tuesday. "It does not need to blow up and have people come in and try and adapt to our standards of operation and try and change the infrastructure that we've put in place for the student-athlete. So we had a talented and gifted guy that many others wanted to interview him and potentially hire."
When Ohio State hired Meyer in November 2011, the program was in need of a rehabilitation.
The tattoo scandal and NCAA violations rocked the athletic department. Jim Tressel, a legendary figure at the university, departed under precarious circumstances. The program needed someone to steady it. Meyer just happened to fall into Ohio State's lap.
Seven years later, Meyer will leave that same program on Jan. 2 in need of nothing but maintenance and a strong leader, which both he and Smith believe they have in Day.
"We all strive to do that, to leave a place better than we found it, and hopefully leaving it in the hands of someone who has the capacity to do it better than us. We're fortunate to have had Ryan in our presence to be able to develop that."– Gene Smith
During his seven seasons, Meyer has accumulated an 82-9 record and beat Michigan all seven times the Buckeyes played them in the annual rivalry game. His team didn't lose a single game in his first season as head coach, going 12-0, and Ohio State won the national championship with a third-string quarterback two years later. The Buckeyes finished first, or tied for first, in their division all seven years and won the Big Ten title the past two seasons.
Meyer built the structure of a program that competes with the very, very best in college football. Day's job is to maintain, not rehabilitate, and he knows that. He learned that firsthand earlier this fall when he served as acting head coach during Meyer's three-game suspension.
"The footprint that he's left here and the infrastructure is strong," Day said. "And knowing that and being here for two years and seeing exactly how it's been done gives me great confidence. Also, walking in those shoes during the beginning of the year, during that time, took a step away from just working with the offense and the X's and O's and then took a wider step back and looked at the leadership role of what it means to be the head coach at Ohio State and understand, like Gene spoke of, everybody that comes under your wings there."
Even though Day has never been a head coach at any level, Smith felt comfortable enough to hire him.
He said he recognized the talent of Day quickly and met with him for some "quality time" in his office this summer. Then, as suddenly as possible, Day got a chance to prove himself.
With both Meyer and Smith sidelined for the first three weeks of the season on suspensions, Day proceeded to blow out Oregon State and Rutgers, then travel down to Arlington, Texas, for a game against TCU, which the Buckeyes won, 40-28.
Day's behind-the-scenes acumen impressed Smith more than his on-field success, though.
"He had an opportunity to audition in a different way," Smith said. "Not relative to winning on the field, but how he mastered leading, not just the football staff, but everyone else around it. This is a complex place. And so having someone to be able to continue the stability and consistency that we have was important to me. So I did not feel I needed to conduct a public national search."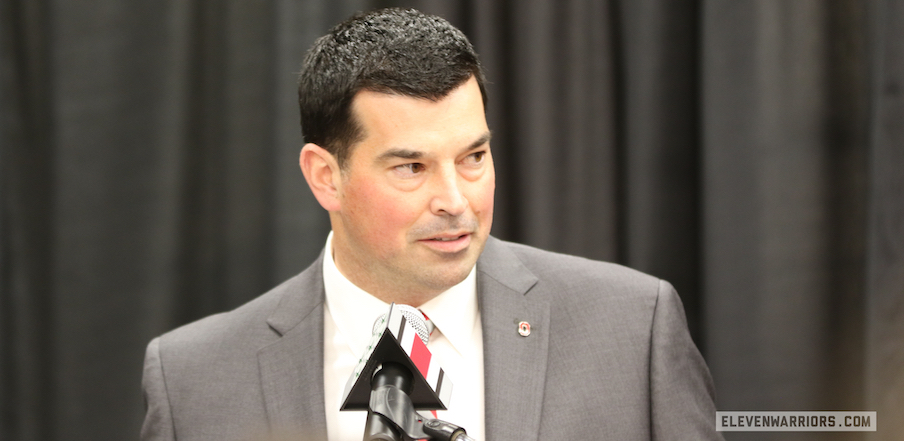 No national search meant staying with Day, and Day had a chance to leave last year.
Eleven Warriors confirmed Mississippi State wanted him as head coach, but he opted to remain in Columbus, which set up the type of succession plan "most leaders strive to have," Smith said.
"We all strive to do that, to leave a place better than we found it, and hopefully leaving it in the hands of someone who has the capacity to do it better than us," Smith said. "We're fortunate to have had Ryan in our presence to be able to develop that. He has proven that he's ready for this challenge during this last two years."
Smith estimated Meyer took two years to fully understand how the program ran. Coincidentally, the next year, he won a national title.
"Ryan has lived it. He's seen it," Smith said. "And so one of the greatest responsibilities of a coach is personnel management. And there's over 70 people in the Woody Hayes Athletic Facility. So for us to have a person with his high IQ and EQ, with the understanding of what we're all about to step into this leadership role, significant."
Don't misunderstand Smith, though.
Just because Day understands the intricacies of the program doesn't mean he didn't think long and hard about whether he would be able to win at a level deemed acceptable by the athletic department and the fan base.
"Now, if he wasn't talented I wouldn't have him here if he couldn't X and O, let's be clear," Smith said. "He's gotta win ball games. He knows that. Gotta win ball games. But it takes a lot of understanding about our environment in order to position our young people to win those ball games."
It's time for Day to put his stamp on the program.
Just don't expect him to alter it in any way that might negatively disrupt the process that have led to such impressive results.