Even though two of the starting cornerbacks he coached last season are on pace to become first-round NFL Draft picks, don't expect Kerry Coombs to rest on his laurels. Ohio State's cornerbacks coach and special teams coordinator doesn't plan to let his next crop of talent forget how many yards and points they allowed in the spring game.
"What I shared with the players after the game is this: That is one of the most valuable experiences they can have," Coombs said on Wednesday. "To understand how awful it feels to give up a touchdown at Ohio State. It is the worst feeling, and it should be. If it doesn't make you sick to your stomach, you're not going to be able to play here."
Denzel Ward didn't play much in the Scarlet team's 38-31 victory over the Gray squad last Saturday, a valuable member of Ohio State's secondary and someone Coombs and the Buckeyes consider a returning starter. It didn't make sense to put Ward in harm's way for a scrimmage.
"It did matter big time. It was the difference between me having to shovel mulch for four hours or not."– Kerry Coombs on final plays made by Wade and Okudah
That set the table for four early enrollees — junior college transfer Kendall Sheffield and true freshmen Shaun Wade, Marcus Williamson and Jeffrey Okudah — to see plenty of action on a big stage. Those four fought for a starting job all spring against Damon Arnette, Joshua Norwood and Rodjay Burns. On Saturday, Coombs saw his the defense allow seven touchdowns while both Joe Burrow and Dwayne Haskins threw for more than 250 yards.
Ohio State's much-maligned receiving corps had players running open constantly. But near the end of the game, Okudah and Wade broke up passes on the final two plays inside the red zone to seal the win for Scarlet. A wave of emotions, indeed.
"The fact that they were able to experience that without it having counted in a real game was phenomenal," Coombs said. "What our offense did in the course of 15 days, the pressure they put on those kids with the deep ball throws, is experience they won't ever be able to get back. We won't be able to replicate that all fall. For those young players, this was a fantastic spring game."
Coombs said his room has more depth now than it ever has in his Ohio State tenure, which kicked off in 2012. The crop of talent he brought in at the position this year is needed with both Marshon Lattimore and Gareon Conley being projected first-round draft picks in next week's NFL Draft.
But even though Sheffield (a former five-star recruit who signed with Alabama), Okudah, Wade, Williamson and Amir Riep — who enrolls in June — are all supremely talented and look the part of future studs, they are still young.
Coombs said Sheffield completed 24 credit hours at Blinn Community College in Texas last semester so he could enroll at Ohio State in March and is a year removed from competing with Division I athletes. Okudah, Wade and Williamson should all be preparing for their senior proms.
"In high school, you can get away with just being a great athlete. You can do it the way you're coached or maybe you can do it another way and still get away with it," defensive coordinator Greg Schiano said. "Here, the people they're going against are so good that if they don't do it exactly the way they're instructed, it's hard to be successful. So they find out very quickly that you know you need to get into a ritual or a routine to be an effective player, and when you don't, you're all over the map."
Wade and Okudah's plays near the end of the game stood out the most to Coombs, who served as a coach of the Scarlet team. Those two plays helped put a nail in the coffin of Gray's chances to win the scrimmage, and members of that squad spent their Thursday morning shoveling mulch to give Buckeye Grove a facelift.
"It did matter big time," Coombs said of the plays Wade and Okudah made. "It was the difference between me having to shovel mulch for four hours or not. It was really really big. I got to ride the bus home. It was really big."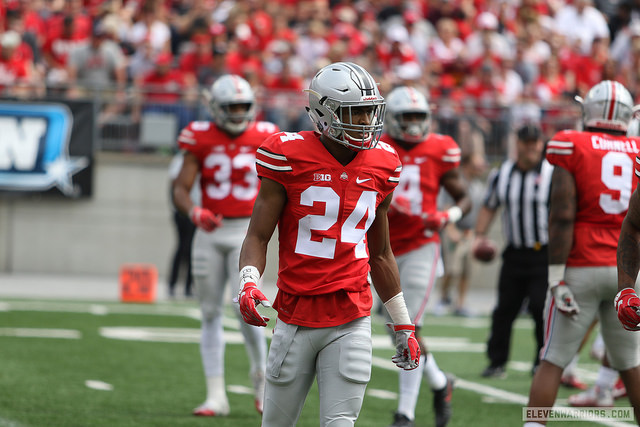 Coombs singled out Wade's breakup on fourth down more explicitly and showed how much he is willing to compete. That is just as important as athleticism, speed or possessing the necessary skills to bring down an interception when presented with the opportunity.
"They played more plays and longer stretches than they had all year. They had been picked on," Coombs said. "There was every reason in the world to put their head down and kick the dirt and say, 'Aw, man, this is really hard, this is terrible.' Instead, both [Wade] and Okudah fought like crazy at the end of the game. They both had PBUs in the red zone, which caused the team that they were on to have victory. Those were huge, huge positives."
So even though Coombs is spending next Thursday night with the two players next in line to be first-round draft picks — "I wouldn't miss it for the world. I'd drive them if they need me to," he says — the Spring Game performance of the players left in his room carries plenty of weight. Even if it was a game geared toward the offense.
"I put a lot of stock into it. It's 80,000 people and the ball is being thrown deep and your guy can't catch it. And if he does, that's a problem," Coombs said.
"I think there were times where there were coverage breakdowns that have to be improved. I don't think there's any question about that. There were some wide-open plays where there were just some mental mistakes. Turning a back loose on a wheel route, those kinds of things that were really rookie mistakes that were great lessons."