When asked how his unit perceives success in the passing game, Ohio State quarterbacks coach Ryan Day has a relatively simple answer — one that pretty much all men in his position would echo.
"The best way to answer that is, 'Does the quarterback give the receiver a chance?'" Day said on Wednesday.
After a baffling performance by his offense in a 31-0 Fiesta Bowl loss to Clemson, Urban Meyer made wholesale changes to his offensive coaching staff. More than 80,000 people attended Ohio State's annual Spring Game last Saturday to see if what Day and new offensive coordinator Kevin Wilson implemented with J.T. Barrett and their wide receivers was actually in line with the lip service they gave reporters for two months.
More than 650 yards and seven touchdowns through the air later, it appears Meyer made the right move bringing on Wilson and Day. That came during a controlled scrimmage, though, so the real test doesn't come until this August.
"were 70 percent of them catchable? We were shooting for that and down the stretch, we got to where the ball got on target. You saw that Saturday." – Kevin Wilson
Yet the positivity around the passing game — especially down the field — was noticeable. Furthermore, how those coaches measure success is of high interest in Columbus.
"On the deep throw, they were looking at what was a catchable ball," Wilson said of Day, Meyer and wide receivers coach Zach Smith. "We were trying to shoot for 50 percent, which I actually think, 40 percent is pretty good if you're throwing the ball 35, 40 yards down the field. And there were some days we were higher than that. But were 70 percent of them catchable?"
Many of them were Saturday. Dwayne Haskins and Joe Burrow connected with receivers on touchdown passes of 35, 44, 40 and 30 yards. For good measure, Johnnie Dixon caught one from 18 yards out and Terry McLaurin nabbed one from 22.
"We were shooting for that and down the stretch, we got to where the ball got on target," Wilson said. "You saw that Saturday."
Again, Ohio State's secondary is extremely young and its best defenders didn't play all that much so the statistics are somewhat inflated. Day and Wilson noticed the progress they wanted, though. The charts we heard about all spring did too.
"What you don't want to do is throw the ball down the field and the ball falls out of bounds or he overthrows him or the receiver never actually gets a chance to catch the ball," Day said. "That's the No. 1 thing we talk about with the quarterbacks.
"Then with the receivers, you ask, 'Does he catch the ball?' We have different techniques that we use to help them with that. But that's really how we look at it."
A few throws from Barrett, Haskins and Burrow went out of bounds in the Spring Game but were for the most part hard to find. In Ohio State's lone public display at Ohio Stadium before its home opener against Oklahoma on Sept. 9, a spring's worth of emphasis on the deep ball with a higher success rate showed up.
Another major difference, however, was the quarterbacks even throwing down the field at all. It rarely happened in 2016. The receivers hardly got the chance to make a play that Day mentioned, for multiple reasons like protection and play-calling.
There is a balance to that too. Teams don't want to just chuck the ball deep three times unsuccessfully and then punt. Strategizing how to best mesh the notion that the downfield passing game must improve while also implementing what changes Wilson and Day brought to the table became an essential part of the spring at Ohio State.
"You can average 20 yards on a pass, but if you have an 80-yard touchdown and three incompletions, it only works one of out four times. That's not a very good play," Wilson said. "You love that 80-yard play. So we're trying to get those plays to be efficient greater for 50 percent."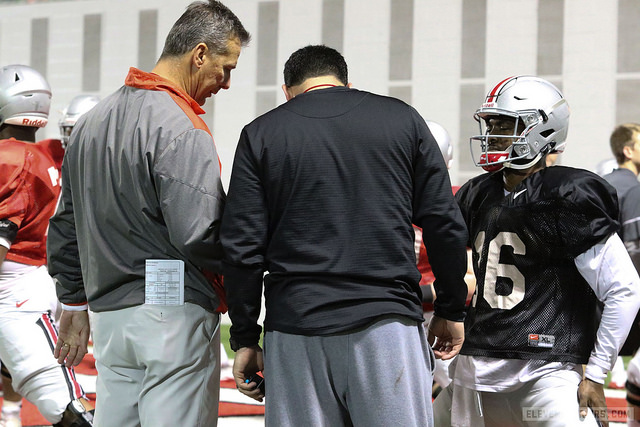 And with the book now closed on spring, Wilson feels like he, Day, Smith and Meyer were able to lay the groundwork for that to happen.
"You're looking at 60, 65, 70 percent and we had a number of pass plays that, when we're looking at our numbers now, that got into that 70 percentile," he said. "I think our overall completion percentage for spring pushed that 70 percent number, which we wanted. I think we were there."
According to Wilson, the spring helped the quarterbacks give receivers a solid chance to catch the ball, those pass catchers to make plays and the offensive line time to improve at holding up long enough for it all to come to fruition. Now comes the critical step in the development.
"We'll see as we go through the summer," Wilson said. "I think the summer is where, in one on one and in minor groups, these kids on their own can really clean up some of the routes."