The Ohio State position battle that will arguably carry the most interest throughout summer isn't even for a starting spot. With terrific performances during the Spring Game, Joe Burrow and Dwayne Haskins each staked his claim to Urban Meyer for the right to backup J.T. Barrett at quarterback.
"I want to watch the film and have conversations with our coaches. We haven't had that yet. I know it is very close," Meyer said minutes after Scarlet topped Gray 38-31 on Saturday. "But I'm not prepared to say who is 2, who is 3, etc., yet."
With the arrival of Kevin Wilson as offensive coordinator and Ryan Day as Ohio State's new quarterbacks coach, fans were anxious to see what progress Meyer's offense made since the team's embarrassing 31-0 defeat to Clemson in the Fiesta Bowl. Barrett, Burrow and Haskins combined to throw seven touchdown passes in the Spring Game, though that number should be taken with a grain of considering the lack of creativity from defenses and it being a scrimmage geared toward the offense.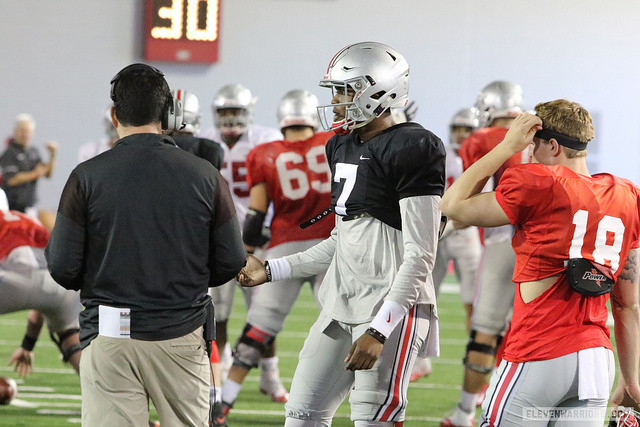 However, Barrett didn't have much to prove on Saturday and his head coach operated as such. He only played in the first quarter, calling the shots during three series of two-hand touch before yielding to Burrow and Haskins. They threw the ball everywhere against backup and later third-string defenders, lighting up the scoreboard from a statistical sense to appease fans, if only slightly.
Barrett and Meyer both said their focus during spring practice was first and foremost on pass protection, then completing the deep ball and finishing plays. Even though the quarterback couldn't really establish a rhythm on Saturday because his ability to make plays with his legs were largely removed from the equation, he still felt like he got out of the 15 practices what he needed to.
"We talk about competitive excellence, so just keep pushing that so when it comes to game time we have everybody on the same page. I think we're on the right path," Barrett said. "Are we game ready? Not yet but we don't have to be. We have time. I think I'm comfortable saying that we definitely got better in those areas."
At quarterback, Saturday was about Burrow and Haskins. Tate Martell got his feet wet with a shifty touchdown run in the fourth quarter and a few other nice plays with his legs before the clock struck zero.
Spring Games are structured the way head coaches want them, with the most important work coming in training camp before the first game. Ohio State's opener is Aug. 31 at Indiana. Only then will we truly to get see if Barrett and the offense made the necessary progress in the downfield passing game.
Until that time, all we have is numbers and the helpful charts below to form opinions. Here is how each quarterback fared on Saturday, starting with Barrett. A few notes on these charts:
The length of each throw was the determining factor to its location on the chart. Thus, if a receiver caught a pass behind the line of scrimmage but turned it into a positive play for the offense that is the reason there is yardage listed in that category.
If a receiver caught a pass eight yards from the line of scrimmage but turned the play into a 15-yard gain, it was logged as part of the 0-9 yards tally.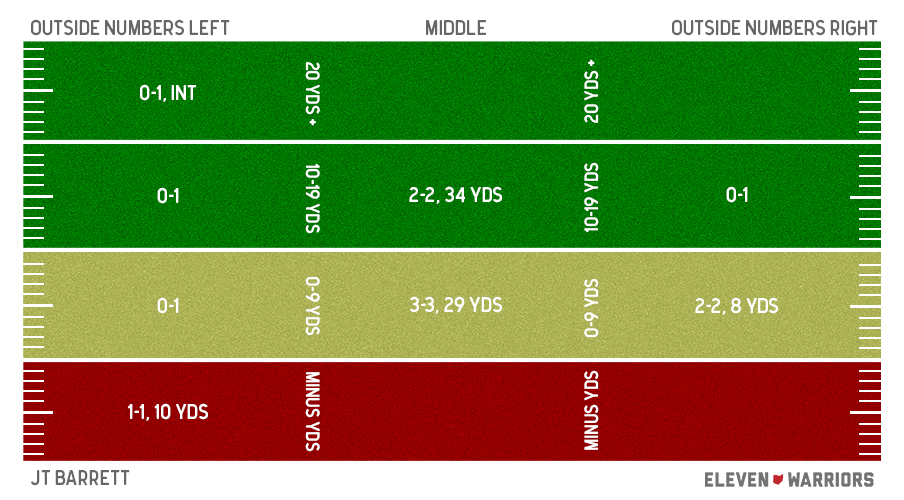 Barrett threw the ball 12 times, completing eight, for 71 yards, a touchdown and an interception. The pick came on his final play of the day when Sam Hubbard drove Matt Burrell three yards back into his lap. It caused Barrett to underthrow his pass, which fell helplessly into Damon Arnette's arms.
Barrett also caught a pass from Mike Weber on a throwback for 17 yards and ran once for eight yards. Again, he only played in the first quarter. And for good measure, Barrett wore a black, non-contact jersey (as did Haskins and Burrow).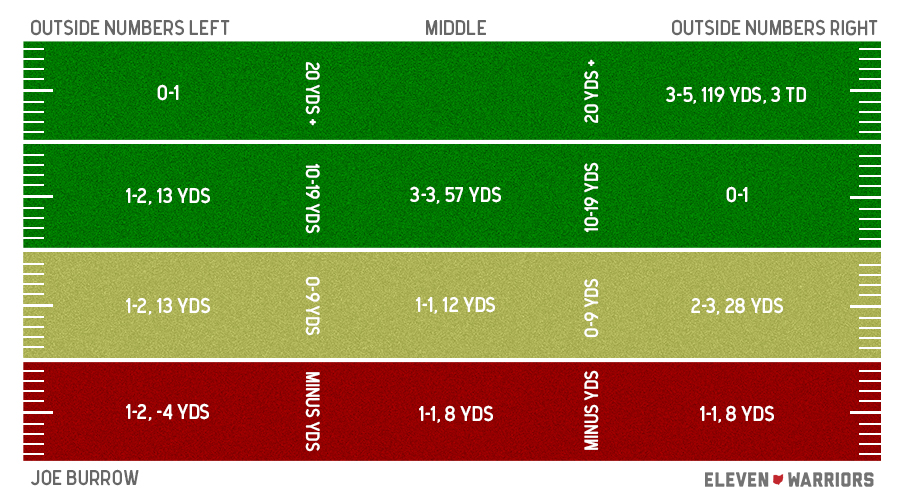 Three of Burrow's first nine passes went for touchdowns on Saturday. He found walk-on Ke'Von Huguely from 35 yards out, hit Johnnie Dixon with a 44-yard strike to open the second quarter and finally Demario McCall on a 40-yard wheel route out of the backfield. All three of those came outside the numbers and down the right side of the field.
Burrow and Haskins alternated reps for the first quarter on the Scarlet team — Burrow would take two, then Haskins would take two — until Meyer removed Barrett. Thus, Haskins could have very easily thrown the touchdown pass to Huguely instead of Burrow. It just wasn't his turn to take the snap.
Burrow spread the ball around well, as Johnnie Dixon and K.J. Hill both finished with six catches to tie for the Scarlet team lead. Dixon did catch three passes from Haskins, however, including his 18-yard touchdown. Hill was a quick option on the outside and "caught" the lone touch pass called in the game from Burrow, which is the 8-yard gain you see above over the middle behind the line of scrimmage. In all, seven different players caught passes on Scarlet.
Burrow took a "sack" on 4th-and-goal from the 7-yard line, a major no-no. It isn't in Meyer's nature to settle for field goals, so it wasn't a surprise to see Scarlet go for it in that situation, especially in a controlled scrimmage. Additionally, Burrow threw a quick screen behind Hill that fell incomplete and saw Antonio Williams get decked by Kendall Sheffield on another screen attempt for a 4-yard loss. That latter wasn't necessarily his fault, however.
Also of note: Burrow was "sacked" twice, more than any other quarterback on Saturday and elected to pull the ball down once and run after Wilson called a pass play.
But Burrow — or whoever plays quarterback — cannot take a sack in a goal line situation like he did on Saturday. Also, Mike Hill knocked down one of his pass at the line of scrimmage. Overall, though, he had an excellent day and showed fantastic touch down the field (especially toward the right sideline) on deep balls.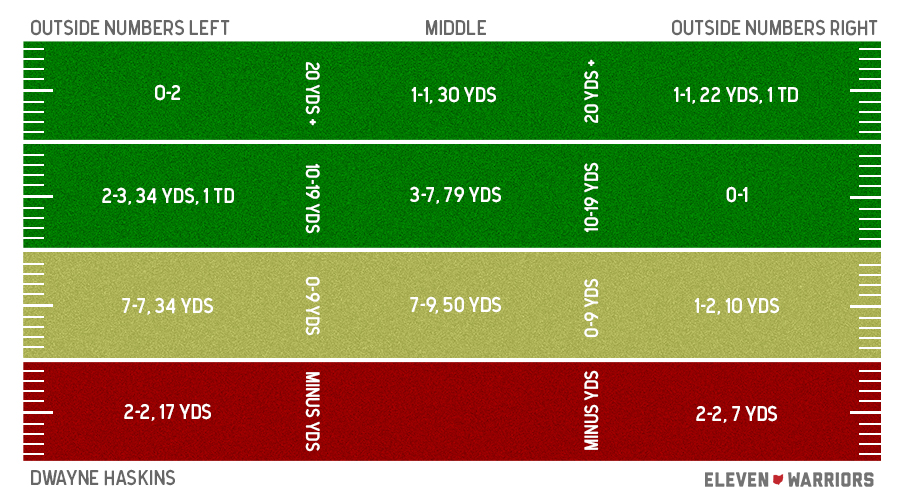 Haskins played for Scarlet briefly, tossing the touchdown to Dixon mentioned above to even the score in the first quarter. In all, he finished with a game-high 293 passing yards and three touchdowns. Ten different players caught passes for the Gray team.
Haskins's arm talent and ball skills are self-explanatory. On more than one occasion, he stuffed the ball in the gut of a running back, quickly yanked it out and fired a laser to an open receiver. Later in the game, Eric Glover-Williams became his favorite target; the converted defensive back caught a team-high seven passes for 64 yards. The majority of those came against third-string defenders and walk-ons, but it was obvious that Glover-Williams is dangerously quick and slippery with the ball in his hands.
One of Haskins's touchdown passes to Terry McLaurin was extremely borderline. The receiver bobbled the ball until he hit the ground, and when he finally had control was out of bounds. In any event, Haskins put the ball on the money in the back of the end zone. He also had his arm hit once by Malik Barrow in the red zone. The pass fell incomplete.
Haskins avoided a sack attempt by Jashon Cornell in the fourth quarter, rolled left and threw a strike to Jake Hausmann for a 16-yard gain. Had it been live, there is a good chance Cornell would have taken Haskins down. But it wasn't, so here we are.
Haskins completed 11 passes between the numbers for 159 yards but also was dynamite to the left side of the field, especially on shorter throws.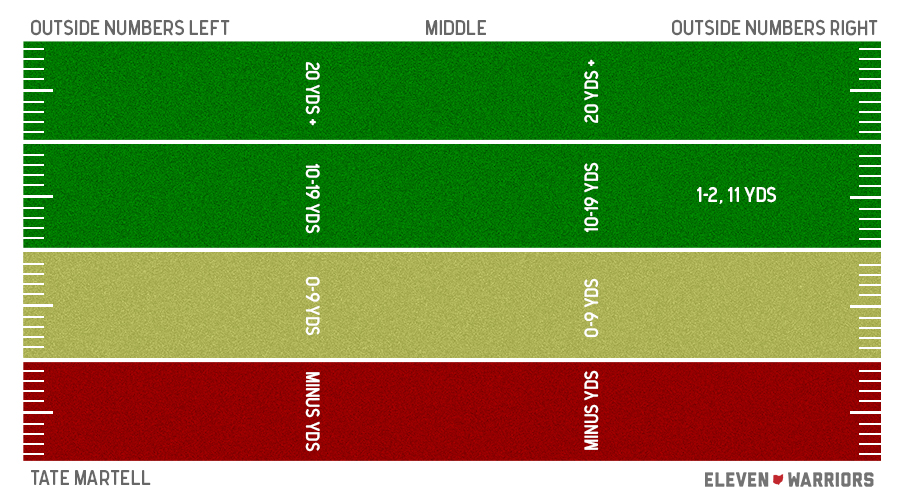 Martell's passing chart is, understandably, bland. He only threw it twice, electing to pull the ball down another time and scramble through the middle before going out of bounds on the left side of the field following a 19-yard gain.
The only quarterback to wear a regular jersey, not a black non-contact one, also ran for a 5-yard touchdown on his first snap of the game. His only completion went to Huguely for 11 yards and he had a pass intended for Luke Farrell in the end zone broken up by Wayne Davis.