The majority of open starting jobs at Ohio State usually aren't solidified until the end of fall camp.
Frontrunners certainly emerge during spring practice, though. 
And like every team in the country, the Buckeyes have some spots to fill as they begin preparation for the 2017 campaign. Ohio State starts spring practice Tuesday, March 7.
Our preview section rolls along today with some of the top position battles surrounding the Buckeyes as they head into spring ball.
Offense
Offensive guard
The candidates: Malcolm Pridgeon, Demetrius Knox, Matthew Burrell, Josh Myers
Breakdown: Ohio State lost just one starter on its offensive line from last season: center Pat Elflein. Billy Price is slated to move from guard to center in 2017 which leaves one spot — right guard — open up front for the Buckeyes.
As things stand right now, there appear to be four candidates vying for that job in the spring: Malcolm Pridgeon, Demetrius Knox, Matthew Burrell and Josh Myers. This likely won't be decided until the fall.
Pridgeon transferred to the program last season from junior college and was expected to challenge for a starting position on the line before he injured his knee in fall camp and missed the entire year. It's unclear right now how much he'll participate in spring practice, but even though he's probably more of a natural fit at tackle, Ohio State often just plays its best five linemen regardless of position. He could be in the mix for this guard spot.
Knox and Burrell each have multiple years in the program, but neither has been able to see the field much. Knox was injured for most of last season, but when Michael Jordan went down in the Fiesta Bowl with an injury, it was Knox who stepped in as his replacement. Pridgeon wasn't healthy enough to play, but perhaps that signaled Knox was ahead of Burrell.
Myers is a highly-touted recruit who enrolled in January. Normally, you'd say a true freshman starting on the offensive line would be a longshot, but Jordan did it last season and Urban Meyer had awfully high praise for Myers back on National Signing Day and said he expects the four-star prospect to compete for playing time.
Author's note: Isaiah Prince had an up-and-down season at right tackle for Ohio State last year, and even though his job likely isn't 100 percent locked down, he'll enter spring ball as the Buckeyes' starting right tackle. Thus, right tackle isn't included on this list as the starter from last season returns. 
Wide Receiver
The candidates: Literally everybody
Breakdown: With Noah Brown and Curtis Samuel both off early to the NFL, Ohio State has plenty of playing time available at wide receiver. The Buckeyes start three — two on the outside and one 'H' in the slot — and there are no surefire starters in Zach Smith's meeting room heading into spring ball so we opted to lump all three open spots into one section.
The two most experienced wide receivers on Ohio State's roster are Terry McLaurin and Parris Campbell. Both were involved in the Buckeyes' rotation last season but neither showed enough to lock down a starting position; the two combined for just 24 receptions last fall.
It's also fair to wonder if Campbell, a former high school running back and state champion sprinter, played a bit out of position at outside receiver. It seems as if his skill set may be more tailored toward the hybrid role — a slot receiver who lines up in the backfield —like Ohio State used Samuel a year ago.
K.J. Hill is a player who flashed perhaps more than any other wide receiver in limited reps last season. Hill's 18 catches last season are tops among returners to Ohio State's wide receiver room.
Binjimen Victor and Austin Mack are two to watch this spring as each continuously earned praise from the coaching staff last year as a pair of true freshmen, but neither ever consistently cracked the rotation in games. Victor did have a catch in the Fiesta Bowl loss to Clemson, however. The two could emerge as potential starters with big springs.
Big springs also lie ahead for the likes of Johnnie Dixon and Alex Stump, too, who have yet to make any sort of significant on-field impact. Former defensive back Eric Glover-Williams is reportedly moving over to offense, so there is some definite intrigue there, as with Brendon White, a versatile four-star athlete who doesn't have a true position just yet.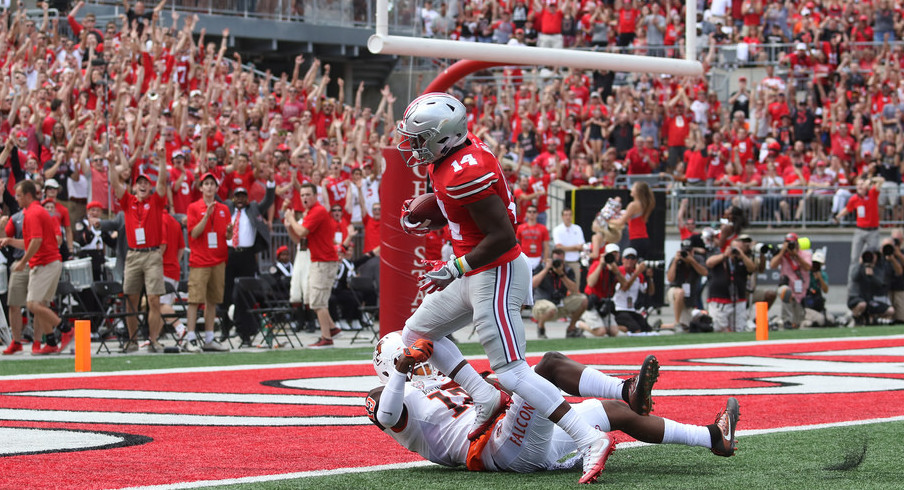 Defense
Middle linebacker
The candidates: Dante Booker, Nick Conner, Tuf Borland, Justin Hilliard, others
Breakdown: We outlined the middle linebacker opening a bit in our positional preview, but the general feeling is Dante Booker will get the first crack at the job and has the skill set best suited among the linebackers on the current roster.
But there are a number of other linebackers who have to figure out where exactly they're going to play. Nick Conner and Tuf Borland seem like natural inside backers and Justin Hilliard came to Ohio State as a WILL, but after multiple injuries, he may be a better fit playing inside.
A pair of sophomores, Keandre Jones and Malik Harrison, are also intriguing options, but with the athleticism each possesses, playing outside may make a bit more sense at this time. With that said, they'd likely have to run with the second team as Chris Worley and Jerome Baker figure to be the starting outside linebackers, so if they're good enough to play right now a move to the middle could happen.
And don't forget about five-star early enrollee Baron Browning, who looks like a college-made linebacker much like Raekwon McMillan did when he arrived at Ohio State. But Browning's a freak athlete and it feels like his skill set may also best be suited on the outside.
There are a lot of options here and we won't really know until we get a glimpse at where each is lining up when practice officially begins.
Cornerback
The candidates: Damon Arnette, Wayne Davis, Jeffrey Okudah, Shaun Wade, others
Breakdown: Ohio State lost both of its starting cornerbacks from last year's team so both are technically open, but it's all but assumed Denzel Ward will start at one spot and only one is available. We'll stick with that for this section.
Damon Arnette was the Buckeyes' fourth cornerback a year ago, primarily playing as the nickel at the beginning of the season, but his performance was inconsistent. He's probably the front-runner to begin spring ball with the first-team offense if there is one, but he's going to have to earn the starting job.
That's because Ohio State brought in a pair of five-star prospects in Jeffrey Okudah and Shaun Wade, and both are on campus already in time for spring ball. This is going to be a fight all the way through fall camp.
Rodjay Burns, Wayne Davis, Joshua Norwood and early enrollee Marcus Williamson are also in Kerry Coombs' meeting room this spring and Meyer said on National Signing Day that junior college transfer Kendall Sheffield is expected to join the team in March.
Safety
The candidates: Erick Smith, Jordan Fuller, Jahsen Wint, Isaiah Pryor
Breakdown: Damon Webb is the lone returner in Ohio State's secondary so he'll have one safety spot locked down. The Buckeyes need to find a replacement for the departed Malik Hooker, however, and that's certainly no easy task. 
The two favorites here are senior Erick Smith and sophomore Jordan Fuller. Smith, obviously, is the more experienced player but has been primarily a special teams contributor throughout his first three years at Ohio State. His sophomore season was cut short due to a significant injury.
Fuller is a former highly-touted recruit who spent his freshman season as a contributor on special teams. The battle between these two is certainly one of the more intriguing.
Redshirt freshman Jahsen Wint and freshman early enrollee Isaiah Pryor will also be going through their first spring with the team.