Ohio Stadium opened in 1922, but unfortunately, the new home of the Buckeyes quickly became a prison for the superstitious sports fan. The dedication of a new stadium was believed to bring with it a "stadium jinx" which would prevent the home team from winning the dedication game.  
But, Ohio State's stadium jinx went beyond just one game, and into more like three seasons.
The official dedication of Ohio Stadium served as the main stage for Ohio State's matchup against the Wolverines. Michigan rained on Ohio State's parade that day winning 19-0.
The struggles continued in 1923, with Ohio State unable to defeat a conference opponent inside the walls of Ohio Stadium and the stadium jinx remained unbroken.
From the September 29, 1924 issue of The Lantern: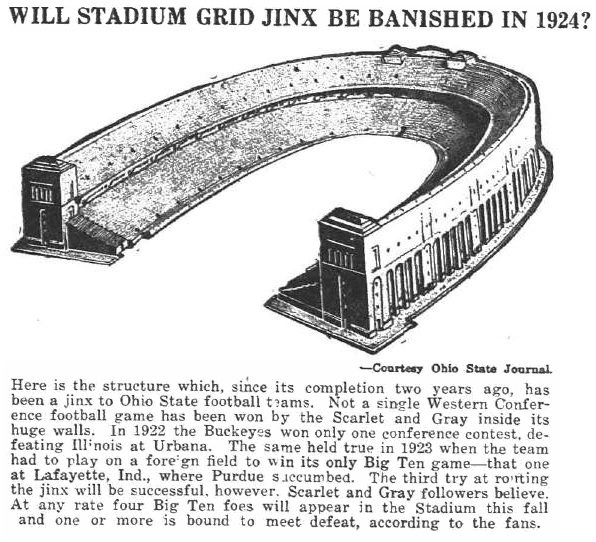 Relief came in the form of Purdue who would be the first conference opponent defeated in Ohio Stadium. Despite this, 1924 brought with it another disappointing year for John Wilce, and the Buckeyes who managed their third-straight losing season.
In hopes of turning their luck around, Ohio State decided to switch the side of the stadium that Buckeye fans would be seated. The act of superstition came with a few sacrifices for game attendees.
From the June 26, 1925 issue of The Lantern:

Whether you believe in that sort of thing or not, it seemed to work. Ohio State broke their streak of losing seasons and finished 4-3-1, a modest improvement.
In 1927, the Buckeyes hoped to turn the tables and use the stadium jinx to their favor as they headed to Ann Arbor for the dedication of Michigan Stadium.
From the October 17, 1927 issue of The Lantern: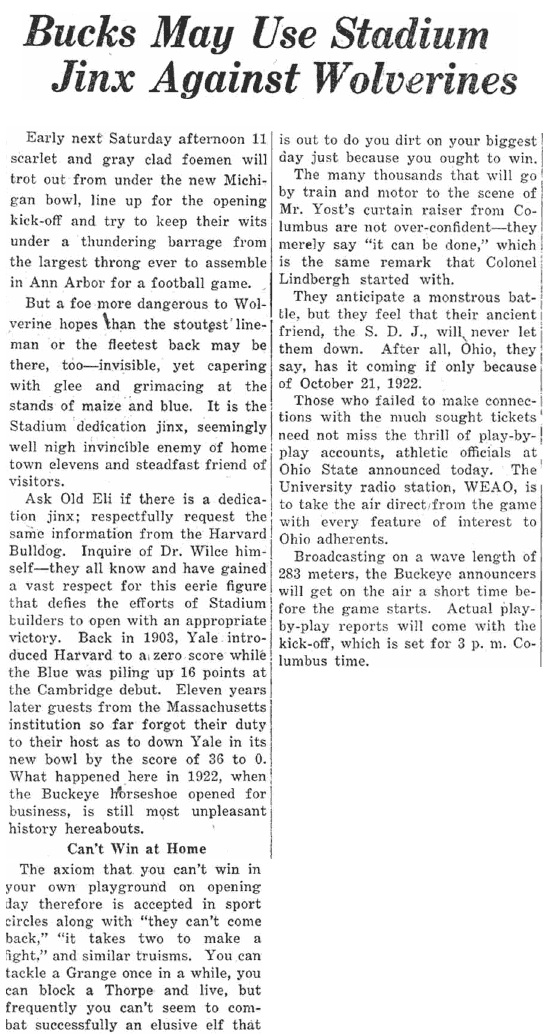 Karma wasn't on Ohio State's side that day as Michigan embarrassed them 21-0. 
Even if you're superstitious or just a little stitious, it took more than just a new stadium to derail the Buckeyes for a few lousy seasons, putting John Wilce in the hot seat. But just to be safe, I hope Ohio State doesn't have any plans for a new stadium anytime soon.