Before we go any further, let's just be honest: we're picking nits here.

Ohio State's offense was damn-near perfect last season. Even for a program with infinitely high expectations, the 2021 Buckeyes produced at a clip that few others could replicate, much less imagine, finishing first in the nation in yards per game, points per game, and SP+ (overall efficiency). They were so far ahead of the competition that the gap between them and the second-ranked offense in SP+ was larger than the gap between #2 and #20.
C.J. Stroud made replacing Justin Fields look easy, throwing for more yards per game than anyone in Ohio State history. TreVeyon Henderson casually set the OSU freshman record with 19 touchdowns. Oh, and Jaxon Smith-Njigba smashed the single-season school records for catches and receiving yards while playing next to a duo of first-round wideouts who combined for just shy of 2,000 yards while adding 25 touchdowns of their own.
The 2022 Buckeye offense put up numbers otherwise only seen in video games. And yet, because it wasn't perfect, changes had to be made.
While everyone here knows it was what happened on the opposite side of the ball which kept this record-breaking offense from competing for a national title, there were a few hiccups in big moments that stuck in the minds of not only Buckeye fans, but the head coach as well.
Trailing by just seven late in the first half against Oregon in the home opener, the Buckeyes faced a 4th & 2 from the Ducks' 39. Despite running the ball fairly well up to that point, a weak-side zone run (known as Wanda) was stuffed by Ducks' middle linebacker Noah Sewell, killing OSU's chances of taking momentum into the break.
Perhaps that moment allowed a seed of doubt to fester in the minds of the coaching staff, as they elected to throw the ball in a similar 4th & 2 late in the game, only to watch it fall incomplete.
"We didn't convert on those fourth downs," Day said following the game. "Sometimes when those go four or five, as opposed to two and three, it makes all the difference in the world, especially in that plus territory. It did today." 
"So that's something we got to go back on as an offensive staff and get it fixed and get addressed," he went on. "Because we want balance, and we don't have balance. We had 484 yards passing and 128 yards rushing, but that's not balanced."
While Day was working to reach perfection in the midwest, his former mentor was back in a familiar position of tinkering with tried and true concepts in an effort to confuse the opposition. Only this time, he had traded one coast for another.
The bond between Day and Chip Kelly has been well cataloged, perhaps even better than the latter's infamous experiments while the two were together at the University of New Hampshire. Ultimately, that work took him to the national stage at Oregon a decade later, leading a transformation across all levels of the sport with spread formations and an uptempo pace.
Today, Kelly is back to his experimental ways, though this time he's bringing the game back in the opposite direction, towards a bigger, more physical game. While his win-loss record may still be a work-in-progress, his vision for a modern offense came to life last fall, as his UCLA squad finished 14th in the nation in rushing and ranked just behind league champions Utah for the best mark in the Pac-12.
While Kelly assuredly brought a great deal of creativity to the game-planning process, he wasn't the only one. Justin Frye played a major part in developing some of those new wrinkles that allowed the Bruins to run all over the competition, which is why Day hired him to coach the offensive line in Columbus this season.
"I think being out with Chip (Kelly) and out at UCLA, kind of having a little bit wider approach than just being with the offensive line is a big deal," Day said of Frye this summer. "Sometimes in the O-line, you just kind of see between tackle to tackle. I think he sees sideline to sideline now, and I think it made him a better coach."
Day would know what kind of coach Frye has been, as this is not the first time the two have worked together. Frye coached the O-Line at Temple in 2012 when Day was the offensive coordinator, and the duo would both move into the same roles at Boston College for the next two seasons.
During their time together in Chestnut Hill, their offenses weren't the high-flying aerial attacks many now associate with Day. Rather, they helped Andre Williams to become the first Doak Walker Award winner in ACC history, rushing for 2,177 yards in 2014.
Last season, it was Michigan transfer Zach Charbonnet who benefitted from Frye's work up front, rushing for 1,137 yards while averaging 5.6 yards-per-carry. The Bruins weren't the most talented team in the conference but found ways to open running lanes by getting creative.
Rather than simply run a weak zone (Wanda) concept into the boundary when facing the Ducks, Frye and Kelly added the wrinkle of pulling a tight end from the opposite side to act more like a fullback leading the runner: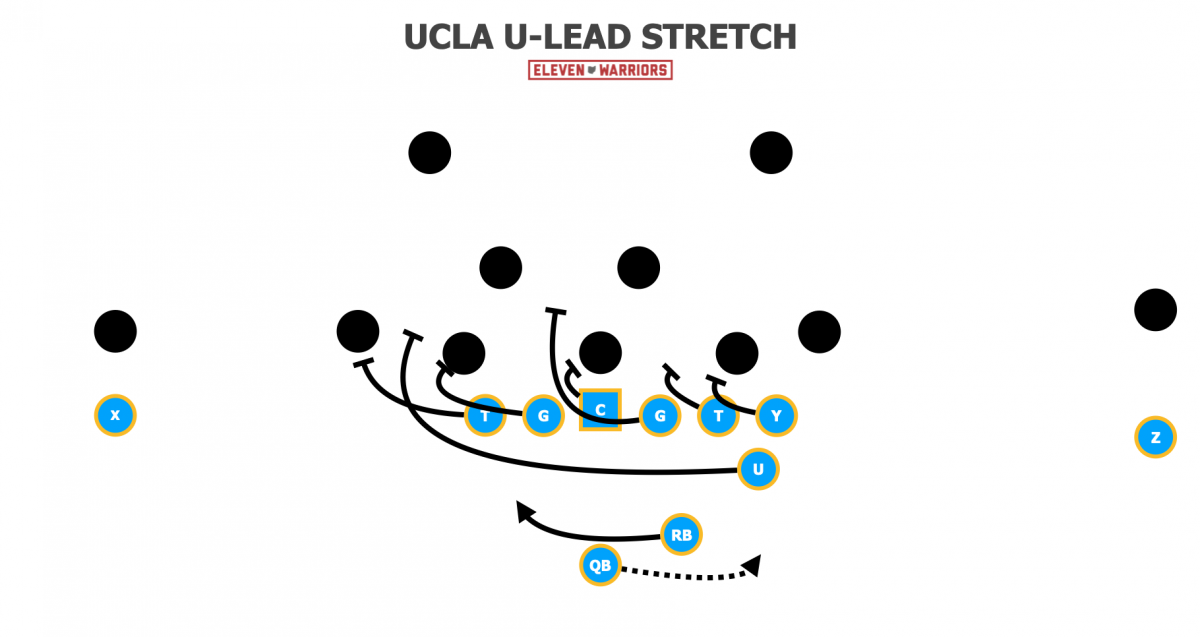 "The word 'no' doesn't exist," Frye said of his experience working with Kelly. "There was never an ironclad of like, 'No, we don't do that.' Let's see, let's look at it, let's talk through it. Let's twist it a little more so it becomes more like what we do, but there's still a wrinkle."
This approach extended beyond just blocking schemes. Those who hadn't paid close attention might have been surprised to see how the Bruins run through, over, and around the vaunted LSU Tigers in a week 2 upset last fall.
Kelly's offense didn't line up with three or four receivers on every play as he had while coaching the Ducks. Instead, it was three or four tight ends on the field, compressing the defense and giving it ten gaps to fill. When Kelly and Frye called for the backside tight end and a compressed wide receiver to pull and lead Charbonnet on a counter play, the Tigers looked absolutely helpless.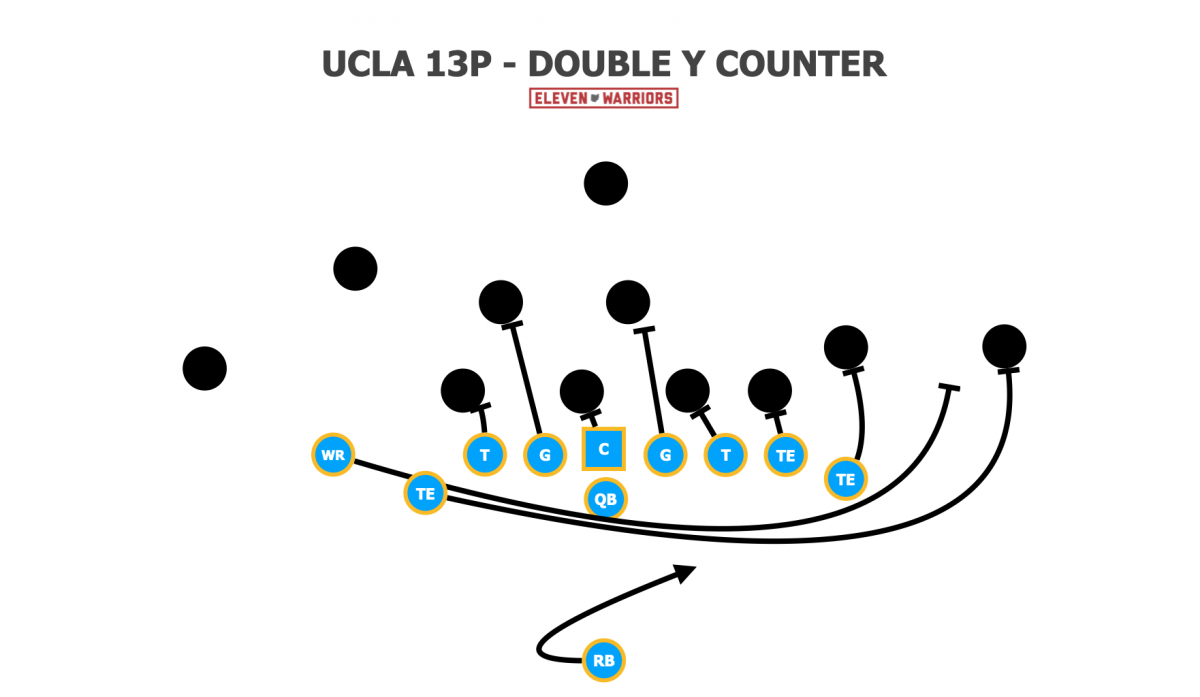 Don't expect the Buckeyes to bring talented wideouts like Smith-Njigba or Marvin Harrison off the field very often this fall, though. Frye believes it's best to play to the strengths of the talent at hand and build wrinkles around that, as he and Kelly did with the UCLA tight ends last season.
"Your identity becomes what those kids can do, really," Frye said while meeting the OSU media back in April. "You get through spring ball and figure out how those kids run and how they pull, whatever they do, how they change direction, and some of the things they can do. Then you start to hang your hat on 'We can do this and here's how we can window-dress it a couple of different ways.'"
As one might expect, those window dressings were not on display in Ohio State's spring game. But behind closed doors, the impact he's had on the offense is already evident to his players.
"I think he brings a really unique blend of the East Coast style that he learned when he was coaching at Boston College and running the ball – that two-tight end, a little fullback, ground, and pound," starting center Luke Wypler told the media following a training camp practice this month. "And then when he went out to the West Coast with Chip Kelly, learning all the keys and traits of pass protection, running that spread offense and West Coast offense out there. So right now, I think he is the best of both worlds, and it's really unique to learn from someone that has seen both sides of it."
Much as the Buckeye defense had become predictable from a schematic point of view over the previous two seasons, opponents know what they can expect after 5 seasons with Day and Kevin Wilson calling offensive plays. But Frye wasn't brought in to completely change things up the same way Jim Knowles was.
"I don't need to come in here and reinvent the wheel," Frye said. "The offense here was really damn good. It's my job to come in here and supplement that."