Joe Moorhead is about to get paid.

When Penn State hired Fordham's head coach as their new offensive coordinator prior to last season, many thought it was James Franklin's sad, final attempt to save his job after two lackluster seasons in Happy Valley. But after finishing with one of the nation's worst offenses in 2014 and 2015, despite featuring a "can't miss" quarterback prospect in Christian Hackenberg, Franklin's squad shocked the world by winning the Big Ten on the back of one of the nation's most dynamic offensive units in 2016.
Unheralded quarterback Trace McSorley paired with star tailback Saquon Barkley to bring the Nittany Lions to the Rose Bowl for the first time since Joe Paterno was roaming the sidelines, leaving many to wonder how, and who had turned the ship around so quickly. 
Like his quarterback in State College, Moorhead wasn't a highly respected member of the coaching fraternity, with a resume highlighted by a Fiesta Bowl appearance with UCONN in which he called plays for the nation's 95th-best offense. A year after helping lead the Huskies to the desert, the Fordham alum took over as head coach of his alma mater, quickly turning the program around from 1-10 in 2011 to 12-2 and a berth in the FCS playoffs just two seasons later.
But while his win-loss record may have turned the heads of some FBS athletic directors, it was the manner in which he did so that struck Franklin after hearing Moorhead speak at a coaching clinic. Like most coaches of his era, Moorhead had built his scheme around the zone-read, but after an injury left his quarterback hobbled and unable to move the ball with his legs, he was inspired by a fellow FCS colleague: then-Eastern Illinois head coach Dino Babers (who went on to Bowling Green and now, Syracuse), who was re-writing record books with an offense that asked a quarterback with a funny name (Jimmy Garoppolo) to run an offense full of run-pass options.
Though Moorhead and his staff didn't completely change their identity from a zone-run team, they certainly weren't afraid to evolve, as Andrew Breiner, the former offensive coordinator at Fordham who took over once Moorhead departed for Happy Valley, told Bruce Feldman of Sports Illustrated:
"When we first got here, Joe said, 'Why don't we just leave the tight end off the ball so that we could run the split-flow zone, which is really the cornerstone of our offense.' Part of it was for that and part of it was personnel-wise. As we got going, there was no going back. The split-flow zone is who we are.

...

"It's a pretty simplistic scheme. We have our six in the box (five O-Linemen and the tight end) are gonna block your six and then we're going to tag a run-pass option to it, so if you're trying to add the seventh or eighth defender to the box, we're essentially going to make you wrong with a throw. And, because we have run it so much our kids are really confident in it."
Only in college football can a coach leave New York for the 'big time' of rural Pennsylvania, but that's exactly why Moorhead took a demotion after leading the Rams to three consecutive playoff appearances. But when he arrived in State College, he also happened to inherit the most talented player to walk the PSU campus in decades as his tailback.
Like the Ohio State run game under Urban Meyer, the Penn State attack is anchored around the inside zone run concept, with multiple wrinkles and tags added to keep defenses honest. But Moorhead doesn't simply just give the ball to Barkley 25 times each game and walk away.
The Nittany Lion offense is fairly simple in terms of the number of concepts featured, but the manner in which Moorhead stitches them together on the same play is what makes them so dangerous. But not only does he combine a run or pass play to stress the defense, he highlights the abilities of his best players in the process, such as fusing a handoff to Barkley with a corner route to stud tight end Mike Gesicki, all while giving McSorley the option to pick up yards with his feet.
But what really took Franklin's team to the next level last fall was their ability to throw the deep ball. Knowing teams were looking for the run, Moorhead regularly dialed up deep, play-action passes that isolated defensive backs against star receiver Chris Godwin.
With Godwin leading the way, Penn State finished fifth nationally in passes of 20 yards or more, as the junior hauled in 18 such completions by himself. Though Godwin left for the NFL last spring, McSorley has continued to throw long, especially against teams like Michigan that play a great deal of man-coverage.
Last weekend, Moorhead and the Lions took it to Don Brown's heralded defense, punishing their aggressiveness with concepts such as 'Smash-Fade' that put defensive backs on a helpless island. Slot receiver DaeSean Hamilton appears to be McSorley's new favorite target on such throws, leading the Big Ten with 13 receptions of 20 yards or more.
However, despite their ability to connect downfield against Michigan's man-coverage, the Penn State passing offense has been inconsistent in producing these big plays. Against Pittsburgh and Iowa, the Lions were forced to methodically move the ball downfield, leaning heavily on Barkley to carry the load in both victories.
As Greg Schiano and the Buckeye defensive staff undoubtedly spent the past week seeing for themselves, the best way to contain Moorhead's explosive offense seems to be by leaning heavily on the 'quarters' coverage run so often by Schiano's predecessor, Chris Ash. While the Buckeyes have liked to mix quarters in on early downs before turning to man-coverage schemes when teams are forced to throw this season, Schiano may be forced to take a simpler approach this weekend.
Though coverages like 'Cover-1' place an extra defender near the line of scrimmage by keeping only one safety deep, the two-deep look of quarters will allow the Buckeye secondary to defend the downfield passing game while still keeping their eyes in the backfield. Specifically, safeties Jordan Fuller and Damon Webb will have to get their hands dirty in the run game, as they'll be responsible for keeping outside 'contain' on Barkley and not allowing him to turn the corner for a long gain. 
But the real key for Schiano's defense will be the play of his linebackers. While there was plenty of blame to go around after the early season letdown against Oklahoma, no unit may have had a worse game than the crew of Jerome Baker, Chris Worley, and Dante Booker.
After the trio struggled to defend the Sooners' bevy of run-pass options in Schiano's man-heavy scheme that night, they should be allowed to follow a much simpler game plan this time around. As we saw in last year's matchup against the Nittany Lions, the Buckeyes asked the linebackers to simply fill their run gaps properly at the first sign of run, thanks in large part to the "Solo" check that allowed the SAM linebacker to bottle up any outside carries.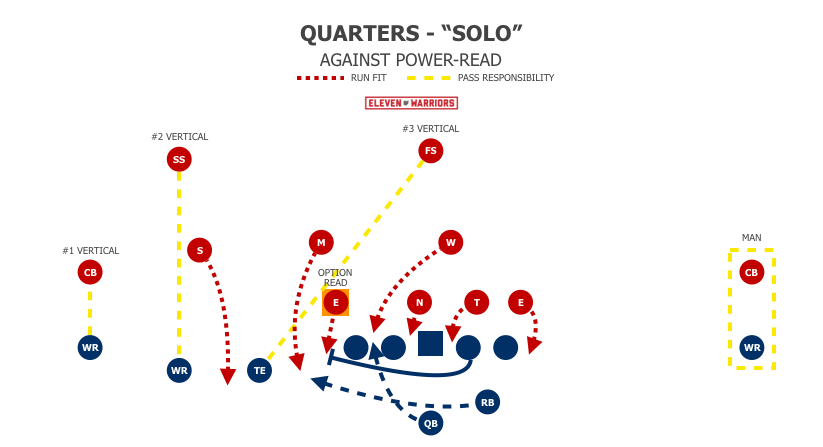 Though Moorhead appeared to have all his pieces in place in this example from last season's matchup - with Barkley outside, McSorley inside, and a receiver downfield in case the defense over-pursued the run - every member of the Buckeye defense fills their gap and does their job, resulting in an incompletion.
While a perfectly thrown ball may have resulted in a completion here, Schiano and the Buckeyes forced McSorley to be perfect, something he struggled to do against the depth of Ohio State's defense last fall. Even with Barkley rushing for 99 yards in Penn State's upset victory one year ago, the Buckeyes still outgained the Nittany Lions by 137 yards in a less-than-impressive offensive performance.
Though McSorley has gotten much more comfortable in command of Moorhead's scheme since then, he'll be facing the most talented unit he's seen in that time. The Buckeyes will trot out a defensive line with as much talent, and even more depth, than the Michigan front that still registered seven tackles in the backfield during their loss last weekend.
The best way to slow down the split-zone run that is the bedrock of Moorhead's scheme is to get penetration between the tackles, gumming up the tight end's kick-out block and taking away the back's desired cutback lane. Dre'Mont Jones will certainly need to be the disrupter he's known for being, while the rotation of Tracy Sprinkle, Robert Landers, and the recently reinstated Michael Hill must bring their 'A' games against as well.
Behind them, Denzel Ward will likely get the role of the 'solo' defender in man coverage when the Buckeyes dial up that quarters adjustment, continuing to take away one half of the field as he's done all year. But if the Ohio State linebackers and safeties play fundamentally sound in their run fits, the Nittany Lions offense may struggle to live up to its top billing.
While they'll certainly tell reporters that they're happy to methodically drive the ball down the field as long as it results in points, that style of play simply isn't in their DNA. This is an offense that looks to make a defense uncomfortable and then capitalize on your mistakes in a hurry. 
Such an approach has made Moorhead an attractive candidate for every current head coaching vacancy in the Power 5, especially after last weekend's thumping of one of the game's top defensive minds. But while Moorhead can begin preparing to put his Happy Valley home on the market, the question remains: is his offense truly ready for 'life in the big city?'