Rarely does the return of a two-time conference player of the year seem like a luxury.
With two other seemingly capable quarterbacks from which to choose, a preseason Heisman candidate at running back, and a host of wide receivers with clear NFL talent, the addition of Braxton Miller to the 2015 Ohio State offense was just that. His presence should have been the icing on the most delicious offensive cake Columbus had ever been served. 
But as we know now, things didn't work out exactly the way we all imagined. Inconsistency in every aspect seemed to plague the Buckeyes this fall, leading to an eventual meltdown against Michigan State in the final home game of the season that will define the 2015 campaign for many. 
Miller's performance was a microcosm of the unit as a whole, breaking a long run or hauling in a deep pass one play, then losing four yards the next. Miller's move from quarterback to wide receiver was never expected to be seamless, but his role in the offense never seemed to be defined, instead acting at times like a necessary weight that had to be carried by the entire unit.
After announcing his return from shoulder surgery with a bang in the season opener against Virginia Tech, Miller's production was erratic.
Braxton Miller 2015 Total Offense

| Opponent | Touches | Total Yards |
| --- | --- | --- |
| Virginia Tech | 8 | 140 |
| Hawaii | 10 | 73 |
| Northern Illinois | 4 | 7 |
| Western Michigan | 6 | 38 |
| Indiana | 2 | 5 |
| Maryland | 8 | 90 |
| Penn State | 8 | 63 |
| Rutgers | 3 | 71 |
| Minnesota | 6 | 56 |
| Illinois | 2 | -4 |
| Michigan State | 3 | 12 |
| Michigan | 4 | 12 |
At first glance, the inconsistencies appear to mirror that of many 'big play' wide receivers. Devin Smith's 2014 season in which he led the team in receiving yards has a very similar 'feast or famine' look when examining his efforts on a game-by-game basis.
Yet Miller's presence in Buckeye game plans was vastly different than that of Smith. While his biggest production came from deep receptions, hauling in eight passes of 15 yards or more, the vast majority of his touches came from direct snaps as a quarterback.
Braxton Miller 2015 Touches by Type

| Play type | # of Touches | Yards Gained | Yards-per-attempt |
| --- | --- | --- | --- |
| Rushes as QB | 33 | 198 | 6.00 |
| Rushes as RB | 8 | 38 | 4.75 |
| Jet Sweeps | 8 | 29 | 3.63 |
| Screen Passes | 2 | 2 | 1.00 |
| Downfield Pass Reception | 14 | 304 | 21.71 |
Any player or play that can garner six yards on average should be a keeper for any coach, except when that number is skewed by an outlier. For Miller, that was his 53-yard touchdown run against the Hokies in which he delivered one of the most memorable spin moves in recent history. 
The play-call was the counter-trey he'd run with great success earlier in his career as a quarterback, and a staple of Urban Meyer's offenses since taking over the program four seasons ago. Expecting to see Miller once again taking a direct snap wasn't a stretch of imagination, but after reeling off that long gainer in week one, he'd never break another run longer than 16 yards when rushing from the QB spot. When removing that long gain against the Hokies, Miller's average when carrying after a direct snap dropped to 4.5 yards-per-attempt, making it far less efficient than the 6.37-yard average J.T. Barrett posted as a runner.
Miller deserves much of the blame for the inconsistency in his efforts to pick up yardage as a runner. Regardless of the concept called, Miller seemed to always look to create his own path in an effort to break a long run instead of following his blocking. 
While the Ohio State offensive line had some issues of their own this fall, they aren't the reason for this failure. After faking a handoff to Elliott to the left, Miller is supposed to follow center Jacoby Boren and guard Pat Elflein around the right. Elflein does his job by kicking out the end man on the line, sealing one side of the hole while Boren heads upfield through it looking for someone to block.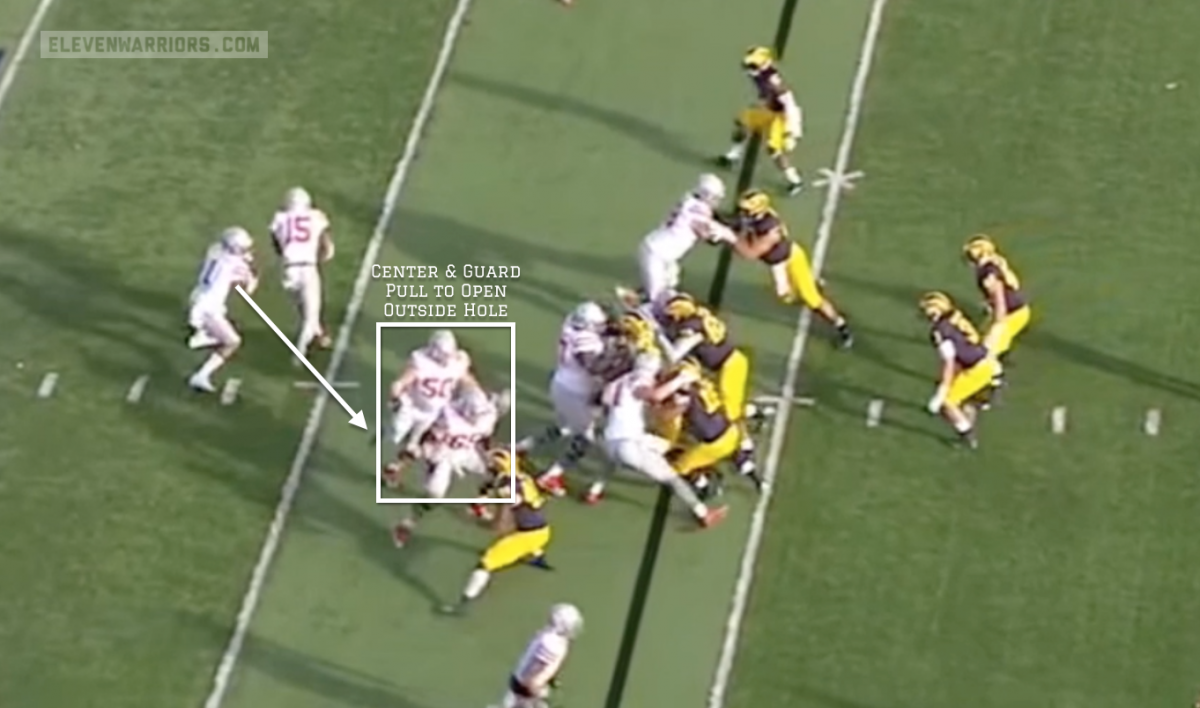 Boren never even makes a block since the entirety of the Michigan's interior defense was sucked in by the fake around the left, perhaps expecting Miller to take the ball inside like the 'Power-Read' plays that gashed the Wolverines that day. Yet instead of following his blocks through the giant hole on the right side, Miller cuts back inside, directly into the waiting arms of a defense that should've been caught completely off guard.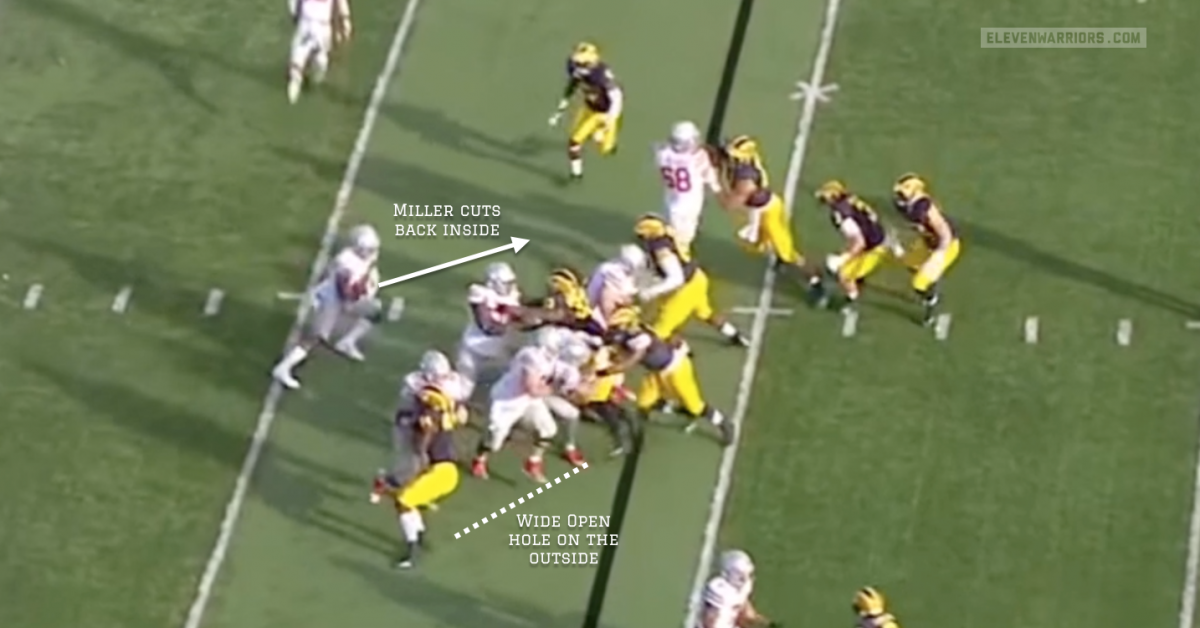 These same issues plagued Miller's efforts to pick up yards when lined up in the backfield and taking handoffs like a running back, as well as on Jet Sweeps. Though the short, touch-passes that came his way after coming in motion before the snap counted as receptions, they often ended in Miller trying to juke a defender one-on-one like a basketball player on an isolation play. For every such run that picked up 10 yards or more, there were nearly as many that never returned to the line of scrimmage, including a boondoggle against Indiana that somehow resulted in a nine-yard loss.
Meyer has famously made an effort to distribute the ball to his playmakers, and his faith in Miller's ability to break a long gain clearly outweighed the negative plays for the head coach. Yet those negative plays regularly stalled drives, creating numerous 2nd or 3rd-and-long situations that didn't have to be so. 
When Miller lined up behind center, or in the backfield at all, defenses seemed to key directly on his presence and a likely run carry for #1. Meyer and coordinators Ed Warinner and Tim Beck would use this against the defense from time to time, calling for play-action when Miller lined up at running back, yet rarely used him out of the backfield as a receiver.  
With no experience in pass protection at any point in his career, Miller was virtually useless as a blocker in the backfield. But with a passing game regularly targeting Elliott as a receiver from the running back spot (26 catches in 2015), it's a wonder why Miller only saw two such passes come his way. If nothing else, more targets in this capacity could've forced a defense to jump his route leaving other receivers open downfield.
Along the same lines, Miller only caught two screen passes in his time as a slot receiver. The Buckeyes regularly called for screens to Michael Thomas and Jalin Marshall, the latter of whom has a similar skill set to Miller. Knowing that Miller poses the greatest threat in the open field, it's simply baffling that he wasn't given the chance to show him improvisational skills in this manner more than twice. 
One thing is for certain though, he couldn't have been denied additional opportunities in the screen game because of his ability to catch the ball. As someone that had spent his entire life on the opposite end of passes, many expected Miller to have a hiccup or two when hauling in receptions for the first time.
Yet in that same opening contest against the Hokies, Miller showed an ability to not just get open downfield, but to naturally snatch the ball with his hands instead of relying on his body to trap it.
Miller would make similar circus catches against Maryland, Penn State, and Rutgers, giving a spark to otherwise stagnant offensive outputs at that point in all three contests. As shown above, Miller proved most valuable to the Buckeye offense as a downfield receiver, filling the void left by Smith as the 'home run hitter' in the passing game.
With the Jet Sweeps counting as receptions, Miller's average yards-per-catch is decreased by eight. However when those are removed from his catch totals, his nearly 22 yards-per-reception would put him far ahead of Thomas and Marshall, showing his true value.
Yet the Buckeye staff surely knew his value as a receiver, especially when facing safeties and nickel backs from his position in the slot. Even if the philosophy of using Miller was always intended to be a high risk-high reward option, the potential gains of a 30-yard catch are clearly better than a 15-yard run. On top of that, the Buckeyes could have supplemented their regular personnel packages with Barrett and Elliott in the backfield without showing that Miller was to be targeted until the ball left the quarterback's hand.
With one final chapter left to be written in Miller's story as a wide receiver at Ohio State, there's still chance for the coaching staff to properly feature his talents. However, to maximize his value they must break the tendency of relying on direct snap runs to get him involved.
During the three weeks of bowl practice, Miller should be able to spend time developing his fundamentals as a route-runner, a part of his game still in need of work. Against the talented and athletic defense of Notre Dame, the Buckeyes can't afford to look at Miller's potential as a luxury, but rather as a core component of their passing game.