With Ohio State and Michigan headed for a top-three showdown this weekend, Saucy Brew Works will release a new beer that sets the tone for the 119th edition of The Game.
The Cleveland-based brewery – with additional locations in Pinecrest, Columbus, Sandusky and Put-in-Bay – will release a Michigan version of its "Stealing Signs" Double Dry Hopped Hazy Pale Ale (6.5% ABV) on Friday.
"The series of 'Stealing Signs' began when the Houston Astros baseball team was mixed up in their signs scandal. We then released the 'Stealing Signs' beer that was baseball-themed," marketing manager Amanda Kantor told Eleven Warriors. "With recent news out of Michigan, we thought it would be a great opportunity to have fun with this beer and get Ohio State fans excited for The Game."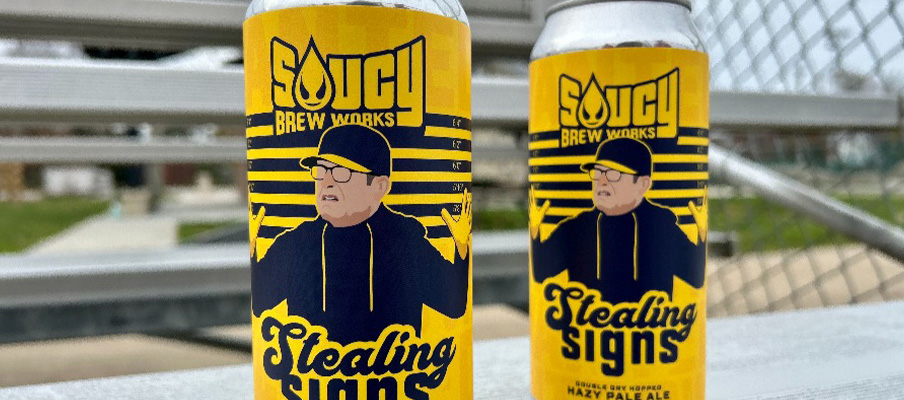 The Michigan version of the beer, which features a drawing of a person who resembles Jim Harbaugh, will be sold in 16oz four-packs on Friday at 11 a.m. at all five Saucy Brew Works locations. The Columbus brewery, which also includes a brewpub and a coffee shop, is located in the Harrison West neighborhood at 443 W Third Ave.
"It's an extremely limited run, so the public should come snag it before someone steals it," Kantor said.
Over the next three days, Saucy Brew Works will start contests for several prizes, including several Ohio State-themed prizes. One winner will receive two tickets to the Ohio State-Michigan game in Columbus in 2024 (click here to enter).
On Saturday, the Columbus brewery will open at 10 a.m. for the Ohio State-Michigan game. The watch party will include specials on food and beer, with specific details to be released later this week.