There almost isn't a need to set the stage for the 119th edition of The Game.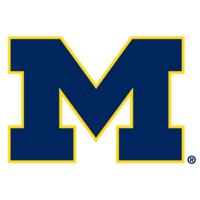 The importance of the matchup rarely needs to be reiterated as perhaps the most prestigious of all college football rivalries. Michigan tops the NCAA record books with what is now exactly 1,000 wins, Ohio State is second with 963. Michigan claims 11 national championships, Ohio State claims eight. The two sides have a combined 82 Big Ten titles.
First meeting in 1897, the Buckeyes and Wolverines have faced each other every season since 1918, save for a one-year hiatus in 2020 from a game canceled due to COVID-19. Few rivalries compare in terms of scope, history and regularity of relevance to the college football landscape at large.
This year's renewal has as many storylines and as much intrigue and anxiety packed in as any of those previous meetings.
While Michigan's 2023 campaign is clouded by a major scandal, the Buckeyes and Wolverines meet as top-three squads nationally to decide the Big Ten East and likely a spot in the College Football Playoff. Both are 11-0. 
After a decade of dominance from Ohio State, Michigan has usurped the Buckeyes atop the rivalry with back-to-back three-score victories, including its first win in the Shoe since 2000 a year ago.
The Wolverines will challenge the Buckeyes with an imposing defense, formidable rushing attack and a quarterback who was, for much of the season, considered a leading candidate for this year's Heisman Trophy.
Rivalry week is here, so it's time to dive in to the biggest things you need to know about the team up north.
An alleged massive, elaborate sign-stealing scandal championed by a man with a 600-page manifesto
In case you've been sleeping under stalactites for the past month, Michigan is at the center of the biggest ongoing story in college football, and it isn't a positive one.
Staffer Connor Stalions, who has since resigned from the program, allegedly paid to have associates travel to games of future Michigan opponents and film their sidelines to steal their signals. The NCAA has told the Big Ten that it "knew and could prove" the Wolverines' sign-stealing scheme violated NCAA rules.
Stallions is an ex-Marine who reportedly had ambitions of rising the ranks of Michigan's coaching staff and even had a 550-600 page document on his vision for the program he called "the Michigan Manifesto." Before his sign-stealing scheme came to light, Stalions was seen frequently communicating with Michigan's coordinators during games.
While the NCAA's investigation into the allegations is still ongoing, the Big Ten suspended Jim Harbaugh from coaching in games for the remainder of the regular season as punishment for the program violating the league's sportsmanship policy. Michigan also fired linebackers coach Chris Partridge, who reportedly participated in the destruction of evidence related to the investigation.
Offensive coordinator Sherrone Moore has served as acting head coach in Harbaugh's stead, leading Michigan to wins on the road against then-No. 10 Penn State and Maryland.
Now that that's out of the way, let's talk about The Game itself and the team Michigan presents this year.
Pound the rock
Task number one for Ohio State on Saturday is to stifle Michigan's running game.
The Wolverines' numbers aren't as impressive as in years past, as they are currently ranked 50th nationally in both rushing yards per game and yards per carry at 171.0 and 4.5.
But things picked up for Michigan in its most pivotal game of the season to date. The Wolverines ran the ball 32 consecutive times in the second half against Penn State's fourth-ranked rushing defense, picking up 227 yards on the ground in the contest at a rate of 4.7 yards per carry.
Michigan's offensive line is a semifinalist for the Joe Moore Award, given annually to the best front five in the country, after winning the trophy in both 2021 and 2022. Right guard Zak Zinter is one of seven semifinalists for this year's Outland Trophy, given to college football's best interior lineman. Left guard Trevor Keegan joins him as a first-team All-Big Ten selection from a year ago.
The Wolverines have been banged up on the edge of their offensive line, however. Right tackle Myles Hinton's status for Saturday is unclear after he went down with an injury against Maryland and left tackle LaDarius Henderson missed the game against the Terrapins with a knee injury, though Moore said he was held out for precautionary reasons and should return this week.
Blake Corum leads the charge at running back after a consensus first-team All-American selection in 2022. This season he's picked up a nation-leading 20 rushing touchdowns alongside 888 yards on 180 carries, an average of 4.9 yards per tote. He's third all-time at Michigan with 51 career rushing scores.
Donovan Edwards has been less impressive in relief, gaining only 323 yards at a clip of 3.4 per carry. He's added 225 receiving yards, however, and posted two rushing scores of 75 yards or more against Ohio State last year while Corum sat out with an injury.
Dominant defense
Michigan's defense is No. 1 in the country in scoring, No. 1 in yards allowed, No. 2 (behind Ohio State) in passing yards allowed per game and No. 9 in rushing yards allowed per game.
No team had managed more than 15 points against the Wolverines all season until Maryland scored 24 points against Michigan on Saturday, though the Terrapins still collected only 291 yards of total offense.
It should be noted that Michigan has played only one offense that ranks in the top 60 nationally for total yardage – that being 40th-ranked UNLV – while it has faced seven offenses that are outside the top 100.
Linebacker Junior Colson is the team's top tackler by a wide margin, collecting 60 takedowns with two tackles for loss on the season. Defensive ends Jaylen Harrell and Josaiah Stewart top the team's sack production with 5.5 and 4.5 apiece.
Defensive back Mike Sairinstil champions the Wolverines' efforts in the secondary, picking up a team-high four interceptions and four pass breakups this year to go along with 25 tackles and three tackles for loss. Five-star recruit Will Johnson is the squad's No. 1 cornerback with two picks and four PBUs in nine games played.
Situationally, Michigan ranks 15th nationally in opposing third-down conversion rate and leads the country by allowing touchdowns on only 33% of opposing red zone trips. The development of Kyle McCord and Ohio State's offensive line will be put to a full test in Ann Arbor.
McCarthyism
As recently as Oct. 26, Michigan quarterback J.J. McCarthy was the favorite to win the Heisman Trophy. That stock has cooled as McCarthy threw for just 60 yards against Penn State and 141 yards against Maryland, with no touchdowns in either game and an interception vs. the Terrapins.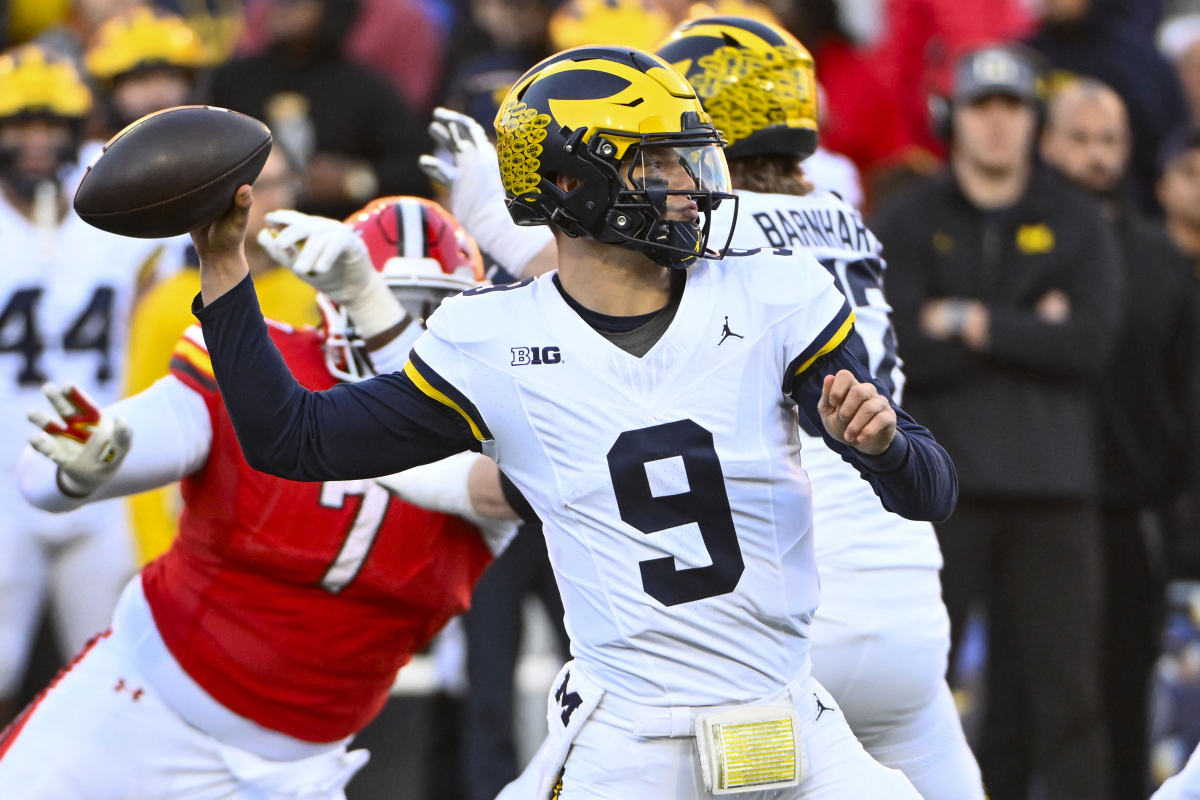 Still, his numbers on the year are impressive. McCarthy holds the nation's third-best completion percentage at 73.8 with 2,335 yards through the air and 18 touchdowns against four interceptions. He's also picked up 164 yards on the ground including sacks, with three rushing scores.
Roman Wilson, Michigan's leading receiver with 612 yards, joined Hinton in going down with an injury against Maryland and his status for Saturday is also unclear.
McCarthy completed only 50% of his throws last year in Columbus but recorded touchdown passes of 69, 75 and 45 yards with a 3-yard rushing trip to paydirt. If Ohio State sells out to slow the run and is successful in doing so, Michigan's success could hinge on whether McCarthy can move the ball downfield through the air.
Back in the cold
Ohio State's physicality in cold-weather football games has been a narrative nationally the past two years, warranted or not.
The high in Ann Arbor for Saturday is currently projected at 39 degrees with a low of 24. Winds are forecasted relatively low at seven miles per hour, but such conditions will still lend added importance to running the football and stopping the run.
The Buckeyes will hope to put both the Wolverines and their grief from the past two results of The Game on ice this Thanksgiving weekend. Kickoff is scheduled for noon Saturday with the contest to be broadcast by FOX.