Ohio State's beatdown of New Mexico State on October 31st, 2009 was routine for a late-era Jim Tressel win.
And by "routine" I mean that the Buckeyes rushed for over 300 yards, Terrelle Pryor completed less than half of his passes, and the New Mexico State Aggies had a grand total of two first downs en route to a 45-0 final.
The lede for the Associated Press summary of the game rendered all analysis of the game unnecessary with a perfunctory "No. 17 Ohio State needed a tuneup. New Mexico State needed $850,000", which is such an utterly perfect summary of the game (which, while I assume I watched, I have no direct memory of) that there is no point in trying to recap it further.
It suffices to say that when staring down the fluorescently-lit corridor of a late fall afternoon, this is the game that you imagine at the end of the hallway.
There were some notable things about the matchup; it was played on Halloween, which is always fun, and the Ohio State Marching Band played Thriller at halftime. But beyond that, it was an eminently forgettable afternoon in which the Buckeyes outgained their opponent by nearly 500 yards and 45 points.
So why am I so interested in a game from nearly 15 years ago?
I'm not, really. It was a random out-of-conference tilt that I randomly selected, because I was curious to see what kinds of ephemera might still exist of a game that had been almost totally forgotten by everyone who experienced it.
Part of the reason why college football is so great, and part of the reason why we miss it so much in the offseason, is because even when it is bad or boring or of negligible importance to the wider narrative of a season, the assorted goofy detritus that is generated by every game gives texture to the sport in a way that's hard to describe.
The channel that made these videos seems to be dead, but for years it created these goofy and extremely dedicated animated pregame shows for a pretty tiny audience, including the above video for the game against New Mexico State. There's voice acting, a script, a laugh track for some reason, and the best animation MS Paint could buy. It's insane but it has an obvious amount of heart, all to preview a game that no one was excited about at the time and no one remembers years later.
But maybe I'm wrong! Maybe this victory from 2009, coming off the heels of embarrassing losses to USC and (pause for dramatic effect) Purdue, is near and dear to your heart for some other reason. Maybe, in a fit of rapturous delirium after watching the Buckeyes vanquish a hated foe, you proposed to your partner immediately after Boom Herron broke off a 53-yard run. Maybe you found a quarter under your seat. Maybe you got a high five from a tough biker dude at the Varsity Club after the game, causing you to briefly consider buying a motorcycle.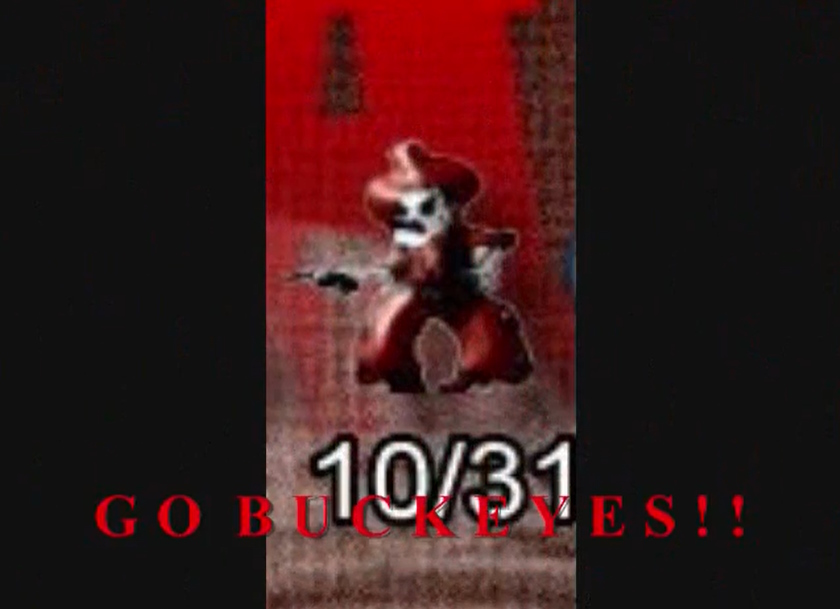 Whatever the reason, there are ways to memorialize October 31st, 2009 if you want. You can buy one of literally hundreds of licensable photos from the game (astute readers will note that I did not go that route when writing this article), or you can head to eBay and buy the gameday magazine, featuring such stars as Jake McQuaide, Jon Thoma, and Aaron Pettrey. You can watch one of several highlight videos on YouTube, including this one of Carmen, Ohio, shot from the prow of a tugboat bobbing on the Olentangy. You can remember, if you wish, in a hundred different ways, even if it never really mattered at all.
College football has changed immeasurably in the last few years, but one thing that I'm confident won't change is the feeling that is generated by walking down Lane avenue on a bright autumn morning, smelling 9 a.m. gyros and spilled beer and haggling with vendors over $11 t-shirts. Whoever the opponent is, the grand apparatus that supports Ohio State football will generate videos and art and memorabilia and memes and jokes and articles like this one which serve to point out that the experience of college football is more than the end result of wins and losses.
It's how we internalize what happens that matters, and despite NIL and the atomization of television rights and everything else, if we retain that core feeling of waking up in the fall and being excited to see whatever weirdness is about to come our way, then college football will still be college football.