Kyle McCord and Devin Brown have quite the standard to meet.
If there's one aspect of the past 10 years of Ohio State football that fans cannot lodge complaints about, it's the quarterback play. Columbus is perhaps best-known these days as a factory for elite wide receivers, but the Buckeyes have also gotten more consistent excellence from their signal-callers than any other team in the country. Every single full-time starter over the past decade – Braxton Miller, J.T. Barrett, Dwayne Haskins, Justin Fields, and C.J. Stroud – finished in the top five in Heisman voting at least once in their collegiate career.
With over 4,000 total throws to choose from, I eventually decided on a final list of the very best five. To give you a sense of how painful some of the omissions were, I'll reveal now that these heroic passes from Haskins and Fields both missed the cut.
Things looked bleak for @OhioStateFB following J.T. Barrett's exit, but Dwayne Haskins and Austin Mack stepped up HUGE on this drive.

And J.K. Dobbins finished the job. 21-20 Buckeyes. pic.twitter.com/Y6c7nDB7Td

— Big Ten Network (@BigTenNetwork) November 25, 2017
HBD, @justnfields!

We're celebrating with one of the QB's most memorable @OhioStateFB highlights. pic.twitter.com/3HEBoZv8hP

— Ohio State on BTN (@OhioStateOnBTN) March 5, 2023
As was the case when I went through Ohio State's most underappreciated plays of the past decade, the stakes are absolutely taken into consideration. Firing a pinpoint frozen rope with hardware hanging in the balance will always be more impressive and meaningful than doing so with a Week 3 cupcake on the other side.
With the guidelines set, let's begin with number five.
5. C.J.'s Prettiest Dime
The Play: C.J. Stroud 32-Yard Pass to Jaxon Smith-Njigba (at Indiana, 2021)
Including a first-quarter throw from a 54-7 win over a 2-4 Indiana squad doesn't make a whole lot of sense after the criteria I just explained. I promise I was telling the truth about the magnitude of the moment being important. But this ball from C.J. Stroud is so beautiful that it squeezes onto the list anyway.
The throw looks nice in real time, but it isn't until you watch that first replay from behind Stroud that you get a full appreciation for the degree of difficulty. The Rancho Cucamonga native has to fit the ball over a linebacker, in front of a safety and past the backpedaling Micah McFadden. Stroud making a jaw-dropping pass became a weekly occurrence in his tenure with the Buckeyes, but this was his best work.
Ohio State supporters were undoubtedly disappointed that Stroud's teams never reached the levels of success that we have come to expect. Ryan Day says it all the time; the three goals each year are to beat Michigan, to win the Big Ten and to hoist the national championship trophy. Stroud went 0-for-6 as a starter. Needless to say, that mark stands out when comparing him to his fellow modern Buckeye quarterbacks.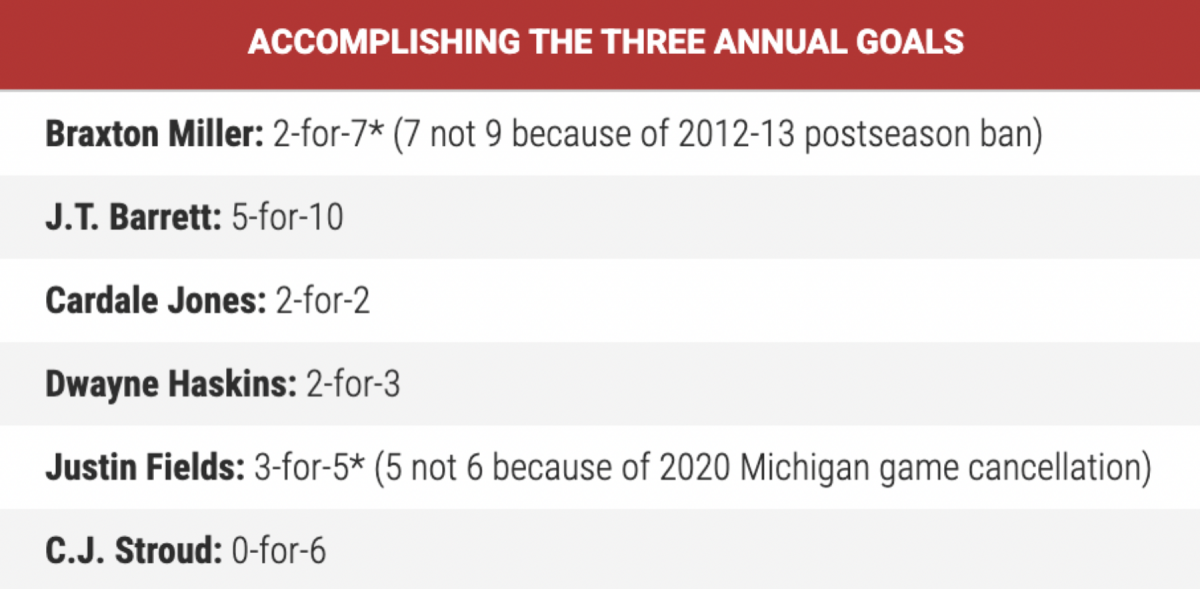 But the irritation all of us felt when the so-called experts and analysts tried everything in their power to tank his draft stock confirmed one thing: We love the kid.
Stroud is a tireless worker and a gracious person, and he is going to be a fantastic pro. The narrative that Ohio State quarterbacks can't succeed in the NFL is still lingering around, and Stroud now finds himself in a race with Justin Fields to see who can disprove it first.
4. Quiet, Please
The Play: J.T. Barrett 43-Yard Pass to Dontre Wilson (at Wisconsin, 2016)
As a collective, Buckeye Nation has done a poor job of appreciating this win. If I had to guess why, I would say it's because the 2016 season ends in such disappointment and numbness that the only moments we can stomach rewatching are the positive ones from the instant classic against Michigan. But this game is massive in its own right; a top-10 clash in front of a rabid crowd in Madison.
This was the night I realized that J.T. Barrett had my complete trust. Ohio State is down 16-6 with under 18 minutes left in regulation, but it just felt like he was going to find a way. Barrett proceeds to score on the ground twice, but his team still has work to do as the game clock really starts to dwindle.
The Badgers only bring three rushers on the play, but they still should have drawn a holding penalty. Billy Price slings down defensive end Chikwe Obasih with the referee staring right at him, and somehow gets away with it. Barrett has all day, and eventually directs Dontre Wilson – who is initially just wandering into the flat – to head downfield. The three-time Buckeye captain sets his feet, and uncorks the best throw of his college career.
The game goes to overtime, and Ohio State wins after a Barrett touchdown pass to Noah Brown and a clutch defensive stand. The victory preserves the Buckeyes' perfect record and helps keep them in the playoff discussion after they lose in Happy Valley a week later.
For all of the Barrett critics out there, I understand where you're coming from. But here's Vince Young's legendary 2005 season lined up next to Barrett's redshirt freshman campaign, which was cut short due to injury.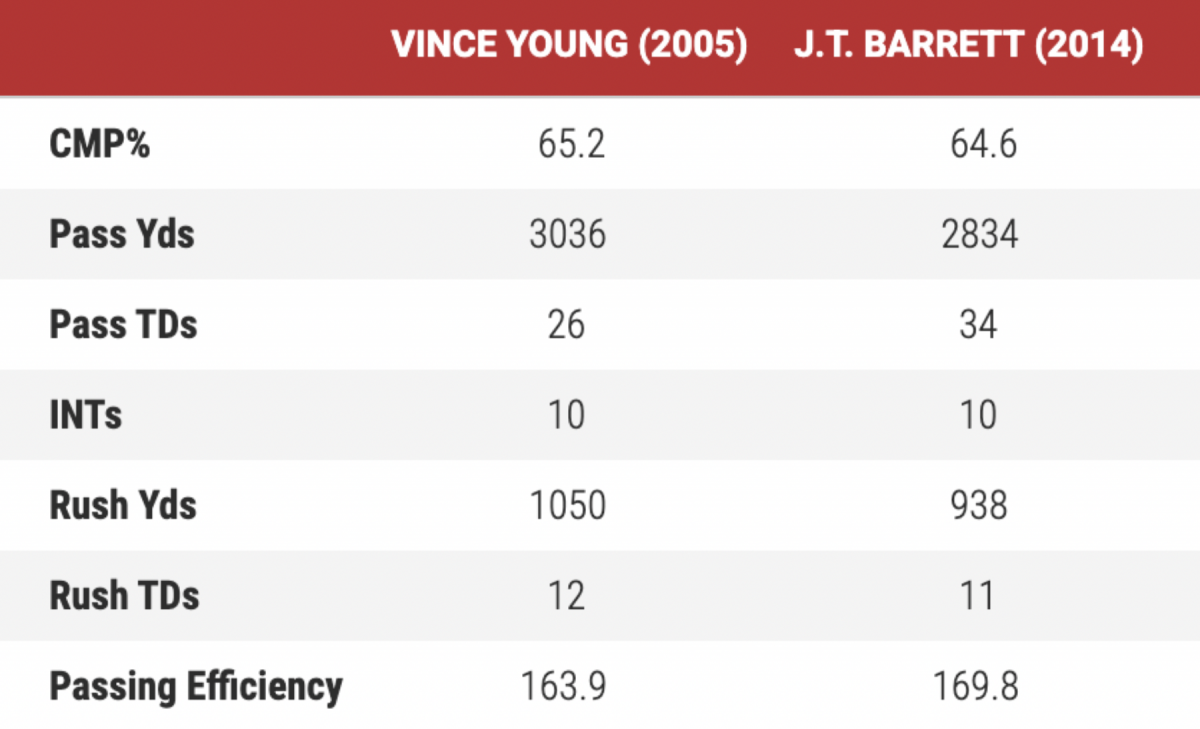 Barrett all but sustained that caliber of play for the entirety of his time in school. We essentially got four years of peak Vince Young out of J.T. Barrett, and he's still among the most polarizing players in school history. That's part of what makes Buckeye fans so awesome; the expectations can never be too high.
No matter what side of the time-honored Barrett argument you fall on, this throw to silence Camp Randall is undeniably fantastic. It is not, however, more impressive than his successor's finest toss.
3. Simba's Haymaker
The Play: Dwayne Haskins 42-Yard TD Pass to Terry McLaurin (Big Ten Championship Game vs. Northwestern, 2018)
One of the coolest parts about this play is that it's practically a frame-by-frame replica of an Aaron Rodgers touchdown pass from a few months earlier. Right down to the fact that the two teams giving up scores both call the Chicago area home.
oh come on pic.twitter.com/5mGDRpYqOL

— Arif Hasan, but NFL (@ArifHasanNFL) September 10, 2018
Ohio State entered the 2018 Big Ten title game in an odd spot. The Buckeyes were ranked sixth in the country, and likely needed a blowout reminiscent of their infamous 59-0 destruction of Wisconsin four years prior to have any chance of sneaking into the playoff. At the same time, they didn't want to get ahead of themselves; Northwestern had ranked wins over Michigan State and Wisconsin, and also pushed No. 14 Michigan to the brink. Thoughts of boat racing the Wildcats could lead to a disastrous loss.
Fortunately for Ohio State, Dwayne Haskins came to play, calm and cool as ever. It's 3rd-and-20 from Northwestern's 42-yard line, and most quarterbacks are looking for something short of the sticks to set up a field goal attempt. Instead, Haskins ignores Mike Weber, who likely gets into Blake Haubeil's range. He even dismisses K.J. Hill over the middle for a first down. He wants it all, and he knows that there's a redshirt senior lined up against a true freshman on the outside.
That true freshman is Greg Newsome II; he's the Browns' first-round pick a few years later, but he's not ready to hang with a burner like Terry McLaurin quite yet. The Buckeye wideout runs a go-route on the short side of the field, and only a ridiculous throw results in a completion. Haskins drops one in the bucket and Ohio State takes a commanding lead.
The Wildcats make things interesting in the second half, but Haskins proves to be too much. He finishes with 499 yards and five touchdowns in the second leg of arguably the greatest three-game stretch that any Buckeye quarterback has ever played.
Haskins is revered in Columbus, and for good reason. Not only did he wait his turn and shine when the opportunity came, but he was also one of the most likable players to ever wear Scarlet and Gray. It's unfortunate that we never saw the long-term development of the Haskins-McLaurin connection in the NFL, but they created moments of brilliance in their final year of college that will be remembered forever.
2. A Gutsy Dart
The Play: Evan Spencer 13-Yard TD Pass to Michael Thomas (Sugar Bowl vs. Alabama, 2015)
A part of me wonders if Tom Herman has the gumption to call this play had he not already secured the head coaching job at Houston a few weeks before. Maybe the knowledge that it was his final run with Ohio State gives him a little extra moxie and courage.
The Buckeyes had already put a slightly different variation of the play on tape for Nick Saban and company to study. Herman tries it on the road against Michigan State, and the Spartans don't bite hard enough. Evan Spencer decides to tuck it and pick up positive yardage with his legs.
Knowing that Alabama will be prepared if Ohio State lines up in the Wildcat, Herman has Cardale Jones take the snap instead. He also flips Michael Thomas's route to the left side and adds in an extra reverse to start the action.
The new wrinkles do not work, and the Crimson Tide defense does an even better job staying home than Michigan State did. But Spencer is clearly in no mood to turn down another chance to let it rip. With Cyrus Jones draped all over Thomas, he fires a beautiful ball that renders the coverage useless. Thomas makes an iconic catch as the two Buckeye receivers connect on a momentum-swinging touchdown that cements their respective legacies.
Turning to trickery in such a critical moment could have backfired on Ohio State in so many different ways. After the touchdown is confirmed by replay, Holly Rowe explains why it didn't feel all that risky: Evan Spencer had already earned our unconditional trust. For four years, we watched the Illinois native decleat defenders in the run game, bring the energy on special teams, and serve as the ultimate leader and competitor. There was no one on the roster that we would've believed in more to deliver on a big stage.
Everything that Spencer brought to the Buckeyes culminated in the Sugar Bowl. After his perfect throw, he made the crucial block on Ezekiel Elliott's 85-yard touchdown run and then recovered the late onside kick. In a matchup filled with future NFL All-Pros, he was the most valuable player on the field all night.
1. No Mercy
The Play: Justin Fields 56-Yard TD Pass to Chris Olave (Sugar Bowl vs. Clemson, 2021)
It still feels wrong that Justin Fields left Columbus without a ring. Because if you had to win one college football game and every 21st-century quarterback was available, how many guys would you pick over him? Joe Burrow, and that's it?
While Fields' collegiate career looks borderline unassailable in hindsight, there were legitimate concerns about his play heading into this Clemson rematch. He had looked totally lost in the Big Ten championship game against Northwestern, and picked up a thumb injury in the second half. In Ohio State's only other top-15 matchup of the shortened season, he made some alarming decisions and the Buckeyes almost blew a 35-7 lead to Indiana.
The fact that Fields did enough in the other four games to land on Heisman ballots is a testament to his greatness. But it wasn't the consistently mistake-free and dominant version of him that we saw the year prior.
On the first day of 2021, Fields took all of the question marks and punted them directly into the sun. He was just about flawless in the first half, with his team building a 21-point advantage over the Tigers.
Clemson capitalized on his only turnover of the evening to slash the deficit and were in search of another stop to fully put the heat on Ohio State. Fields had other plans.
Dialing up a deep shot was a bold but necessary decision from Day. After squandering a 16-0 lead to the Tigers a season before, letting them back into this one was not an option. The instant Fields recognizes that Chris Olave has separation, he slings a stunning ball. It's underthrown by about two feet, but we can forgive him for that; after all, the bomb travels 60 yards in the air.
Beloved Buckeye guard Wyatt Davis aggravates his knee injury on this play, but he hangs in long enough to allow his quarterback to have a comfortable delivery. Fields himself is in pain from the James Skalski hit in the second quarter, and Olave is in his first game back after a trip to the COVID-19 list that left him reeling mentally. Each of the stars solidify themselves as heroes in Ohio State lore by the end of the night, and their fight demonstrated the unrelenting desire that they possessed to exact revenge on Dabo Swinney's squad.
Another loss to Clemson would have been flat-out catastrophic for the program. Three of the previous seven campaigns had already concluded with the Buckeyes falling to the Tigers. If it happens again in this Sugar Bowl – assuming the following two years play out as they did in real life – is Ryan Day's seat white-hot right now? 
Truly elite college football programs don't have a kryptonite team, and Justin Fields' career-defining evening helped torpedo the argument that Clemson owned Ohio State.