Kyle McCord's public audition for Ohio State's starting quarterback job didn't receive glowing reviews, but the Buckeye passer still had his share of good moments in Saturday's spring game.
The third-year Buckeye completed just over half of his passing attempts (18-of-34) for 5.4 yards per attempt (184 yards) and threw only one touchdown pass in 10 drives in Saturday's spring game. On a day when he had the chance to separate himself in the quarterback competition with Devin Brown sidelined by a finger injury, McCord's uneven performance left the door open for Brown to remain in contention for the job into the summer.
"I think what you saw in the game was similar to what you've seen in practice," Ryan Day said after the game. "Some good things, some things that you'd like to see a little bit better."
Good or bad, it can be dangerous to put too much stock into a spring game performance, especially when considering McCord was throwing to backup receivers for the most part. Days before the spring game, Day cited the example of Justin Fields, who went just 4-of-13 for 131 yards (with 98 of those yards coming on one Binjimen Victor touchdown) in the 2019 spring game before going on to break Ohio State's passer rating record (until C.J. Stroud broke it two years later) that fall.
Still, McCord's 34 throws on Saturday were the only televised throws he'll make until he potentially takes the field as Ohio State's starting quarterback at Indiana on Sept. 2. That gives us reason to take a closer look at all 34 of those throws for a more thorough evaluation of McCord's spring game performance and what it can tell us about his outlook as Ohio State's possible starting quarterback for the 2023 season.
First, here's a passing chart that breaks down McCord's production when throwing the ball to each area of the field. Plays are categorized by how many yards McCord threw the ball in the air past the line of scrimmage and whether the ball reached its target inside or outside the numbers, though the stats listed include yards gained after the catch on each completion.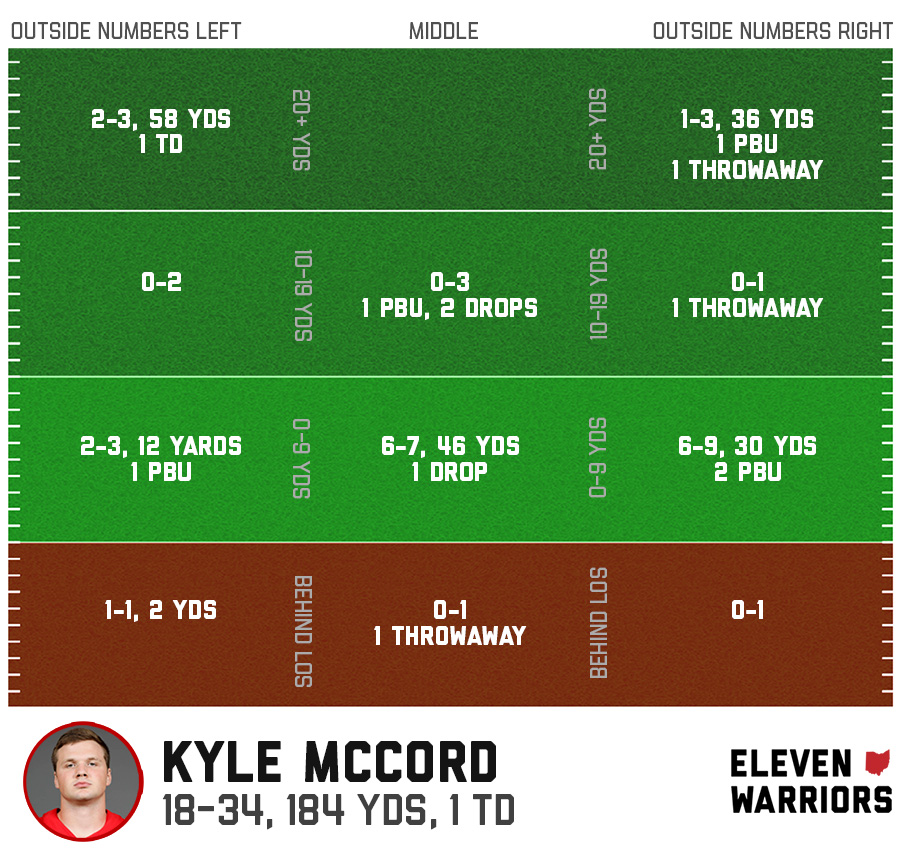 The throw-by-throw breakdown of what happened on each of his 34 throws, in chronological order, with some videos, GIFs and additional commentary mixed within:
Throw 1, Incomplete: Tries to throw the quick hitch to Marvin Harrison Jr. outside right, misses wide with Denzel Burke in tight coverage
Throw 2, Incomplete: Rolls right as protection breaks down, attempts to throw to either Miyan Williams or Cade Stover on right sideline, nearly intercepted by Hicks
It's not quite clear whether McCord was attempting to Williams or Stover on this play, but it was a poor decision either way, as he forced a throw back across his body and was lucky not to be picked off.
Throw 3, 21-yard completion: Well-placed throw to Harrison on corner route near left sideline 20 yards downfield, makes it easy for Harrison to catch the ball in bounds
Throw 4, Incomplete: Unblocked blitz by Cody Simon forces McCord to throw the ball away
Throw 5, 7-yard completion: Quick throw to Gee Scott Jr. on out route going toward right sideline 2 yards downfield
Throw 6, 5-yard completion: Moves right away from pressure, keeps eyes downfield and completes pass to Harrison on crossing route going right to convert 3rd-and-3
Throw 7, 36-yard completion: Throws ball just in time as Tuimoloau is about to hit him, connects with Harrison at numbers going toward right sideline 20 yards downfield
Former St. Josephs Prep School teammates Kyle McCord and Marvin Harrison Jr. connected three times during Ohio States spring game.

In limited playing time, Route Man Marv had three catches for 62 yards, all of which came from the slot. pic.twitter.com/wTux14NCMt

— Josh Poloha (@JorshP) April 15, 2023
It's no coincidence that McCord's most productive drive of the day in terms of passing yardage came on the second drive of the game, which would be Harrison's last drive of the game before watching from the sideline for the remainder of the day. With Emeka Egbuka, Julian Fleming and Xavier Johnson all unavailable, Harrison was the only one of Ohio State's top four receivers who played in the spring game, and there's no question that they – especially Harrison – will make the quarterback's job easier this fall.
Throw 8, Incomplete: Throws slightly behind Stover on seam route 15 yards downfield, pass goes off Stover's hands
While this wasn't a perfect throw, it still hit Stover in the hands and should have been caught, so it goes on the chart as a drop. If Stover had caught it, it would have been a 22-yard touchdown.
Throw 9, Incomplete: Two pass-rushers in his face immediately, gets hit as he throws checkdown to Williams outside right and misses behind
Throw 10, Incomplete: Throw to Carnell Tate on 5-yard hitch outside numbers right is on-target but broken up by Burke
Throw 11, 9-yard completion: Easy throw to Trayanum over middle on 9-yard curl
Throw 12, Incomplete: Floats deep ball to Jayden Ballard 30 yards downfield, Burke breaks it up from behind
This was more of a good play by Burke than a bad throw by McCord, but a little more distance on the ball would have given Ballard a better chance to make a deep catch that potentially could have gone for a touchdown. By floating the ball a bit too much, McCord enabled Burke to catch up to the ball from behind and make a play on it. 
Throw 13, 3-yard completion: Completion to Dallan Hayden not shown on TV broadcast
Throw 14, 8-yard completion: Rolls right out of pocket under pressure, completes short pass to Kaleb Brown between hash and numbers to convert 4th-and-5
One of the bigger questions entering the spring game was McCord's ability to extend plays outside of the pocket and throw on the run. This was one of two completions he made on the run on Saturday, keeping his eyes downfield while being pressured by Tyleik Williams to convert on fourth down.
Throw 15, 9-yard completion: Throws a little high and wide on left sideline throw to Ballard, but Ballard makes a spectacular one-handed catch
The @OhioStateFB WR room is, once again, deep and talented.

We give you this sweet Jayden Ballard (@J_Ball21) grab. pic.twitter.com/V2F2YGLxAg

— Big Ten Network (@BigTenNetwork) April 15, 2023
Even Ohio State's backup receivers are talented enough to make the Buckeyes' quarterbacks look good, and Ballard certainly did on this play.
Throw 16, 6-yard completion: Completion to Tate not shown on TV broadcast
Throw 17, 3-yard completion: Quick throw left to Ballard outside numbers
Throw 18, Incomplete: Doesn't find an open receiver, throws out of bounds left in direction of Joe Royer 18 yards downfield, who was tightly covered by Lathan Ransom
Throw 19, Incomplete: Attempts 30-yard touchdown pass to Tate up left sideline on 4th-and-7, falls incomplete with tight coverage from Jyaire Brown
Throw 20, 7-yard completion: Completes short pass to Hayden outside right hash off of play action
Throw 21, Incomplete: Throws ball away with two rushers coming at him
Throw 22, Incomplete: Stares down 10-yard throw to Thurman over middle, forces pass in between two defenders and Sonny Styles breaks on throw for dropped interception
Throw 23, 2-yard completion: Sees nothing downfield, checks down to swing pass to Hayden left behind line of scrimmage
Throw 24, Incomplete: Stares down short sideline out throw to Brown, Hicks breaks on it and drops interception
McCord's two worst throws of the day came in a three-throw sequence between his final drive of the first half and the opening drive of the second half, as he could and probably should have been picked off by Ohio State's two five-star sophomore defenders. McCord never looked off his target on either throw, allowing Styles and Hicks to break on the passes and get their hands on them for near-takeaways.
Throw 25, Incomplete: 10-yard throw left to Tate's outside falls incomplete with Tate unable to break off coverage from Davison Igbinosun
Throw 26, 9-yard completion: Completes pass to Ballard on short crossing route going left over middle to convert 4th-and-3
Throw 27, Incomplete: Throws ball away with two unblocked pass-rushers in his face, could have been ruled a sack but wasn't
Throw 28, 10-yard completion: Quick completion to Hayden over middle 7 yards downfield
Throw 29, 6-yard completion: Floats throw over Cameron Martinez to Ballard at right sideline for 2nd-and-2 conversion
Throw 30, Incomplete: 4-yard throw over middle dropped by Bennett Christian
Throw 31, 2-yard completion: Quick 2-yard hitch to Tate at right sideline vs. coverage from Igbinosun
Throw 32, 37-yard touchdown: Deep ball to Tate right on the money up left sideline
Scale of 1-10: How excited are you about Carnell Tate? @carnelltate_ x @OhioStateFB pic.twitter.com/yoZ70X7pFP

— Ohio State on BTN (@OhioStateOnBTN) April 15, 2023
McCord's longest completion and only touchdown pass of the day showed what he's capable of doing when he has a clean pocket, which he often didn't on Saturday. Tate gave McCord plenty of space to make the throw with his separation from Jyaire Brown, but there's no such thing as an easy 37-yard throw, and McCord put the ball exactly where it needed to be.
Throw 33, Incomplete: Fits throw into a window between three defenders on 10-yard slant, but Tate drops it
Throw 34, 4-yard completion: Completes quick hitch to Brown outside numbers right
Overall Evaluation
McCord's three deep completions outside the numbers demonstrated his arm talent to throw the ball to all areas of the field, but that was never in question. He'd already shown that ability in his two previous spring games, but there were examples again on Saturday of the arm strength and deep accuracy that made him a five-star recruit in the class of 2021.
The second row of McCord's passing chart is one that stands out in a bad way, as he did not complete any of his six passes thrown 10-19 yards downfield. Two of those incompletions were drops while another was a throwaway, but nevertheless, Ohio State will need him to be more effective as an intermediate passer if he is to be its starting quarterback this season.
Nearly two-thirds of McCord's passing attempts came within nine yards of the line of scrimmage, which is indicative of the pass-protection issues Ohio State had in Saturday's spring game. Some of the short passes were designed quick throws, but others came as McCord was forced to check down due to pressure in the pocket or no one getting open downfield.
While it's impossible to truly evaluate a quarterback's running ability in a spring-game setting where touching the quarterback constitutes a tackle, McCord showed some ability to extend plays with his legs, which the quarterback will have to be able to do if pass protection issues continue into the fall. The numbers weren't great – he completed two of five passes for 13 yards on the run (though two were throwaways) and gained 12 net yards on six running plays (excluding sacks) – but he looked comfortable keeping his eyes downfield under pressure and taking off out of the pocket when there was room to run.
The three near-interceptions were the most glaring negative from McCord's spring game and one that can't be a recurring issue if McCord is to successfully lead the Ohio State offense. While the Buckeyes don't need their next starting quarterback to be a Stroud-level passer right away, they do need their quarterback to avoid costly turnovers that can come from putting the ball in harm's way.
Counting the drops as completions and eliminating the throwaways from his stat line, McCord would have completed 21 of his 30 passing attempts for approximately 220 yards and two touchdowns, which makes his final numbers look significantly more aesthetic. Of course, that stat line could have also included two or three interceptions, which would have made it look worse.
McCord neither won nor lost the starting quarterback job on Saturday, and Day's track record of developing quarterbacks is reason enough for Ohio State fans to be hopeful about what either McCord or Brown can become. But McCord's up-and-down performance this spring, both in the spring game and in other practices the media was able to watch, showed that McCord still has a long way to go before he can be anointed as Ohio State's next Heisman-contending signal-caller.