Just under one year after he decided to leave Ohio State and enter the transfer portal, Dallas Gant will be back at Ohio Stadium this weekend when the Buckeyes host Toledo on Saturday night.
Gant is already playing a prominent role in his first season as a Rocket. As Toledo's starting middle linebacker, Gant has recorded a team-high 20 tackles in the Rockets' first two games of 2022, leading a defense that has held its first two opponents (LIU and UMass) to only 10 points and 367 yards combined.
The Toledo native, who played at St. John's Jesuit High School before signing with Ohio State in 2018, feels like his hometown school is where he belongs.
"Oh, absolutely. It's incredible. I couldn't ask for anything more," Gant told Eleven Warriors. "You've got your family here and supporters everywhere and familiar faces everywhere. I'm playing a lot of football. I have a family in these players. I think I'm well-respected here, and I respect a lot of the players here. It's just very homey here and just very natural here, and I think that I'm exactly where I need to be."
Gant is grateful for the opportunity he had to play at Ohio State, believing his four years as a Buckeye were crucial in his development to becoming the player he is now.
"I don't think I would be half the player I was if I went anywhere else," Gant said in a phone interview on Monday. "I think that the coaches there are incredible. I think that the players are phenomenal. I think playing against the best is a great opportunity every day for practice. And molded me into the person that I am and the player that I am.
"With Coach Mick's strength development plan and all that, I think that the opportunity there is endless. And I think that I used the best of my ability by putting my full effort into their program. And they did their best to mold me into the player that I am today. So I owe a lot to them."
Gant never started a game for the Buckeyes, however, and was playing only sparingly when he decided to enter the transfer portal after the first three games of Ohio State's 2021 season last September. He felt like leaving Ohio State was the decision he had to make if he was going to have the opportunity to really show what he could do as a college football player, and leaving after just three games allowed him to preserve a year of eligibility, giving him the option of playing two more seasons at his new school.
That didn't make leaving the Buckeyes any easier, though.
"It was probably the hardest decision I've ever made in my life," Gant said. "I don't think anybody ever wants to leave somewhere. Especially me, I didn't want to leave there with all the time and effort and stuff that I put in. It took me everything in my power, you know, I wanted to stay. 
"But at the end of the day, I gotta do what I have to do for me, and that was ultimately the best decision for me. And honestly, it turned out the right way. And I think that God has put me in a position to be exactly where he wanted me to be, and it's worked out in a crazy way."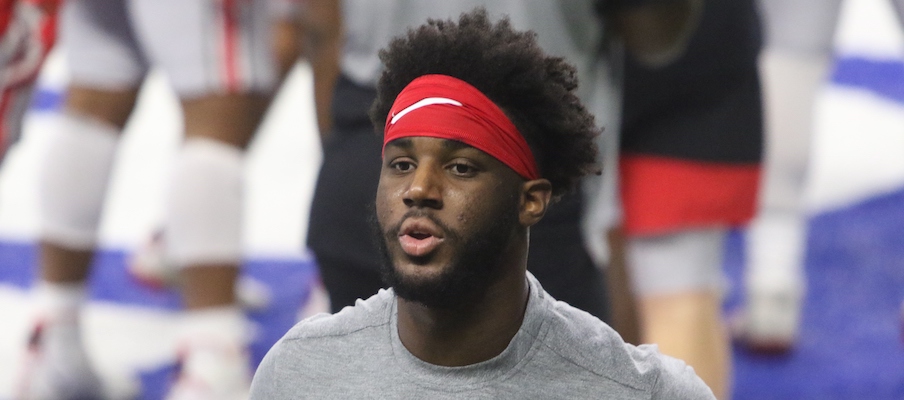 Gant says he is still close with many of his former Ohio State teammates and keeps in touch with them, though their conversations are rarely about football.
"Those are guys that I call my brothers, and that won't change for a lifetime. I put in a lot of work with those guys, a lot of time with those guys and just checking in with them, making sure they're okay every now and then. Apart from football, they're people as well, just like me and you," Gant said of his former Ohio State teammates. "But I love those guys just because I put in blood, sweat and tears with those guys, just like the guys here. So I'm excited to go back there and play them, have an opportunity to play them."
Although he has played with most of the players he'll be playing against this week, Gant says his approach to this week's game isn't much different than it would be for any other game. And he says he'd be excited to play Ohio State even if he wasn't a former Buckeye just because of the opportunity to compete against a marquee program.
"I think that it's an opportunity for all of our players and all of our coaches to showcase what we can do on Saturday night," Gant said. "Obviously I have personal ties to this game, but I think that anybody in the country would have this game circled just because of the opportunity that you have, and just the excitement level of being in this great atmosphere and stuff like that."
That's exactly the kind of approach Toledo coach Jason Candle wants Gant to have entering Saturday's game.
"If I know Dallas like I think I do, I think that he'll go out, have a level head, play within the scheme of the defense and make the plays that come to him and not step out of his lane and try to do too much because he's got some chip on his shoulder or something to prove," Candle said Monday. "That's just who he is as a human being. Great, solid human beings in tough moments don't step out of character, so I'd expect him to prepare and have a great week to go play well on Saturday night."
Gant believes it is a benefit to his preparation that he has so much experience practicing against Ohio State's offense, and he has been fielding questions from his teammates about the Buckeyes and what to expect from them.
"I've got endless reps against a lot of the players there, most of the players there and I think it's going to translate to the game on Saturday with me being comfortable and seeing a lot of familiar looks and stuff like that," Gant said. "Obviously their game plan has specific things for specific teams, so I think that a lot of film study is going to be needed. But I think that also a comfortability level is going to be available because I've played against those guys so much."
"I don't think I would be half the player I was if I went anywhere else."– Dallas Gant on his time at Ohio State
Knowing the Buckeyes as well as he does, Gant knows his team will be in for a challenge on Saturday.
"On paper, they're the best team in the country," Gant said of Ohio State. 
That said, Gant has told his teammates he believes in their ability to contend with the Buckeyes on Saturday.
"They have an opportunity here to showcase what they can do because there's good players here. So I think that they are able to go in there and compete," Gant said. "The message is just to go in there, compete and see what happens at the end of the game. Not looking at the scoreboard, just going in there and trying as hard as you can, not laying down, not being fearful and just playing the game is the best message I could give them."
While Toledo hasn't yet faced an opponent with anywhere near as much talent as Ohio State – LIU is an FCS school and UMass is regarded as one of the FBS' worst teams – the Rockets currently rank within the top five nationally in both points and yards allowed per game. Candle says Gant has played a big part in their early defensive success.
"He's a very instinctive player," Candle said. "I think he's been a very accountable player. A guy that is where he's supposed to be. He's got great physical traits and length and size and his ability to run has showed up numerous times here the first couple football games. But like I said, I think the number one thing is him being a great teammate and really understanding that he was coming into a situation where we had a good defense returning and how he could fit into that and how he can help us become a better defense, and he's done a good job of that so far."
Defending C.J. Stroud, TreVeyon Henderson and the rest of Ohio State's offense will likely be the toughest test the Rockets face all year, but Gant is confident they'll put their best foot forward.
"I think our players play hard. And I think our coaches are great coaches, smart coaches and putting us in positions to make plays. And I think that the players here are smart, got a good head on their shoulders, very humble. I think that all transitions to the football field," Gant said. "We got great players here. College football is college football, and these people are on scholarships just like anybody else, and I think that they are talented here. And our defense has just been able to click and I think that we'll continue to rise as the season goes on."