While Gene Smith is among the college athletics leaders working with the NCAA in its efforts to curtail the use of name, image and likeness deals as recruiting inducements, he doesn't believe the NCAA can solve all of the problems in college sports – specifically in college football.
In fact, Smith believes the lack of NIL regulations are only the tip of the iceberg when it comes to issues surrounding college sports right now.
"The NIL issues are kind of the symptoms. The disease is that we are too big," Smith told Eleven Warriors last week.
Instead of relying on the NCAA to fix those issues, Ohio State's athletic director thinks the 130 schools in the Division I's Football Bowl Subdivision should create their own governance structure exclusively for football.
Smith believes the 130 FBS schools – both those that are considered Power 5 schools as well as Group of 5 schools – should build a governing entity for FBS football that would be connected with the College Football Playoff, using CFP revenues to fund the new governing body. That idea was originally proposed in December 2020 by the Knight Commission on Intercollegiate Athletics, a group of current and former university presidents, former college athletes and others with ties to college athletics that recommends reforms for college sports.
"We have the model with CFP, we have the umbrella so to speak, and need to just define the model," Smith said. "The Knight Commission proposed this a couple years ago. It was a great report. Wasn't embraced. But they've done a lot of work in this space, and we need to lean on them a little bit. But I just believe the 130 should come together, create its own governance structure."
Those schools would remain NCAA members in all other sports, allowing them to continue competing in the NCAA basketball tournaments and all other NCAA championships. Smith also believes FBS football teams should continue to adhere to the NCAA's academic protocols.
Smith thinks it would be best for FBS football, however, if those schools and conferences were able to come together to create their own rules for football separate from the rest of the NCAA and the Division I schools that don't have FBS football programs – recognizing the fact that FBS football is unlike any other college sport in terms of the resources schools invest into it and the revenue it generates.
"We're trying to appease 352 schools that have different missions and are in different spaces," Smith said. "Those schools that offer 85 scholarships, we made a different commitment. The Power 5 and Group of 5 made a different commitment, and we should take football in those schools and set it in its own governance structure."
From a legislative standpoint, Smith believes a football-only governance structure for the FBS could lead to modernizing rules around elements like the recruiting calendar, personnel rules and health and safety. One specific cause Smith has advocated is for all FBS football programs to offer medical benefits to players who have suffered injuries even after they have completed their college careers.
"All those things, we can create our own legislation," Smith said. "Enforcement, we can either build it inside the structure or third party, there's a lot of different ways we can build that structure. But the 130 should be able to collaborate together and design a structure that allows us to address football."
"We're trying to appease 352 schools that have different missions and are in different spaces."– Gene Smith on Division I being too big
Other prominent figures around college athletics, including ACC commissioner Jim Phillips, have also expressed support in recent weeks for the idea of separating FBS football from the NCAA.
"If we're ever going to do something, and I hear about the future of football, and taking care of the sport of football, this is the time to do it," Phillips said at a news conference last week. "This is the time to do it, when you're reorganizing a structure like the NCAA, what are you doing with the sport of football? Does it need to be managed separately? Do you need to have a governance structure? Those are questions we should be asking ourselves."
Unlike every other current NCAA sport, the championship for FBS football is not operated by the NCAA – the College Football Playoff is operationally and financially independent from the NCAA – yet FBS football programs remain subject to NCAA rules. On the flip side, FBS schools receive an exemption from the NCAA that enables them to receive a larger share of revenue distribution from the NCAA even though that revenue does not include CFP revenues.
The Knight Commission's 2020 proposal calls for the FBS football exemption to be eliminated, though that part of the proposal has received pushback from some leaders at FBS schools. Smith said on an AthleticDirectorU podcast released earlier this week that he doesn't "100% agree" with the Knight Commission's ideas for redistributing revenue even though he backs the proposal's general premise.
Knight Commission CEO Amy Perko doesn't think the revenue distribution aspect of the proposal should prevent the FBS schools from creating their own football governing body, though, because FBS schools ultimately hold the power to determine how revenue is distributed even if they choose to separate football from the NCAA.
The Knight Commission believes the revenue distribution formula should be changed because FBS football would no longer be considered an NCAA sport if it was no longer governed by the NCAA, and because the NCAA would no longer take on expenses associated with FBS football. But Perko believes non-FBS schools would benefit from an FBS football split regardless because FBS football revenues are already separate from the NCAA – the vast majority of revenue distributed from the NCAA is generated by the men's basketball tournament – and because the NCAA would no longer foot the bill for lawsuits related to college football, which have become increasingly frequent in recent years amid the fight for athletes to receive a share of the revenue.
"Ultimately, it comes down to a negotiation. And the FBS schools have the power to change the NCAA distribution formula any way they want to currently because they have more votes," Perko told Eleven Warriors. "So if they don't like that aspect of the revenue distribution, it would be a negotiation with all the other Division I members and they could say, if if we want to keep Division I together, if we want to maintain the iconic March Madness tournament and we want to keep all our other sports under one tent, we need to change the revenue distribution formula.
"They could say we want to guarantee that for us to continue under this new structure, we want a guarantee of that money. Even though FBS football would no longer be an NCAA sport, we think we deserve kind of an equity stake in a restructured NCAA, and we want to be guaranteed X amount of distribution for that anyway. And the other members? I think the non-FBS members would agree to do that, because I think they would rather do that than continue to pay hundreds of millions of dollars in litigation costs for litigation that's solely related to FBS football."
Although the Knight Commission's December 2020 proposal didn't lead to any immediate changes, a June 2020 survey conducted by the commission found that 65 percent of Division I presidents, athletic directors, commissioners and other college athletics leaders supported the idea of separating FBS football from the NCAA and creating a new entity to solely manage that sport. And there are several reasons why that idea is gaining new momentum two years later.
NIL is certainly one of those reasons, as the majority of recruiting inducements tied to NIL are happening in football and Smith believes a governing body dedicated solely to football would be able to regulate NIL more effectively. Another reason is the Supreme Court's June 2021 ruling against the NCAA that determined the NCAA could not limit education-related benefits for athletes, which could open up the NCAA to more antitrust lawsuits moving forward.
"What a difference Supreme Court decisions make," Knight Commission co-chair Len Elmore said at a press conference earlier this week. "The proposal now that we made is being looked at in a new light."
Perhaps most importantly, the NCAA is already in a period of change. The Division I Transformation Committee that was formed last year is already considering major changes to the NCAA model, and the NCAA will have a new president next year after Mark Emmert announced last month that he will step down no later than June 30, 2023. That makes now the time to consider changes that may have seemed radical even just a couple of years ago.
"The transformation committee's charge, frankly, is to recommend a governance structure and a structure for Division I moving forward," Perko said. "So now's the time to look at a very different structure."
Creating a governing body for FBS football under the umbrella of the CFP "would align the authority of that championship with everything related to that sport," Perko said, which the Knight Commission and Smith believe would be in the sport's best interest. And Perko thinks splitting FBS football away from the rest of the NCAA would also be beneficial to other sports, as it would recenter the NCAA around basketball – the one sport every single Division I school offers – and allow the NCAA to invest more of its time and resources into the rest of its sports, as well.
"All of the other sports would then frankly get more attention in the NCAA system and address some of the issues that are related to those sports," Perko said. "There are significant, untapped revenue potential and growth for a lot of the other sports, because they frankly haven't been given kind of the attention at least from a national level that they deserve."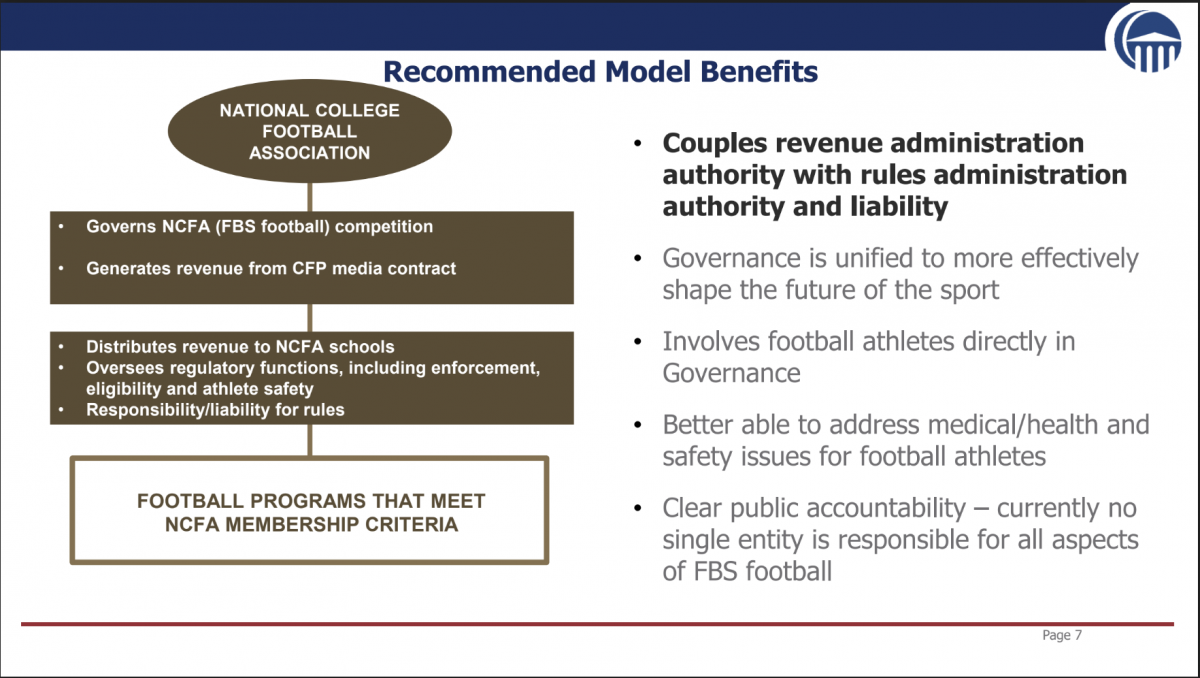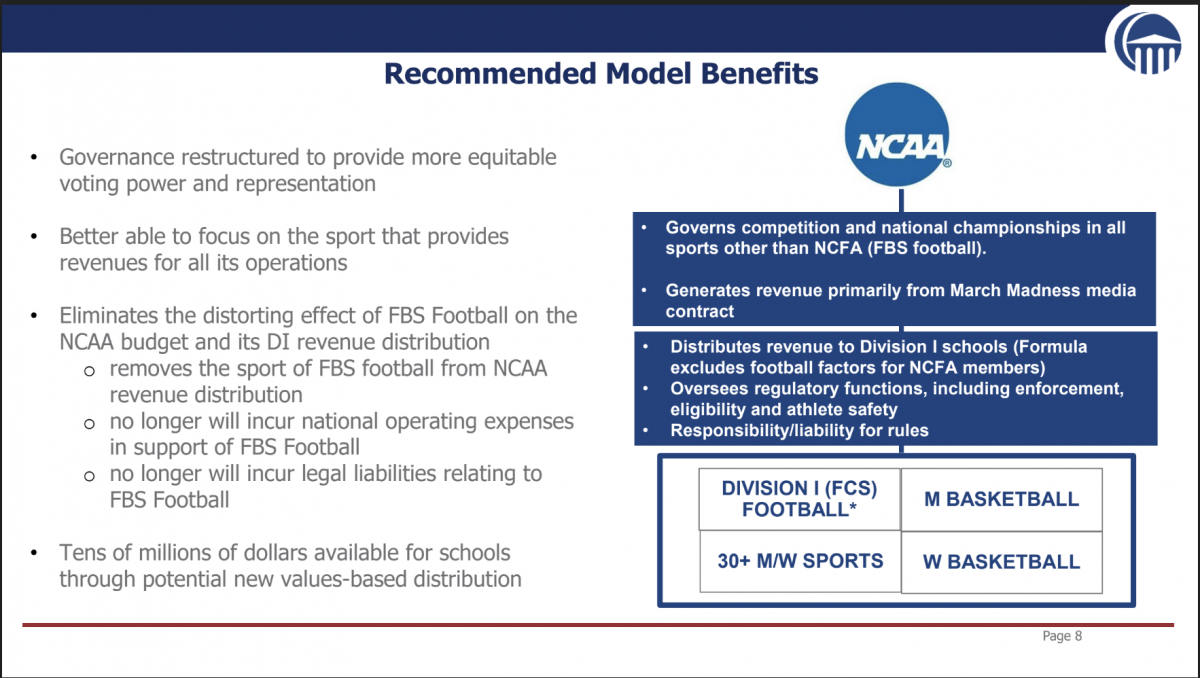 While legitimate conversations about an FBS football split from the NCAA are expected to be had in the coming months, whether it will actually happen is another question entirely. Ultimately, those decisions will be made primarily by university presidents, particularly those who sit on the Division I Board of Directors (which Ohio State president Kristina Johnson does not, though she did recently become the Big Ten's representative on the College Football Playoff Board of Managers).
At a minimum, though, Smith's public advocacy for an FBS football split has brought more attention to the possibility than there's ever been before.
"I don't know if we'll ever get there, but I just felt like it needed to be said," Smith said.