While the primary purpose of Wednesday's pro day was for Ohio State's prospects in this year's draft class to put their skills on display for NFL scouts, it also served as an early audition for one of the Buckeyes' top potential prospects for the 2023 NFL draft.
Going into his redshirt sophomore season at Ohio State, C.J. Stroud is still a year away from being eligible to enter the NFL draft. But thanks to an NFL rule change a few years ago that allows designated underclassmen to also participate in pro days at their respective schools, Stroud was able to serve as the quarterback for Chris Olave, Garrett Wilson and Demario McCall during their pass-catching workout on Wednesday.
Stroud's objective on Wednesday was to throw accurate passes to his former Ohio State teammates to give them the chance to shine as they worked out for representatives of all 32 of the NFL teams that could consider selecting them next month. But that also gave him an opportunity to put his arm talent on display for pro evaluators, and he certainly wanted to make the most of it.
"I can do nothing but just thank Garrett and Chris for just letting me do this with them," Stroud said Wednesday. "I was excited. I damn near didn't sleep last night."
Even though he only had a couple of chances to throw with Wilson and Olave leading up to pro day – both of them just returned to Columbus last week after going elsewhere for pre-draft training, while Stroud was back in his home state of California last week for spring break – Stroud certainly appeared to make a good impression on Wednesday.
During a workout that featured receivers running a wide variety of different routes to all areas of the field, most of Stroud's throws were on the money. The highlight of the day for Stroud came near the end of the session when he connected with Wilson on a deep ball nearly 60 yards downfield.
Beautiful deep ball from C.J. Stroud to Garrett Wilson: pic.twitter.com/ehIDYcTUoQ

— Dan Hope (@Dan_Hope) March 23, 2022
"I appreciate him letting me show off a little bit," said Stroud, who described that completion as "pretty sweet."
While most of Stroud's throwing over the past few months has been to the receivers who will be back at Ohio State in 2022 as he prepares for his second season as the Buckeyes' starting quarterback, he said it was easy to get right back on the same page as his former teammates for pro day.
"When you build a connection with them, I wouldn't say it's like second nature but it definitely is second nature," Stroud said. "So I mean, people said I did a decent job. I want a couple of the throws back, but I feel like we had a decent day."
Stroud wasn't the only quarterback throwing passes at Wednesday's pro day, as former Ohio State quarterback Cardale Jones also participated to throw passes to Ohio State draft hopefuls Chris Booker and Master Teague as well as former Ohio Dominican wide receiver David Turner and Fisk University basketball player-turned-tight end Malik Smith (the younger brother of Ohio State defensive end draft prospect Tyreke Smith). Wilson and Olave chose to have Stroud throw them the ball, however, because of the rapport they built with each other over the last two years.
"I mean, that was just like old times with C.J.," Wilson said. "When he puts that thing and drops it in there, it's pretty special to watch. So catching balls from him again, after coming from the combine and kind of not knowing the quarterbacks I was gonna be throwing with, I feel it."
The pleasure was mine brother, you deserve everything your about to get and more, ima speak it into existence that wasnt the last time gang see you soon!! #G5 https://t.co/FOZc3nysim

— CJ Stroud (@CJ7STROUD) March 23, 2022
Although Stroud is at least a year away from going through his own pro day – he isn't ready to declare for the 2023 NFL draft yet, though he didn't deny that it's likely he will – there seemed to be plenty of interest in Stroud's passing from the NFL representatives in attendance on Wednesday. Numerous NFL coaches and scouts were seen holding conversations with Stroud before and after his workout. One team that seemed particularly interested in studying Stroud was the Tennessee Titans, as head coach Mike Vrabel and general manager Jon Robinson both stood front and center to watch the workout and Robinson pulled Stroud aside for a one-on-one chat after Stroud was done throwing.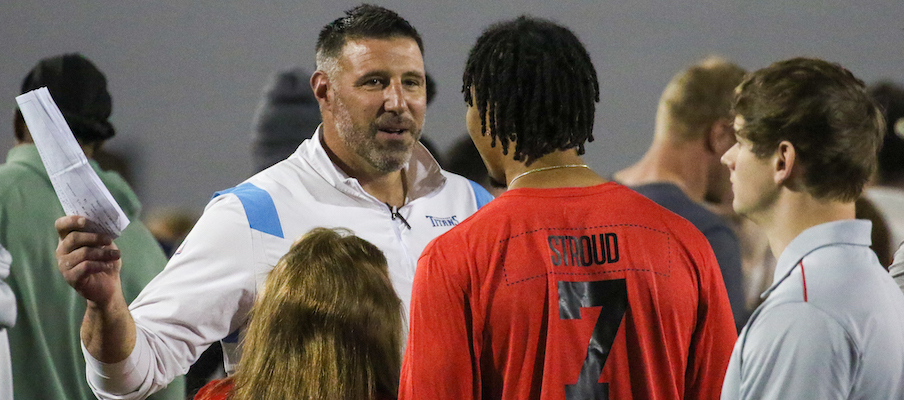 Stroud said he appreciated all the feedback he received from NFL representatives over the course of the day, and he believes the opportunity he had Wednesday will have him better prepared for when he does his pro day workout as an actual draft prospect.
"It just shows me that I'm able to do this," Stroud said. "I have the God-given talent. I think I was a little nervous at first, but after you let that first ball go, you're back to doing what you did since you were a kid. So I think that'll just catapult me to next year and make me feel a lot more comfortable and better."
As for the receivers who will actually be in this year's draft, Olave and Wilson both looked as smooth as ever as they ran routes and caught passes from Stroud on Wednesday, further solidifying their status as first-round draft picks. Both of them said Stroud throwing them the ball helped them perform at their best, and for Ohio State wide receivers coach Brian Hartline, it felt just like watching them catch passes from Stroud in practice last year.
"Everything you guys got to see today, we see everyday," Hartline said. "So I appreciate everyone else being able to see it up close and personal. But these guys just do what they do. And it's always a pleasure to experience."
Olave and Wilson were both participating in Ohio State's pro day for the second year in a row as they were among the receivers who caught passes from Justin Fields at last year's pro day, giving them a chance to work out for NFL scouts one year early and a dress rehearsal that they could draw upon as they went through their actual pro day on Wednesday.
Stroud will also have that experience to draw from when he steps into the pro day spotlight as a draft prospect, likely one year from now, and that should only benefit him even though Wednesday's workout was more about highlighting the receivers' skill sets than Stroud's. And that's why Ryan Day encouraged Stroud to throw to the receivers at pro day, even though Day certainly wants Stroud's focus to remain on Ohio State rather than the NFL for now.
"It just gives him an opportunity the next time that he's in this situation, he's done it before," Day said. "Garrett and Chris did this last year, which allowed them the opportunity to kind of do this for the second time, and they're a little bit more comfortable."