I can pinpoint exactly when my nostalgia for long-tenured head football coaches ran dry.
We've seen coaches enjoy near-mythic status who then turned out to be horrific human beings, and after that I soured on the whole "let's build literal statues of people when all we really know about them is that they managed to be just good enough not to get fired for a very long period of time" thing.
But I get it; Woody Hayes working on 50 year-to-year contracts for peanuts because he was a crazy person and also just really, really, really liked where he was and what he was doing scratches a very specific itch in my Midwestern lizard brain. That kind of story is the platonic ideal of how a college football coach can integrate themselves into the mythological fabric of a sport that heavily relies on tradition and history as its brand. Plus, there are plenty of great guys who have been with the same team for a long time, and while I no longer reflexively admire a long-tenured coach for that quality alone, it's still pretty admirable in a lot of ways.
The Rose Bowl will feature that on the field via a coach we're still learning about after all these years.
Connecting with a community, putting tradition and history before self, building a program into something great over a period of several years, giving consistency to athletes in a sport where that's a rarity... those are all important qualities that someone like Ryan Day exemplifies.
Yes, Ryan Day, one of the longest-tenured head coaches in college football. Since he was chosen to lead Ohio State football in 2019, nearly 70 FBS head coaches have been hired, including 27 just for 2022.
Who even remembers what the world was like in 2019? Maybe someday, in the far future of the mid 2020's, we'll recall to our grandchildren how excited we were to read on an app called Instagram that Day convinced a quarterback named Justin Fields to come to Ohio State. Of course, by then Ryan Day will have likely moved on to the NFL or into a nice, long, gerrymanded career as a politician, but we'll always have the memories.
Opposing him in the Rose Bowl is Utah head coach Kyle Whittingham, who the internet says has been in that position since 2005 (2004 if you want to be pedantic, and I do not). That seems off. Not just because it makes him the FBS coach with the second-longest tenure at one school, behind only impossible to eradicate human corn blight Kirk Ferentz, but more broadly because any head college football coach staying in one place for 15 years or more seems so statistically improbable as to stretch credulity.
The stone tablets that contained the information on Whittingham's hiring a generation ago have long since been eroded to the point of illegibility, but I did find this article on a now-defunct website called ESPN.com where Whittingham spoke to the press after his first regular season game as Utah's head coach, a 27-24 win against Arizona.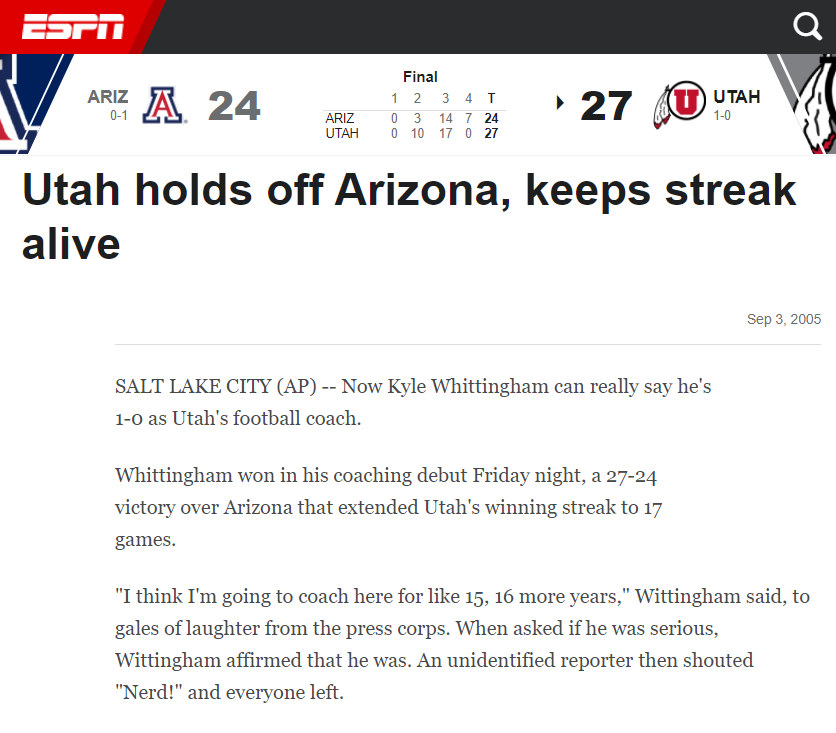 It's Whittingham who got the last laugh, and now at 62, he's the same age that an evil witch cursed Jim Tressel to be for all eternity and he's still chilling out in Salt Lake City.
It's only an anachronism if you don't know much about the guy. Whittingham is originally from California, but his formative years as a player (at BYU) and a coach (at Eastern Utah, which is a real school, Idaho State, and Utah) are all products of the Salt Lake Valley. He's won 11 bowls, had an undefeated season in 2008 in which the Utes got utterly screwed, and has had 10 seasons with nine or more wins. There was no reason for him to leave the Utes, so... he didn't.
Now, before one of the biggest games of his career, he's fending off retirement rumors (which, okay, are partly his fault for being adamant about not coaching past 65) but generally seeming to enjoy life, as per these sweet pictures of him on a mountain bike.
That, too, is a rarity in college football sometimes. Kyle Whittingham is among the last of a dying breed of coach, someone who was hired because of both their talent and their propensity to keep that talent in one particular geographic location. Would I trade 4-to-5 more Ryan Day head coaching seasons and/or national championships for extra long term stability, somewhat less cutthroat prestige, and fewer victories?
Well... no. I want the rings.
But with Whittingham and Utah it's easy to see the appeal, and that'll be on full display at the Rose Bowl.