Georgia's timeout before Ohio State's fake punt has been one of the most talked about plays from the Peach Bowl, as Kirby Smart nullified what would have been a first-down pickup for the Buckeyes. As it turns out, there's more to the story.
With less than nine minutes remaining in the fourth quarter, Ohio State led Georgia 38-27 but faced fourth-and-1 at its own 34-yard line after a three-and-out possession. Ryan Day, appearing as if he wanted to play the field position game, called for Jesse Mirco and the punt team to take the field. But instead of Mirco punting, Mitch Rossi took a direct snap for a first down to keep the Buckeyes' drive alive.
Not so fast.
Referees blew their whistles at the same time Rossi advanced toward the line of scrimmage. Smart's timeout was called a split-second before the ball was snapped. After the stoppage, the Bulldogs were ready for the fake, forcing Day and the Buckeyes to take their lumps and boot the ball away to Georgia.
Now that was a [Smart] timeout #CFBPlayoff pic.twitter.com/33MmNM0FvP

— ESPN College Football (@ESPNCFB) January 1, 2023
That sequence of events of Ohio State's fake punt that could have been and Smart's heroics in the Peach Bowl was the whole story as many understood it as the game came to a close and the Bulldogs advanced to their second consecutive national championship with a 42-41 win over the Buckeyes.
But as college football analysts, reporters and fans began their rewatches of the CFP semifinal, some noticed that Ohio State's fake punt may not have worked even if Smart's timeout was not called, as screen captures of the game revealed the Buckeyes had 12 players on the field for the play.
Kirby Smart sniffs out the fake punt and calls timeout pic.twitter.com/1WymuuuY6f

— alex (@highlghtheaven) January 1, 2023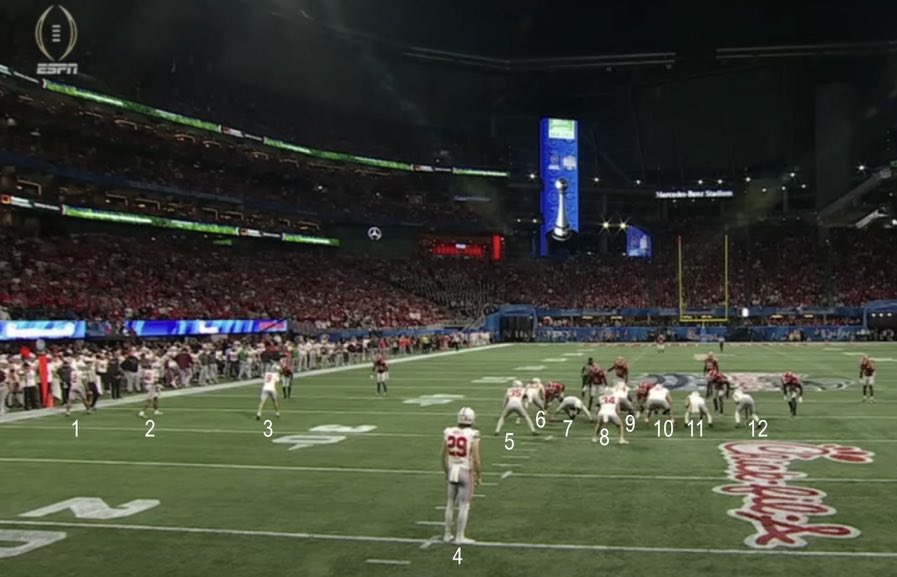 If properly called by the Pac-12 officiating crew, Ohio State would have been penalized for having too many men on the field, which would have negated Rossi's successful run for a first down if Smart's timeout was not called.
However, Ohio State may have gotten away with the penalty, as a flag for too many men traditionally comes before the ball is snapped as a dead-ball foul. In this instance, Rossi surpassed the line to gain and would have given his team a fresh set of downs without any laundry thrown by an official.
Regardless of whether or not officials detected the Buckeyes' advantage, Ohio State's effort to trick Georgia was thwarted by Smart before it took place.
Kirby Smart on his timeout call for Ohio State's fake punt: pic.twitter.com/fsli8omPdP

— College GameDay (@CollegeGameDay) January 2, 2023
On the ensuing drive, Georgia scored with a 76-yard touchdown from Arian Smith on the next drive to cut Ohio State's lead to 38-35. The Buckeyes responded with a field goal, which was met by a Bulldogs touchdown on its next drive that gave them a 42-41 lead. That score would be the final, as Noah Ruggles' game-winning 50-yard field goal attempt was sent wide left, allowing the defending national champs to escape with a one-point win.