Ryan Day started his press conference on Monday by saying he wasn't ready to name a starting quarterback yet. Just moments later, however, Day made it clear that the starting quarterback job is now C.J. Stroud's to lose.
"I would say right now, we're not gonna name a starter today," Day said. "But I do think there has been a little bit of separation. I think that C.J.'s separated a little bit here over the last couple of weeks. We'll see what this week brings. Certainly not making any decisions right now. But we have seen a little separation, yes."
Although Day didn't go as far as to declare Stroud the winner of the quarterback competition, his comments on Monday made it obvious where things are heading. Until Monday, Day had consistently avoided comparing the quarterbacks to one another or saying anything that would indicate where each of them stood on the depth chart. Day wouldn't have confirmed Stroud's status as the frontrunner if he didn't expect Stroud to be the starting quarterback at Minnesota on Sept. 2.
The competition isn't quite over yet, but that could change by the end of the week, as Ohio State will begin to increase the number of reps Stroud takes with the first-team offense over Kyle McCord and Jack Miller, rather than splitting reps evenly between all three quarterbacks as the Buckeyes did for the first two weeks of preseason camp.
"A little bit," Day said when asked if Stroud would start to take more reps this week. "Not as much as if it was game week just yet, so we're still gonna spread those reps around the best we can this week, but we're working toward that right now."
Stroud's standing as the frontrunner in the quarterback competition comes as no surprise, as he's been widely viewed as the likely starter all offseason. The second-year quarterback, who was ranked as the No. 42 overall prospect in the recruiting class of 2020, was the No. 2 quarterback behind Justin Fields last year and was at the front of the quarterback line at every practice that was open to the media this spring and summer.
While Day had claimed in previous press conferences that there was no separation on the quarterback depth chart, he said Monday that Stroud's emergence as the frontrunner to start was based on his overall body of work through the 26 total practices the Buckeyes have had this year between spring ball and preseason camp.
"Every day, he's been competing," Day said of Stroud's body of work. "He's been taking care of the football. Making good decisions. He's been a leader. Those are all some of the traits that we're looking for. And it's really moving the team down the field is something that we look for."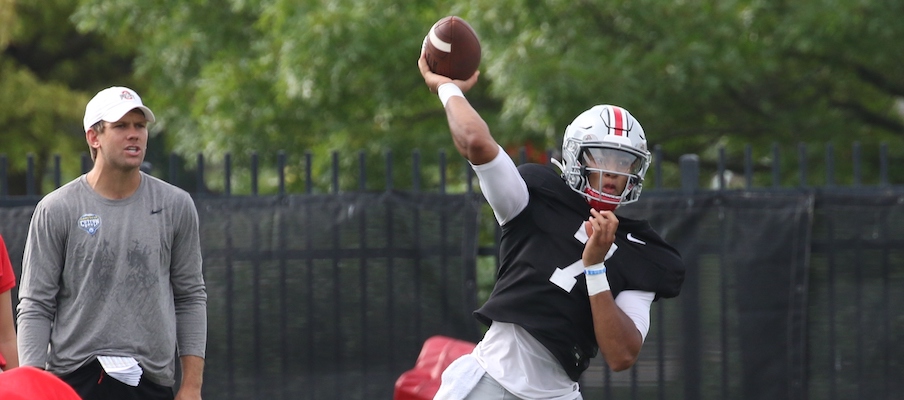 Day has had an incentive to wait as long as possible before naming a starter or even a frontrunner at quarterback, as he's wanted to keep all of the quarterbacks engaged in the competition. He said Monday that he had communicated to Miller and McCord that Stroud is currently ahead in the competition and that they had responded well.
As he has repeatedly this preseason, Day also emphasized that he wants all of Ohio State's quarterbacks to be ready to play, knowing that a lot can happen between September and January.
"They've been great," Day said of McCord and Miller. "They understand no decisions have been made yet, but that's where it's at. And that's part of the process is communicating. And I think we do a really good job of that. Understanding 'OK, here's where you're at, here's what you're doing well, but these are the areas that we need to improve in.' And that's for everybody across the board. It's a long season.
"We're talking about going all the way to January. And so everything in my experience is we're gonna need everybody. And one thing's for sure, there's gonna be one starter in terms of that first play against Minnesota, and then at that point, we see where it goes."
Now that the first game is just two-and-a-half weeks away, however, Day knows he can't wait much longer before naming a starting quarterback, as Ohio State will soon shift from the developmental portion of the preseason to preparing specifically for playing Minnesota.
"We're starting to get to that game week now, it's coming around the corner, so we have to start making some decisions," Day said.
"He's been competing. He's been taking care of the football. Making good decisions. He's been a leader. Those are all some of the traits that we're looking for."– Ryan Day on C.J. Stroud
Day did not indicate Monday whether McCord or Miller would currently be in line to be the No. 2 quarterback. He said this week would be a big week for all of the quarterbacks, though – in a position group that also now includes Quinn Ewers, who practiced with the Buckeyes for the first time on Monday – to make their case that they deserve playing time this season.
"I think as we start to get into that game week, we start to get an idea of that and the depth chart gets made," Day said. "We're still not naming a starter, so we're not quite there yet. But this is a big week for those guys."