As Ohio State went through its first full-contact scrimmage of the spring last Friday, Ryan Day had one overarching thought: "Man, we gotta play more football."
That wasn't necessarily an unexpected thought for Day to have, nor was it new. All spring, Day has acknowledged that many players aren't quite where they should be in their development because they missed out on the opportunity to go through a full on-campus offseason last year. He and his fellow assistant coaches have said all spring that they don't expect to have all the answers about their team coming out of next week's spring game, instead viewing preseason camp in August as an extension of spring practice.
Seeing his team in a true simulated game setting, though, drove home what he already knew that his team still has a long way to go between now and Sept. 2 in order to get ready for its 2021 season opener against Minnesota.
"There was some good things out there," Day said Monday while reviewing the scrimmage. "But it's just, you don't have Tuf Borland or Pete Werner or Baron Browning. You don't have Justin Fields. Luke Farrell, you miss these guys that you just counted on, and now you have some of these younger guys that haven't done it and didn't have a chance to play much over the past year. So the rush is on to get them ready. Not that it was bad, it's just they haven't played very much. So they just need a lot of reps. And the more we can get them, the faster they'll learn. Because the good news is, they're all capable."
Ohio State is now past the halfway point of spring ball, having completed its ninth practice of the year on Tuesday. That leaves the Buckeyes with just six more practices this spring, including the April 17 spring game, after which they'll have to wait more than three months before their next real practice.
The Buckeyes will be scrimmaging again this Saturday, which Day believes is important for his players – especially those who haven't played much in real games, which is most of the team – to get some game-like reps under their belt.
"There are some guys out there that have some game reps and a body of work underneath them; Zach Harrison's played a lot of football here, Chris Olave's played a lot of football, Ruckert … Thayer Munford's played a lot of football here. Antwuan Jackson's starting to build up a body of work. Even Proctor is building up a body of work," Day said. "But there's a lot of guys that haven't. And they have to play and we have to play. And the only way to really do that is go play."
"They haven't played very much. So they just need a lot of reps. And the more we can get them, the faster they'll learn."– Ryan Day on Ohio State's inexperienced players
At the same time, Ohio State also has to walk a fine line between getting players reps and keeping them healthy. The Buckeyes already have at least eight players sidelined by injuries this spring, including defensive tackle Haskell Garrett, linebackers Dallas Gant and Mitchell Melton, cornerbacks Sevyn Banks and Cameron Brown, safety Kourt Williams, offensive lineman Harry Miller and wide receiver Kamryn Babb.
That's why Friday was the first time Ohio State did full tackling this spring, and why only two of its four practices this week are in full pads.
"I'd love to just scrimmage every day now after watching the film from Friday," Day said. But we think through every single thing we do, every minute of every single drill. Looking back on kind of some of the things that have happened this spring, they've really been non-contact situations. So I feel good that we're putting them in a situation to be successful and we're keeping them safe. But at the same time, we've gotta be able to practice."
While Ohio State is trying to make up for lost time this spring, Day and his staff are still being cognizant of not wearing their players down. One adjustment they've made in practice this year, Day said, is the addition of "teach periods" where players aren't going full-speed so that they can sustain their energy through the end of practice. During Friday's scrimmage, the Buckeyes took breaks after every 10-12 plays to keep them fresh.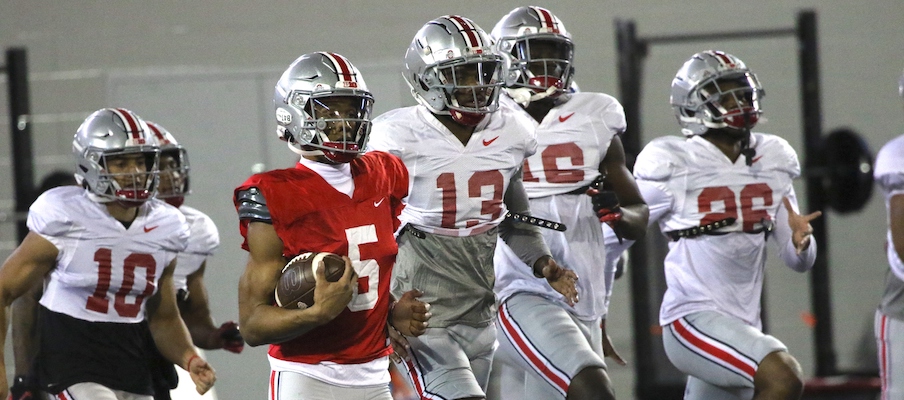 Day feels good about where his players are at from the mental standpoint of the game, as they were still able to improve in that regard last offseason through virtual meetings and he believes he has a "very intelligent" team of players.
Many of them, though, still haven't had a lot of opportunities to play or even practice in an Ohio State uniform. And that's what makes it so important for the Buckeyes to use their time efficiently and get as many quality reps as possible over the next week-and-a-half before spring ball concludes.
"I am pleased with the effort," Day said. "I'm pleased with how we're coming along technique-wise, fundamentally. I think we're growing. I like where the defense is headed. I like where we're headed on offense. But I still am just concerned that we just haven't played a lot of football with some of the younger guys. Some of the positions that haven't got a whole bunch of game reps. Certainly quarterback's one of them, linebacker's another, and some of the young DBs as well. So those are the things that we just gotta continue to try to put them in game situations and get them more reps."