Ohio State is introducing a new model for football season tickets that will begin in 2022.
Starting with the 2022 season, Ohio State will have six different seating zones for season tickets at Ohio Stadium, with varying ticket prices between each zone. For the 2022 season, when Ohio State is scheduled to play eight home games, the cost of one season ticket will range from $710 in the cheapest zone (Zone 6) to $1,287 in the most expensive zone (Zone 1); in 2023, when Ohio State is only scheduled to play six home games, season ticket prices are set to range from $487 to $882.
Previously, Ohio State had just two pricing zones for season tickets; for the 2019 and 2020 seasons (before COVID-19 ultimately prevented fans from attending games in 2020), Ohio State charged $702 for reserved seats and $851 for box or club seats.
Those prices will remain in place for 2021, though Ohio State has not yet started season ticket renewals as stadium capacity for the 2021 season remains uncertain due to the ongoing COVID-19 pandemic. Season ticket prices for basketball, for which Ohio State already uses a zoned seating model similar to the one being implemented for football, will also remain unchanged for 2021-22.
Additionally, while a $1,500 contribution to the Buckeye Club was previously required to be eligible to purchase season tickets, Ohio State's season tickets will now come with a per-seat contribution to the Buckeye Club, ranging from $1,500 per seat in Zone 1 to no required contribution in Zone 6. The latter marks the first time in decades that members of the general public can purchase season tickets without making an additional donation to the university.
The proposed required contributions and projected general public season ticket prices for the 2022, 2023 and 2024 seasons, as seen in the table below, were submitted to the Board of Trustees for approval on Thursday morning.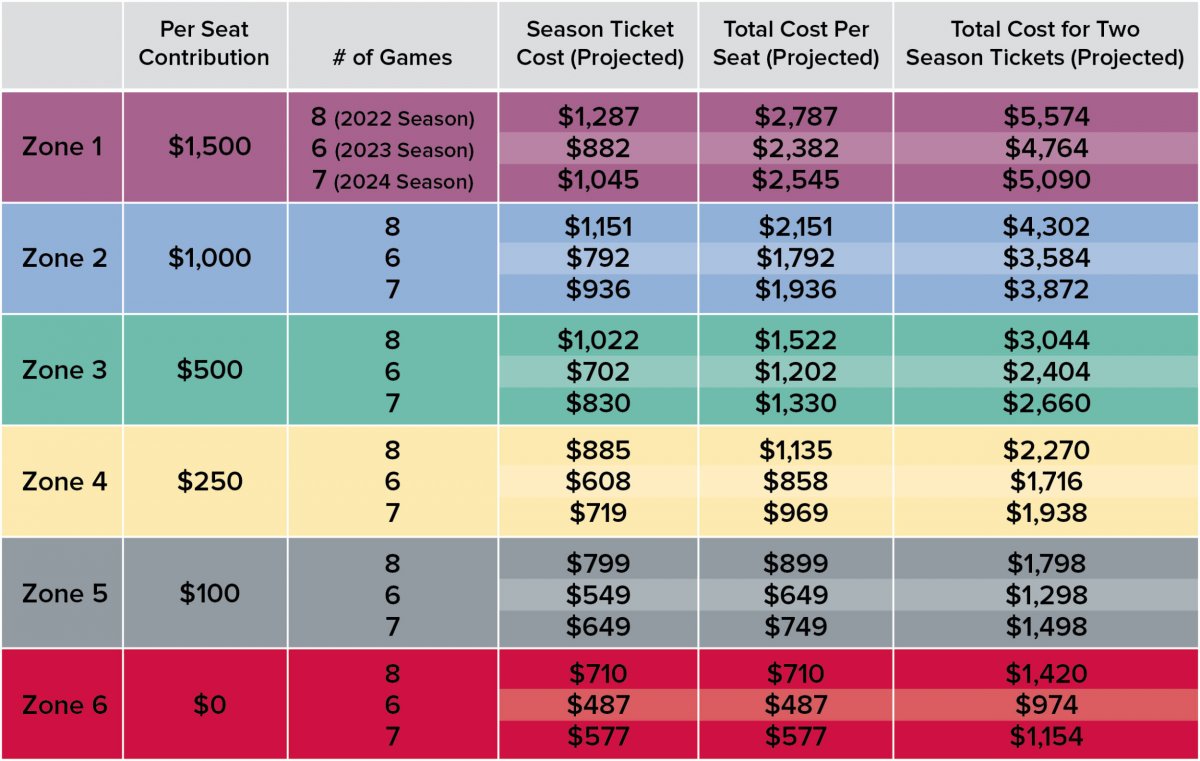 Faculty and staff members, members of the Varsity O alumni society (which is open to former Ohio State varsity athletes who were letterwinners) and recent graduates (within five years of graduation) will be eligible to purchase season tickets at discounted rates, though all of them will also have to make per-seat contributions for tickets in Zones 1-5. Students will still be eligible to purchase season tickets at $34 per game without making an annual contribution.
Parking passes for Ohio State football games will be sold in three tiers beginning in 2022, requiring a total Buckeye Club contribution of $3,000 for "non-proximity" and RV parking locations, $5,000 for "proximity" parking locations and $6,000 for "premier" parking locations. All per-seat contributions will count toward the minimum requirement to purchase parking passes.
During a call with reporters on Wednesday, Ohio State athletic director Gene Smith said the move to a new ticketing model was years in the making and not a reaction to Ohio State's revenue losses over the past year. To the contrary, Smith said Ohio State actually likely would have implemented the new pricing model in 2021 if not for the pandemic slowing things down.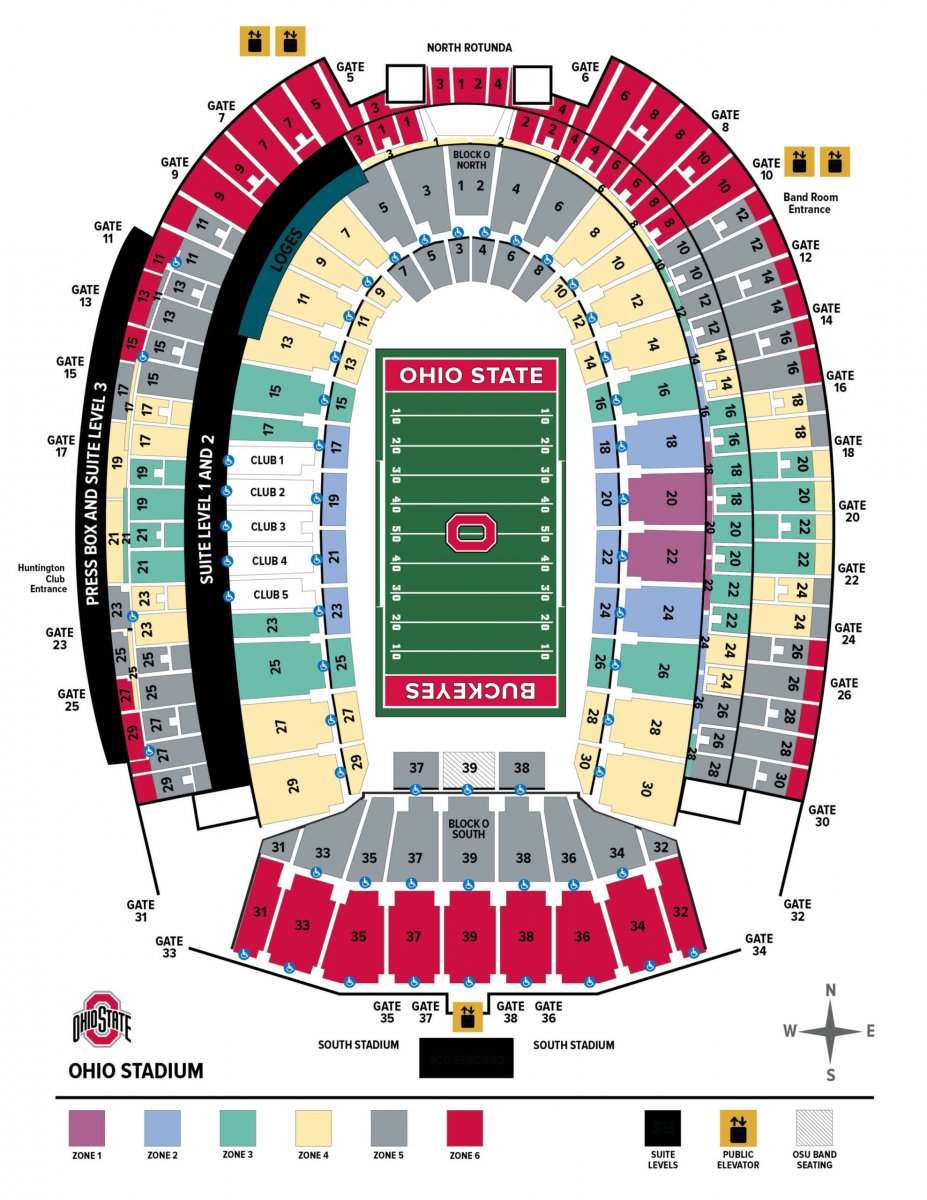 That said, Ohio State believes the new ticketing model will lead to an increase of about $5 million in contributions to the Buckeye Club, which go entirely toward funding scholarships for Ohio State athletes. The Buckeye Club currently brings in slightly less than $14 million in annual contributions, but Smith believes the new ticketing model will make it realistic for Ohio State to increase those contributions to $25-30 million.
"We need to grow our annual giving program," Smith said. "When you look at our peers across the country who have done this for a number of years now – the Texas' of the world, the Michigans of the world, the Oklahomas of the world, the Texas A&Ms of the world, the Tennessees of the world … they're in the upper $20 millions, so our goal would be somewhere between $25-30 million in our annual giving program over time, and we're sitting just south of $14 million."
Out of the 49,729 total season tickets that Ohio State sold for the 2019 season, over 60 percent of those season tickets did not come with required contributions to the Buckeye Club. Faculty and staff have not been required to make an annual contribution to purchase tickets, nor have members of the President's Club (those who donate $3,000 or more to the academic side of the university) or "long time purchasers" who were grandfathered in because they began buying season tickets before an annual contribution was required. Those exceptions will be going away with the new ticketing model, however, requiring those groups to make per-seat contributions to the Buckeye Club.
Because the entry point for purchasing season tickets in the cheaper zones will now be significantly less expensive than it was under the previous model, and nearly a third of season-ticket holders will now pay less than they were before, Ohio State is also optimistic that its season ticket numbers will increase once the new model goes into effect.
Total Seats By Zone

| Zone | Total Seats |
| --- | --- |
| 1 | 2,578 |
| 2 | 5,366 |
| 3 | 12,177 |
| 4 | 20,770 |
| 5 | 27,025 |
| 6 | 29,709 |
"Zone 6 and also Zone 5 if you look at it, where there's $0 or a very low per-seat contribution, it's now way more affordable to be a season-ticket holder," said Ohio State associate athletic director of ticketing Brett Scarbrough.
Ohio State is also planning to offer mini-plans, which it first offered in 2019 as an option for fans to purchase partial season-ticket packages, and will make any remaining seats available through single-game ticketing. That process will not change, per Scarbrough – single-game tickets will first be made available to Ohio State Alumni Association members in a presale, as part of a standing agreement with the athletic department, before going on sale to the general public – though those tickets will also now be available at six different price points through the new model.

For additional details on Ohio State's new season ticket model, visit OSU's official athletics website.