Before each week's Ohio State game, Eleven Warriors catches up with a media member who covers the opposing team to get his or her perspective on the Buckeyes' upcoming opponent.
As for the Buckeyes prepare for this week's trip to Champaign to face an Illinois team that's won its last two games, we're joined by Bob Asmussen, who covers Illinois football for The News-Gazette, to get his insight on how the Illini have bounced back from their 0-3 start, which Illinois players we should be keeping an eye on in Saturday's game and why he believes the game will be closer than the 28-point spread.
Illinois has won its last two games after losing its first three games of the season. What's made the biggest difference for the Illini to turn things around?
Asmussen: It's been a couple things, First, it got about a dozen players back who had to sit out because of COVID tracing. They missed the losses to Purdue and Minnesota and most of them were back for Rutgers. The most important guys out were quarterback Brandon Peters, center Doug Kramer and kicker James McCourt. But there were others. Having Kramer out meant the team had to move starting guard Kendrick Green from his best position to less comfortable center. And it had to use a former walk-on at guard. A real mess. 
The second thing Illinois has done is go back to its turnover-producing ways of 2019. In the Rutgers and Nebraska games, Illinois won the turnover battle by a combined 8-1. There were a lot of short fields and Illinois took advantage.
Illinois' rushing offense has been one of the Big Ten's best this year, ranking second in the conference in yards per game. What's enabled the Illini to have as much success as they have running the ball?
Asmussen: Of course, it starts up front. The team brought back four of five starters on the offensive line from 2019 and they are guys with a ton of experience. Doug Kramer is really good and Green will probably get drafted. Tackle Vederian Lowe has an NFL body. And when guys have gotten banged up, like tackle Alex Palczewski, there has been somebody ready to step in. Julian Pearl, a converted defensive lineman, has played well.
The running backs have been better than expected. Mike Epstein was coming off a torn ACL, but has looked better than ever. Western Michigan transfer Chase Brown is in his first full season in the Big Ten. Both of them hit the hole fast. Not a lot of messing around, just go forward and gain positive yards. And the quarterbacks have also helped. Isaiah Williams is a runner first. Brandon Peters is a better runner than most expect and worked hard in the offseason to get bigger and stronger. I should also note that Illinois offensive coordinator Rod Smith is dedicated to the run.
How would you assess Illinois' defensive play this season? How equipped are the Illini to match up with Justin Fields and the Buckeyes?
Asmussen: Defense has been a struggle for Illinois at times. Up front, most of the key players from 2019 have moved on. The last couple games, the veterans have done a better job of putting pressure on the other team's quarterbacks. Jake Hansen at linebacker is the linchpin of the defense. He has played really well and has a knack for forcing turnovers. He will have a bunch of tackles Saturday. 
The secondary has played OK at times, but in the losses made bad mistakes that led to big gains. There were wide-open receivers running down the field for Wisconsin, Purdue and Minnesota. Graham Mertz looked like a Heisman winner and only had one incompletion. The secondary has played better the last two games. Devon Witherspoon is probably the best guy back there.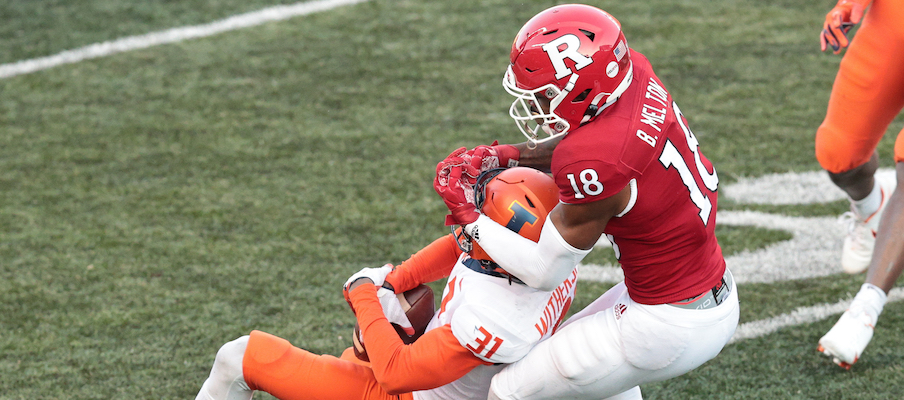 Who are some other Illinois players that Ohio State and its fans need to be aware of entering this game?
Asmussen: Start at tight end. Daniel Barker is a big-play threat. Daniel Imatorbhebhe, a USC transfer, has also shown a knack for getting open. And big things are still expected from Georgia transfer Luke Ford, who hasn't seen the ball much, but is apparently a really good blocker. At receiver, Josh Imatorbhebhe is the best on the team. He has a good connection with Peters. And Valpo transfer Donny Navarro is another guy who is coming on in recent weeks.
On defense, corner Nate Hobbs has been slowed a bit by injury but seems to be recovered. He was considered the best in the secondary at the start of the season. Defensive end Owen Carney had a big game against Nebraska and is being counted on by the coaches to provide more pressure.
Ohio State is favored to win this game by four touchdowns. What are your thoughts on that spread? Do you think Illinois is capable of keeping this game close or even pushing for an upset?
Asmussen: If Illinois plays the way it did against Nebraska, it can hang with a lot of teams. It was the best a Lovie Smith team had played in his five years in all phases. Being a heavy underdog doesn't seem to be a big deal to Illinois. It was a 30-something point underdog when it beat Wisconsin in 2019 and a 16-point underdog when it won at Nebraska. Heck, Illinois was an underdog at Rutgers, too. Telling Illinois it can't win seems to work in its favor. At least at times. 
Do I expect an upset? No. Do I think it will be closer than 28? Yes. I'm going to pick somewhere in the 14-17-point range. Like Indiana last week, Illinois won't stop playing if it falls behind. That has been a consistent theme during the Smith era. The team was way down against Purdue and had a chance to tie or take the lead in the final minute. 
Illinois is playing well and there is a lot of confidence. It will take a lot of Ohio State turnovers for Illinois to win. I have seen a lot of nutty games in 32 years covering Illinois, so I never say never.