Third time's the charm.
Or, at least, we all sure hope that's the case.
The Big Ten set its original 12-game schedule years ago, offering plenty of time to analyze what Ohio State would do during the 2020 regular season. Yet as the year progressed and the coronavirus pandemic continued to affect life throughout the country, it became clear that the slate of games might get changed. On Aug. 5, the conference released an abbreviated, Big Ten-only, 10-game schedule. Of course, less than a week pass before those plans got spiked and the season got postponed past the fall.
Finally, on Saturday morning, the Big Ten dropped its third – and hopefully final – 2020 football schedule during FOX's Big Noon Saturday, giving us a chance to offer some initial impressions.
Ohio State's 2020 Football Schedule

| Date | Opponent |
| --- | --- |
| SATURDAY, OCT. 24 | NEBRASKA |
| SATURDAY, OCT. 31 | at PENN STATE |
| SATURDAY, NOV. 7 | RUTGERS |
| SATURDAY, NOV. 14 | at MARYLAND |
| SATURDAY, NOV. 21 | INDIANA |
| SATURDAY, NOV. 28 | at ILLINOIS |
| SATURDAY, DEC. 5 | at MICHIGAN STATE |
| SATURDAY, DEC. 12 | MICHIGAN |
An Apt Opener With An Obvious Result
The two schools, without a doubt, that spent the most time pushing for a fall football season will meet in Week 1. It'll be Nebraska at Ohio State in the Horseshoe on Oct. 24.
Cornhuskers players went as far as to sue the conference, and Scott Frost and the administration didn't exactly take the Big Ten's announcement of no fall football quietly. They fought back. Along with them in the battle to play this year was Ohio State, which also initially voted not to postpone the season. Head coach Ryan Day, athletic director Gene Smith and president Kristina Johnson made their positions known, too, pushing their weight around.
Though the game doesn't lack storylines, it lacks equal opponents. The Buckeyes will be heavy favorites in Columbus next month. 
It doesn't get any easier for Nebraska, either. It starts its season against Ohio State, Wisconsin, Northwestern and Penn State. 
No Easing In
Perhaps the most difficult game on the Buckeyes' schedule – even without fans in the stands – will come in just the second week of the season.
They'll travel to State College, Pennsylvania, to face off with Penn State on Oct. 31. The Nittany Lions, whose defense took a hit when All-American linebacker Micah Parson opted out, opened the season ranked No. 7 in the Associated Press top-25 poll. 
No Big Ten team in recent years has consistently given Ohio State fits as often as Penn State, which pulled off an upset of the Buckeyes in 2016, lost by one point each of the next two years then dropped an 11-point defeat in 2019 – the closest game Ohio State played all season, outside of the semi-final loss to Clemson.
James Franklin's team might be Ryan Day's biggest hurdle in the regular season, and he won't have to wait long for the matchup.
Two Byes In A Row That Aren't Byes
Getting Nebraska and Penn State right off the bat forces Ohio State to be up to speed right away. The next two weekends? Uh, it'll be the complete opposite.
The Buckeyes will face Rutgers and Maryland in back-to-back games. The only questions: Will they win the two games by double-digits or triple-digits? 
These two weekends will be prime opportunities for backups who might not get as many in-game reps as normal in a shortened season. They'll also be opportunities for freshmen, such as quarterback CJ Stroud and Jack Miller, to take late-game snaps to aid in their development.
Just Eight Games? No Traps
Every offseason, whenever anybody's trying to analyze Ohio State's upcoming schedule, discussion inevitably leads to someone circling one or two games where the Buckeyes might be vulnerable against a less-talented team. 
Recent precedent – say hello to 2017 Iowa and 2018 Purdue – dictates those conversations. In this eight-game slate, trap games don't exist. They just don't, especially with the way Ohio State's schedule lines up. Nobody's sneaking up on the Buckeyes. Not Nebraska in the opener. Not Indiana, which follows Rutgers and Maryland. Not Michigan State, which comes after Illinois. 
Ohio State knows it can't afford any slips and must show out in all eight regular-season games in order to make the College Football Playoff. Save the trap-game opinions for next offseason.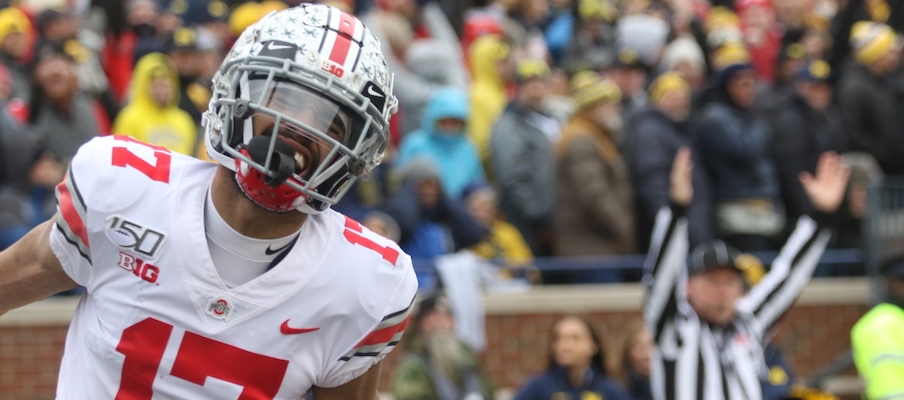 Michigan Brings Up The Rear
The Big Ten had three options for The Game: Place it at the beginning of the season, put it on Thanksgiving weekend or play it at the end of the season. It chose the latter. Ohio State welcomes Michigan for the latest rendition of its series on Dec. 12, which is one week ahead of the conference title game.
Wyatt Davis and Justin Fields have made it known that they don't care when they play Michigan. Last month, they said they want to "beat the brakes off" of the Wolverines whenever they face their archrival. The typical end-of-season slot works just fine for everybody involved – even if it might be freezing.
Remember: There's no use wondering whether or not this should have been scheduled to take place earlier in the year in order to have an opportunity to reschedule it if it gets canceled. The Big Ten hasn't allowed for any open weeks, meaning there won't be any games postponed. It's either play on the date as scheduled or don't play at all.
Big Ten Title Game: Toughest Back-To-Back Weekend
The schedule-designers did Ohio State a favor by not giving Day's squad two difficult games in a row. The closest they came is by putting a home game versus Nebraska and a road game at Penn State in a row, but the Buckeyes should be favored by several touchdowns against the Cornhuskers.
Not until mid-December will Ohio State actually get a tough back-to-back. Facing Michigan on Dec. 12 then, assuming it's undefeated, dueling the Big Ten West's best in the conference championship game in Indianapolis on Dec. 19 stands out as the only time the Buckeyes could have two worthy opponents in a row.
Avoid Tough Crossover Opponents
On the 10-game abbreviated schedule, the Big Ten added Iowa to Ohio State's slate. That meant it had both Purdue and the Hawkeyes as West Division crossover opponents to go along with Nebraska and Illinois.
In the newly released eight-game schedule, the Buckeyes no longer face either Iowa or the Boilermakers. Instead, just the Cornhuskers and Illini remain on their schedule. Can't imagine there'll be any complaints about that inside the Woody Hayes Athletic Center.
Comparatively, Michigan's two West Division opponents will be Wisconsin and Minnesota. Unfortunate for those in Ann Arbor seeking a breakthrough.
Likely Have To Go Undefeated For A CFP Bid
We can all be honest here. This isn't a particularly difficult schedule. Urban Meyer outright called it "easy" on FOX's Big Noon Kickoff soon after the Saturday release.
For Ohio State, that only increases the need to have a spotless regular-season record. Much will be made about the College Football Playoff selection committee's impossible job of choosing four entrants from conferences that all decided to start on different dates and play a different amount of games. Some fan bases will feel angry. That's inevitable. The Buckeyes need to do their part to avoid leaving their fate in the committee's hands.
How do they do that? Run the table. This weak of a regular-season schedule necessitates Ohio State going undefeated, or else it would quickly find itself in an uncomfortable position.
No Makeups, No Guarantees
The Big Ten's 10-game schedule lived for less than a week. Presumably, the eight-game slate won't get canned. 
But none of it can get taken for granted. Any of these games could get canceled at any time due to COVID-19, and since there aren't any open weeks, none of them will get made up.
Celebrate the release of the schedule now, and hope nothing changes. That's all anyone not directly involved can do as we await Oct. 24 for the season to commence.