The University of Southern California was, with the exception of one pretty dope Year of Vince, was the program of the 2000's. It's easy to forget that given what happened to them once Pete Carroll left/ducked the NCAA hammer, but for the better part of a decade they were hot shit in a champagne glass.
Meaning, of course, that they were ripe for the Dirty Dingy Daryls of college football to try and knock them down a peg.
USC under Pete Carroll was everything that Ohio State under Jim Tressel was not.
They were flashy and leaned hard into the whole Hollywood thing, with celebrities chilling in the locker room. Ohio State had Nick Lachey singing Hail to the Victors on top of Ohio Stadium. They had a head coach more defined by his understandable shirtlessness than his nascent 9/11 trutherism, and Ohio State had a head coach who briefly made sweatervests A Thing for your uncle to wear. They had a coherent offensive philosophy, the Buckeyes... did not have that.
It's a classic slobs versus snobs setup, if in this case the slobs are committing minor NCAA violations and the snobs are committing much, much more significant NCAA violations.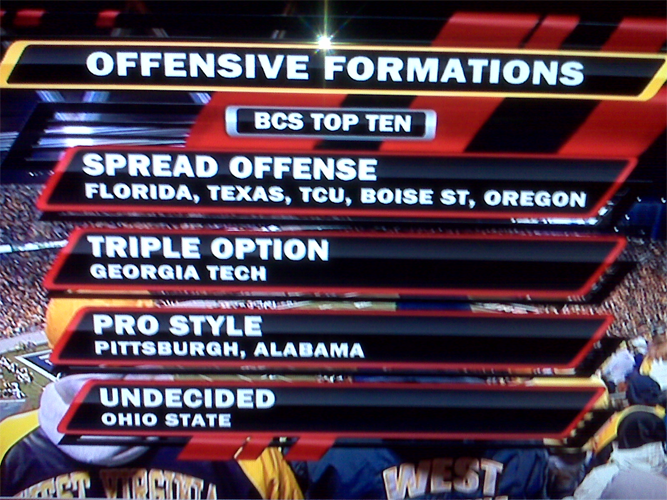 It's also probably important to point out the trajectories that these two programs were on as of their first leg of a home-and-home in 2008. The Trojans had won two national championships (with Vince Young being their only barrier to a third) and three Rose Bowls in five years. In that same timespan they had lost a total of six games and more or less locked down the Pac-10. Their offense was characterized by names like Matt Leinart and Reggie Bush, but the USC defense was also extremely formidable, particularly with linebackers like Rey Maualuga, Clay Matthews, and Brian "Why Yes, I'll Happily Inject Orca Testosterone Into My Eyeball" Cushing.
Ohio State, meanwhile, had taken some lumps after the 2002 season. Still dominant in the Big Ten, they were coming off two consecutive losses in the national championship, and were being dragged down by the increasingly loud narrative that the Big Ten was bad and slow and out of date.
Which it was. As difficult as it was to admit, beating Michigan State by a touchdown no longer held quite the same mystique in 2007 as it might've in years past. As thrilling as players like Troy Smith and A.J. Hawk and Ted Ginn, Jr. and Malcolm Jenkins and James Laurinaitis and Beanie Wells might've been on the field, ultimately they'd never win the natty that they needed to cement Ohio State's status as a program to be reckoned with.
This was a chance to change all of that. If the Buckeyes strode into Los Angeles Memorial Coliseum and punched USC in the face, Ohio State is sitting in the driver's seat for another championship run. If Ohio State shut down Mark Sanchez and mitigated Rey Maualuga's impact and maybe Todd Boeckman tosses a few TD's in the process, the Buckeyes could cement their place as one of college football's elite upper crust.
That did not happen.
On Setpember 13th, 2008, without an injured Beanie Wells to take heat off of him, Boeckman was completely overwhelmed by the Trojan defense. He threw two interceptions, including a pick-six, and ended up going 14/21 for 84 yards passing. It was a bad performance, but one probably not helped by Tressel and company inserting Terrelle Pryor into the offensive gameplan seemingly at random. Had they just stuck with one quarterback or the other, Ohio State still would've gotten waxed 35-3, but at least then they could plausibly claim that everyone had the flu or something instead of systemic dumbassery.
The 2009 game was much closer. Living in Japan at the time and unable to watch the game because I was helping coordinate a field day for kids, I anxiously checked for updates on an ESPN app that was very much still in the throes of Web 1.1. For several long minutes I believed that Terrelle Pryor had led Ohio State to a momentous, narrative-changing victory over Matt Barkley and Joe McKnight, as my app showed time had run out with the Buckeyes holding on to a 15-10 lead.
Nope! It just took too long to update! USC scored a last minute touchdown and won 18-15 in Ohio Stadium.
There is, of course, a happy ending here. That 2009 Ohio State team would nicely rebound with a win against Oregon in the Rose Bowl, who they were playing because the Trojans had ended up going 8-4 in the regular season. Both Tressel and Carroll would be gone within a few years, but the Buckeyes recovered almost immediately (and came back even stronger), whereas USC has struggled to stay competent after ol' Pete left them in the lurch to deal with oppressive NCAA sanctions. Hiring (among others) Lane Kiffin during a transitional period in his life probably didn't help either.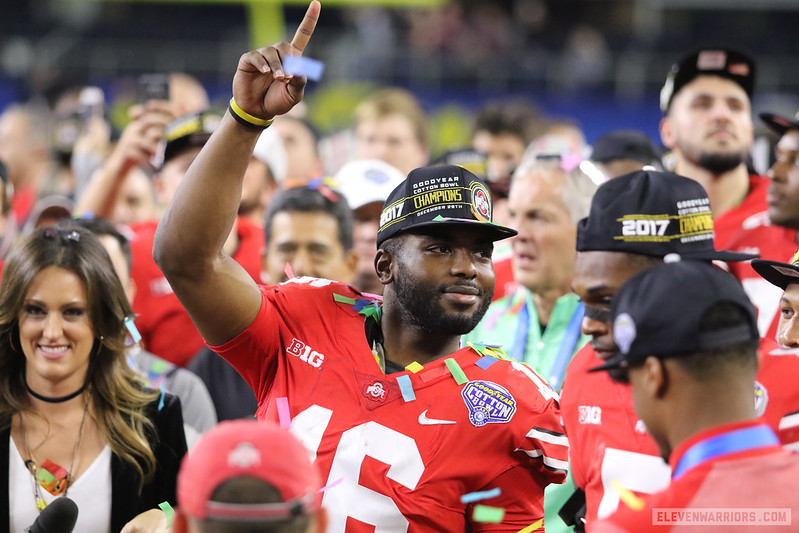 The Buckeyes finally got their revenge in the 2017 Cotton Bowl, an underrated game by some, but not by me, thanks to the animosity and hate that I had carried in my heart for about a decade prior. Thanks, J.T. Barrett.
---
Ohio State has a wild out of conference schedule for the next decade or so, but what's important to note about games against Texas, Notre Dame, Alabama, Georgia, etc. is that as of Juneteenth, 2020, the Buckeyes have all the momentum. They're solidly one of the top three programs in college football, and don't have to prove anything to anyone.
That might make all the difference compared to 2008 and 2009, when a team sliding backwards in the eyes of the college football world was hoping for a marquee early season out of conference win that they never got. For that reason, the 2008 and 2009 USC games were The Worst.