The need for opposing offenses to focus on blocking Chase Young, DaVon Hamilton often said last fall, allowed everybody else on Ohio State's defensive front to get advantageous matchups. Many of their other teammates, including Jashon Cornell, would also reference how Young helped the rest of the defensive linemen get more pass-rushing opportunities.
Even early in the year, the increased opportunities were evident.
"It kind of helps out everybody," Hamilton said three weeks into the 2019 season. "Everybody's getting one-on-ones at this point."
Even with the increased attention from opponents, Young turned in arguably the most dominant season by a defensive player in Ohio State history. He recorded a school-record 16.5 sacks, forced six fumbles and became a Heisman Trophy finalist as a defensive end. No one else on the defense had more than six sacks, yet the Buckeyes ranked third nationally with 3.86 sacks per game, largely due to Young's productivity.
Going forward, Ohio State can no longer rely on Young's production as a pass-rusher and as someone who takes the pressure off of the rest of his fellow defensive linemen. He's off to the NFL, likely to the Washington Redskins as the No. 2 overall draft pick next month.
So what do the Buckeyes do without him? Turn to a pass-rush-by-committee approach, in all likelihood.
It's completely unfair to expect any single player to reach the level in 2020 that Young ascended to in 2019. That's just not going to happen. As a group, though, there's reason to believe Larry Johnson can put a group of intriguing pieces together.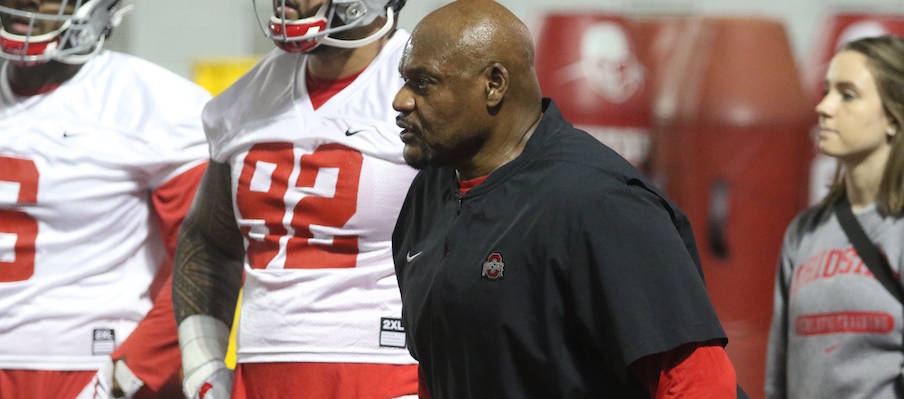 Let's run through what each of the pass rushers could do in 2020.
Zach Harrison: If anyone currently on Ohio State's roster can follow in the footsteps of Young and the Bosa brothers as the next-in-line top-10 NFL draft pick, it's Harrison. He's a freak athlete and five-star prospect who started across from Young in the College Football Playoff as a true freshman. He had 24 tackles and 3.5 sacks last season. In his second year, can he get to Young's sophomore total of 10.5 sacks? That doesn't seem unreasonable. Pushing him closer to his remarkably high ceiling is one of Johnson's most important tasks this offseason.
Tyreke Smith: If Harrison's the most likely defensive end to lead Ohio State in sacks and pressures next season, Smith ranks right behind him. The rising junior had only 12 tackles and three sacks in an injury-marred 2019 season, but he has shown flashes. Now an upperclassman, it's time for him to translate that potential to consistent on-field production. Provided he stays healthy, he'll be a popular breakout candidate in 2020.
Jonathon Cooper: In his career, Cooper has yet to put together a season in which he officially recorded more than 2.5 sacks. Yet since he only played in four games in 2019, opting to take a redshirt after suffering an ankle injury that plagued him all year, he'll enter next season with more of a blank slate than most fifth-year seniors since he hasn't played a full season since 2018. Provided he's healthy, Cooper will have an opportunity to put together his most productive season at Ohio State yet. What's his ceiling, and can he reach it? That's hard to know.
Tyler Friday: Once nicknamed "Baby Tyquan" by his teammates due to his similarity to Tyquan Lewis' frame, Friday hasn't yet reached the productivity of Lewis. He had eight tackles with a pair of sacks and missed several games due to injury as a sophomore. As a top-100 recruit entering his third year in the program, he's someone who Johnson surely hopes takes significant strides in 2020.
Javontae Jean-Baptiste: At 6-foot-5 and 250 pounds, Jean-Baptiste arguably has a more impressive frame than anybody else on the defensive line. That hasn't translated to much production yet, though. He recorded 14 tackles and 1.5 sacks last year. The rising redshirt sophomore will fly a bit under the radar with a few more publicized veterans ahead of him, but he has a chance to become special. 
Noah Potter/Jacolbe Cowan/Darrion Henry-Young: With five defensive ends ahead of them on the depth chart, it's unlikely that any of these three become major contributors as pass-rushers in 2020. More than likely, their time will come in later years.
Taron Vincent/Tommy Togiai/Haskell Garrett/Antwuan Jackson: Defensive tackles will never be Ohio State's primary pass-rushers. Yet as Hamilton (six sacks) and Cornell (four sacks) showed last season, interior rushers can still provide the Buckeyes important push up the middle. None of Ohio State's returning defensive tackles have ever recorded more than one sack in a season as Buckeyes, but there's reason to believe a couple could become factors as pass-rushers in 2020. Vincent and Togiai, both heralded recruits in the class of 2018, will step into their largest roles as Buckeyes this year. They have potential to put forth the production that Hamilton and Cornell had last season.
Baron Browning: Leading all returning Buckeyes with five sacks in 2019, Browning's one of the most intriguing candidates to take a step forward as a pass-rusher. Personally, I've been part of the Make Baron Browning An Edge Rusher group for a while now. Every time I watched him go through pass-rushing drills before games with Kenny Anunike last season, I came away even more sure that he needs to be given more snaps going after quarterbacks. Sure, he'll likely spend most of his time at linebacker. But especially with Young gone, it's past time to unleash him off the edge more than ever before.
Among those players, it's clear that Ohio State has a ton of pass-rushing potential.
Can Harrison be the next Young? Will Smith have a breakout season? Is Cooper in line for his best year yet? Will Friday or Jean-Baptiste begin to put it all together? Can a couple highly touted recruits at defensive tackle become reliable pass rushers? Will Browning spend more time rushing the passer?
But at this point, that's all most of it is: Potential and yet-to-be-answered questions. No one who's back has ever accumulated more than five sacks in a season, and no returning lineman has had more than 3.5 sacks in a year.
Without Young, the Buckeyes need quite a few veterans to make strides in the offseason if they are going to have one of the nation's most productive pass-rushing units again in 2020.