The snap of Devin Willock's left leg was one of those injuries that people still talked about hours, days afterward in the Paramus, N.J. area.
His injury's grisliness was comparable to the leg breaks of Kevin Ware or Paul George, each which will show up on any top 10 list of worst injuries in basketball history. 
On the opposing sideline, Luke Wypler took a knee with his St. Joseph Regional teammates, whispering with them while watching his fellow Jersey offensive lineman Willock – a 6-foot-6, 345-pound Georgia signee – lay in excruciating pain on the field, his leg sitting in a twisted, impossible angle during a first-round New Jersey high school playoff game on Nov. 16.
Willock had fractured his fibula, dislocated his ankle and would eventually undergo surgery to have nine screws, a plate and a binding piece of plastic inserted into his leg. Trainers placed a towel over Willock's injury, but not in time for Wypler to avoid catching a glimpse.
"It was very gruesome," Wypler said. "(Me and my teammates) were all just talking about how gruesome the injury was and how awful it was."
It happened on the last drive in the last game of the season and with St. Joseph leading Paramus Catholic, 37-0, most of each team's starters had been pulled from the game. 
Not Willock. The senior wanted to keep playing, soaking up every minute of high school football he had left.
"That made (the injury) even worse," Wypler says of the game clock situation and score.
So Wypler and his teammates watched during a 15-minute break in action as training staff members, emergency medical service technicians and members of the Bergen County Sheriff's Department aided Willock, putting his leg in an air cast and placing him on a stretcher as Willock's family smothered him with hugs and encouraging words.
As the paramedics started to load up Willock and wheel him out, Willock's teammates and cheerleaders lined up to give him hugs, dabbing him up and wishing him well. Wypler's teammates, meanwhile, started to walk away, but Wypler stopped them. 
The 6-foot-3, 280-pound offensive lineman is his team's on-field leader, and it showed in this moment. He instructed his teammates and his team's cheerleaders to organize a single-file line on each side, forming a tunnel-like escort for Willock, and each St. Joseph opponent either slapped his hand or back in support as he left the field. 
That act was caught on video by Rivals reporter Ryan Patti, and the story of Wypler's act of sportsmanship was picked up by other media outlets in the area. 
Wypler and Willock aren't best friends, but the two had come to know each other very well over the last two years, both from playing against each other (Wypler's Green Knights are 4-0 over Willock's Paladins during that span) and seeing one another at camps on the recruiting circuit (Willock is a three-star offensive tackle who had been committed to Penn State up until a week before the early signing period). 
Wypler respected the way Willock has played throughout his career, but, really, that's not the reason for why he chose to step up in the manner in which he did.
Prays up for u brother @DevinWillock Get well soon https://t.co/xE7fRdAFoN

— Wypler (@LukeWypler) November 16, 2019
"I wasn't really thinking it was gonna be a big deal. It was just the right thing to do," Wypler told Eleven Warriors. "As a team, I thought it would be the best way to honor what he did on the field and kind of show gratitude and respect for his injury.
"To be honest, in the moment it just kind of happened. I wasn't really thinking, 'Oh, this would be such a great idea.' I just felt like, 'That's what you do.' It just came to my mind. I kind of act off instinct; kind of how I play. Whatever comes to me, you just kind of roll with, and sometimes it's good, sometimes it's bad. It's more instinct that comes naturally."
Wypler isn't a big talker when it comes to leading. He picks his spots in that regard. He leads by example, and he says he's long been the guy in his locker room whom teammates look toward for guidance and leadership. So when that time came on that Saturday afternoon in Montvale, they listened again. 
"I felt bad for (Willock)," Wypler said. "I hoped that if I was injured like that, someone would do something similar for me, so I just kind of wanted – I always grew up treating others the way you wanna be treated, and that was just the first thing that came to mind when he went down.
"I kind of like to do my thing, and if people see me doing it, it follows. That's always kind of been my thing growing up and in high school."
That's the type of character Ohio State is getting in Wypler. Even though he hails from the east coast, he and his future head coach agree he has the traits of a Midwesterner. 
"I think he's definitely got some Jersey in him," Ryan Day said on Wednesday, hours after officially signing Wypler as one of the hidden gems of the Buckeyes' 2020 recruiting class. "He's got an edge to him, but he also has that hard-working mentality that I think he's got a lot of pride and loyalty. So yeah, I agree. I think he's got kind of both things."
When both Urban Meyer and Greg Schiano left the program, Wypler never wavered in a commitment that came in July of 2018. Schiano, a fellow New Jerseyan, developed a relationship with Wypler, and Wypler committed to a program led by Meyer. 
But even with Schiano's firing, Meyer's retirement and another Jersey native, Jeff Hafley, leaving the program, Wypler stayed steady. 
"Luke is another guy who was bought in from the beginning," Day said. "He never wavered at all. I think he's got a chance to be a great interior lineman. You talk about somebody who really takes a lot of pride in the way he goes about his business, he's going to come in here, going to be detailed, he's going to work hard. He comes from a great program, and again, another guy that I think has got a great ceiling."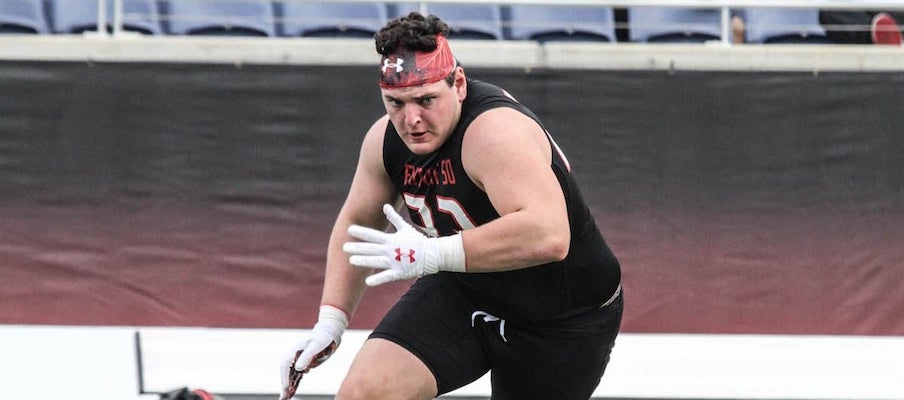 It's understandable for some players to feel jaded when their position coach or another leaves the program after having developed such a strong relationship with them. It's a case-by-case basis for each individual recruit. In this case, once Wypler chose to become a Buckeye, the decision was cemented.
"After Urban and Schiano left, there were no coaches that could leave at this point that would put me in a starstruck mode. Probably not even Coach Stud," Wypler said, referencing Buckeyes offensive line coach Greg Studrawa, who he's known since he was a sophomore. "I'm committed to the school, not to the coach. They've always known that. I think that's why I get overlooked, as you say, because they know I'm there no matter what. I told them, 'I'll let you focus on getting other guys and building this class so we can all be great.'"
Wypler never wavering in his commitment is actually quite exemplary of his east coast qualities. East coasters are not typically friendly right off the bat. They're typically standoffish at first, but become friends with an east coaster, and they'll become almost protective of you. In a way, Wypler became protective of the Buckeyes even with the coaching changes and question marks that were present during the middle of his commitment.
"You kind of have to take a step back and realize why you committed to Ohio State in the first place. So that's what I did," Wypler said. "That's what I told some of the other guys when the Hafley news broke is you have to kind of take a step back and realize the real reason why you committed to a university. Was it because of a coach? Was it because of all the cool uniforms and all that jazz and the nice locker rooms and practice facilities? Or was it to the university and to continue the tradition of being a Buckeye?
"And that's kind of what I realized is, I wanted to be a part of something great, win national championships and Big Ten championships. For me, to play at the highest level of football and receive one of the highest levels of education in the country, there was no better place than Ohio State."
The stereotype of an east coast lifer, especially one from New Jersey or New York, is that they "are rude and arrogant," Wypler says. That doesn't define Wypler off the field, but it certainly does on it. 
Say a cliche about what you want your ideal offensive lineman to be on the field, and Wypler probably meets it. He's nasty, gritty, hard-working and tough.
In other words, when the day comes for him to scrape ice off his car in freezing-cold Columbus weather, don't be surprised if you see him not wearing gloves, and you surely won't hear him complaining about his frozen fingers. Certainly won't wear sleeves in a 20-degree game at The Big House, either.
But it's not just stereotypical offensive line characteristics that made him the No. 2-rated center in the 2020 class. He possesses some great athleticism and footwork, and he's remarkably intelligent – he was a consistent Principal's List honoree at St. Joseph, maintaining straight A's and a 92-percent average. All of those things are exactly what a coach wants in his leader along the offensive line, especially at center.
And we haven't mentioned his versatility. Wypler has played at offensive tackle during his high school career, leading the way for the Green Knights to rack up nearly 2,500 rushing yards this season for a clip of more than 200 yards per game.
At the next level, though, he's seen as either a center or guard. He was ranked as the nation's No. 3 guard at the time of his commitment, and in a pinch, he could probably move to whichever O-line spot is needed from him. Wherever he ends up, he's going to bring that stereotypical east coast rudeness.
"That part is not so much a part of me, but maybe on the field it is a little bit where you kind of have that chip on your shoulder and you go after people and pin your ears back," Wypler said. "Especially coming from Jersey, it's kind of a blue-collar mentality where you have to bring the hard hat and lunch pail and tool belt to go to work every day. That really does define my childhood and how I was raised in my house with my parents. The other part is you really don't take anybody else's leftovers. You really have to make your own way. That's kind of the Jersey mentality."
The son of Al Wypler and Michelle Desimone, Wypler was born and raised in New Jersey, a lifelong, die-hard Jets and Yankees fan (an oddity for east coasters who typically mesh their fandom as Jets/Mets or Giants/Yankees fans). His dog – a West Highland White Terrier approaching a 10th birthday – is named "Chez," after former Jets quarterback Mark Sanchez, which became a bit of a bonding conversation between him and Day, who coached Sanchez when Day was a quarterbacks coach for the Philadelphia Eagles and Sanchez a backup in Chip Kelly's last season.
East coast life is the only thing Wypler has ever known, and he's loved it. He relishes having come from the mid-atlantic area, and growing up there crafted both his personality and who he's become on the field – an elite O-line prospect who could follow in the footsteps of Josh Myers, Wyatt Davis or Jonah Jackson as the Buckeyes' next-great interior lineman. 
Wypler's coach at St. Joseph, Augie Hoffman, was an offensive lineman at Boston College when Day was a graduate assistant for Boston College from 2003-04. Hoffman vouched for Wypler, but he didn't have to do a hard sell job. Day quickly found out Wypler was a high-character person and high-quality talent. The sometimes-overlooked star soon became one of the rocks of Day's first full recruiting class, and when he enrolls in January will be on his way to making an impact down the road.
"You all have to come in and you have to earn your stripes," Wypler said. "You have to earn getting that black stripe off. It doesn't matter what you did in high school. It doesn't matter if you were a middle school phenom and supposed to be the next big thing. It doesn't really matter. When you get there and put on the scarlet and gray, you have to earn your spot."
Yep, Ohio State fans are going to love this guy.