The past few years, anybody thinking about the impact of Ohio State's defensive line have begun by considering who's coming off the edge.
Joey Bosa. Nick Bosa. Sam Hubbard. Jalyn Holmes. Tyquan Lewis. The seemingly endless run of stud defensive ends developed by Larry Johnson continues this year with Chase Young rushing quarterbacks for one more season in scarlet and gray before inevitably becoming a top-five pick in the 2020 NFL Draft.
With such talent off the edge, some of Ohio State's defensive tackles have gone overlooked in recent years, and that has happened again early this season with Davon Hamilton.
Two games into his fifth season as a Buckeye, Hamilton hasn't shown up much in the stat books, as is the case with most nose tackles. Officially, he has recorded just one solo tackle and two assisted tackles. But the numbers haven't truly accounted for his level of penetration, which was especially on display in the second game of the season against Cincinnati.
"I feel like I've played really fast, but at the same time I have a lot of stuff to work on," Hamilton said on Wednesday evening. "Always working, trying to find some way to improve."
Per the official stats, Hamilton doesn't have any pressures. But he has certainly gotten in the face of quarterbacks a few times the first two games.
Most notably, he came close to his first sack of the season midway through the first quarter of Ohio State's win versus the Bearcats. During a play highlighted in a film breakdown by Eleven Warriors' own Kyle Jones on Monday, Hamilton turned his shoulder to minimize the center's ability to get his hands on the defensive tackle and used his power to push him backward just to the right side of the quarterback. Hamilton managed to get an arm on Desmond Ridder before Malik Harrison and Chase Young finished off the sack.
Prior to the season, defensive line coach Larry Johnson mentioned on multiple occasions that he expected the defensive tackles to provide a consistent pass rush from the interior. 
Hamilton won't soon turn in to Dre'Mont Jones, but he offers a bit of a different look from Robert Landers and Tommy Togiai, both of whom stand at least two inches shorter than him and use their quickness and leverage to win one-on-one matchups more than Hamilton can at 6-foot-2 and 315 pounds. Hamilton changed his body in the offseason, though, to pair his strength with a bit more speed and acceleration. A year ago, he clocked 5.4 seconds in the 40-yard dash, and he says he now runs it in 5.0 seconds.
"I feel like I'm all right, but at the same time I have a lot of stuff to improve on," Hamilton said. "That's just always going to be a thing."
To put it in his parlance, the need to continually improve has always been "a thing" for Hamilton.
He didn't enter Ohio State as a five-star prospect. The soft-spoken Pickerington Central graduate was once nearly closer to being a two-star recruit than a four-star target. He cracked the top 1,000 as the No. 998 overall prospect in the class of 2015, and now starts on a defensive line that includes nine players who were once ranked in the top 100, including Togiai, a fellow nose tackle.
In high school, Hamilton committed to Ohio, Pittsburgh and Kentucky before ultimately earning an Ohio State offer and changing his commitment to the in-state powerhouse.
Now, he finds himself as the starter at nose tackle, one of the deepest positions on the team.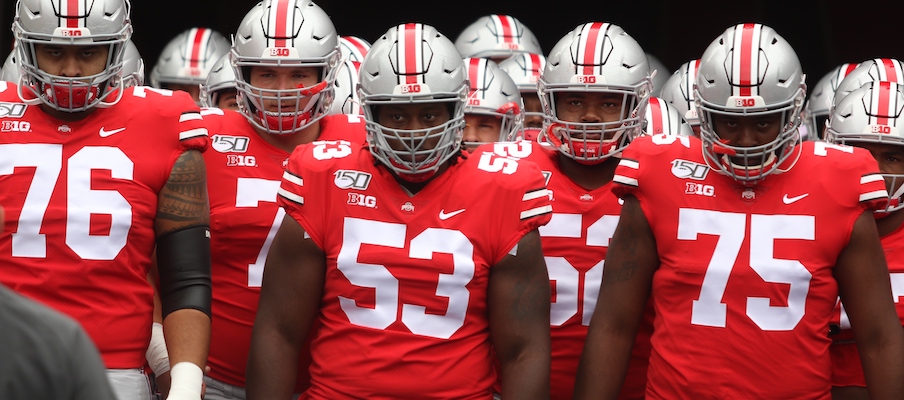 He had to shift to 3-technique for the season opener due to injuries to defensive ends, but returned to 1-technique for the second game of the season. 
Hamilton, Landers and Togiai have each played more than 10 snaps in both games to open the season, and none of them have played more than 29 snaps against either Florida Atlantic or Cincinnati. If Hamilton or somebody else consistently stands out, they'd get additional playing time. But Johnson has shown an intention of rotating all three of them.
"It's keeping us fresh all around with the three we've got inside with our nose and everybody else rotating," Hamilton said. "It allows us to play fast."
With Hamilton's improved athleticism, what he said was an increased attention to film and the rotation, he's playing the fastest of his Ohio State career.