A job interview in front of more than 100 people representing every single potential employer in your given profession wouldn't appear to be particularly enjoyable.
But for Dre'Mont Jones, it felt like a break at home from his months-long grind.
Jones and a group of his NFL-bound college teammates headed back to Columbus on Wednesday to participate in Ohio State's pro day, held at the Woody Hayes Athletic Center on the same field he spent the past four years practicing.
"Pro day is just a quick breather and then back to work," Jones said. "I've got private workouts, and then I've got to stay in shape for when I do get drafted."
To Jones, the breather meant working out in front of over 100 representatives from all 32 teams, including 12 representatives from the Cleveland Browns, the team Jones grew up rooting for. Tough? Sure. But compared to other days in the past two months, it wasn't nearly as strenuous of a process.
Just a few weeks ago, Jones went through the NFL combine, a multi-day event in Indianapolis with every NFL team in attendance. Since then, he has been trying to maintain peak physical condition while scheduling meetings with teams. Jones has upcoming visits already scheduled with the Denver Broncos, Carolina Panthers and Browns.
"I'm drained for sure, but today was one of the more calmer days for me because me being back in the facility that I played at for 3 1/2 years and then having my family here and having people that I know personally here," Jones said. "So it made me feel more comfortable."
Jones didn't run the 40-yard dash on Wednesday since he did it a few weeks ago at the NFL combine and was pleased with his time, but he went through the 20-yard shuttle and the three-cone drill before a few NFL coaches – including two from the Browns – led him through about 15 minutes of defensive line drills.
Even before Jones participated in the positional drills, he spent time on the side with the Cleveland coaches, who explained to him what they were about to lead him through.
"When I'm doing the drills, I want to be as technically sound as possible when they're explaining it," Jones said. "I mean, those were my first times doing the drills, so I had to really lock in and pay attention because I wasn't familiar with it. It's something out of my area."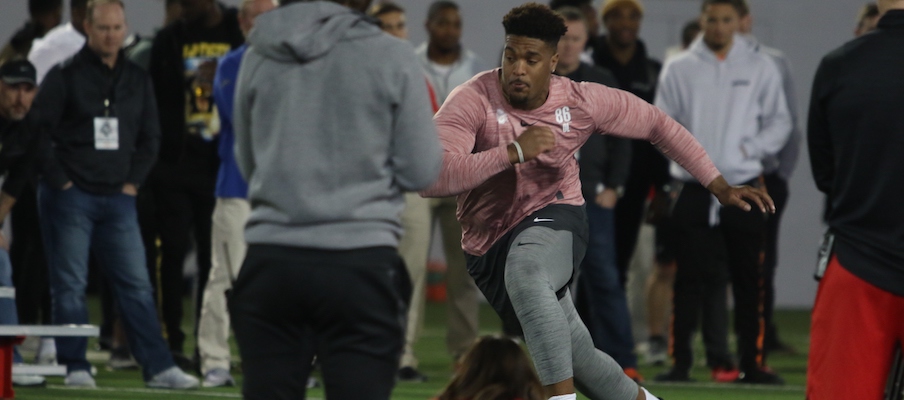 Jones didn't have to do anything at pro day, which he said unprompted after he went through the drills, but in a draft filled with talented defensive linemen, it made sense for him to do so. He has been projected anywhere from the first round to the third round, an abnormally large range.
Part of the reason Jones went through the drills was to show he can be a three-down defensive tackle. At Ohio State, especially last year after Nick Bosa suffered a season-ending injury, he thrived as a pass rusher, racking up 8.5 sacks in the fall. Some draft analysts, though, have questioned how well he holds up while defending the run, so Jones set out to display himself "the right way."
"I feel like my film can definitely speak for itself in the fact that you don't see me out there just getting demolished by bigger guards, especially when I get labeled as undersized," Jones said. "And I feel like I still be getting labeled as undersized being 285. but I definitely can hold my own, I definitely can play the run well."
Jones said he felt like he demonstrated both his smoothness and his strength in defending the run on Wednesday. If a team opts to draft him in the first round or early second round, it would signal that the team's decision-makers believe he has the ability to play against both the run and the pass.
Plus, since he decided to return to Ohio State after flirting with a potential early entrance into the NFL after the 2017 season, teams now have ample film on him to go along with the private workouts and performances at the combine and pro day. And Jones doesn't have any regrets about returning for the 2018 season or leaving when he did.
"I definitely feel like I made the right choice. I feel like it's my time to leave," Jones said. "I definitely left a platform enough for me to (solidify) myself as one of the greater defensive linemen that has ever came through Ohio State. I did something which is, I think, extremely rare. I'm on the wall for All-American. I got first-team Big Ten. I mean, I got like, what, 9.5 or 10 sacks, whatever website wants to put, which is very rare for a 3-tech to do. I led the Big Ten in pressures as a D-tackle.
"I feel like I just proved myself in so many ways. I'm happy with me leaving. I did what I had to do."
Jones has six more weeks of waiting until he can experience the feeling of hearing his name called at the NFL draft, and he's hoping to earn an invite to watch the draft in person in Nashville.
He won't be able to relax and pass the time, though. Visits and private workouts are imminent.
"Really just act like I'm going to the combine because the combine was such a mental drain and physical drain at that, too," Jones said. "Put my body through that again. I've got to just keep preparing because I have these workouts coming up and then I've got the draft coming up, and I still want to have myself in the best shape possible."