After eight long years, Ohio State has reclaimed Pasadena.
The Buckeyes came out firing, scoring 21 unanswered points by the middle of the third quarter. The Huskies came roaring back in the final quarter, but it just was not enough, giving Ohio State the 28-23 win for the 105th Rose Bowl. 
In the final edition of Inside the Box for the 2018 season, we will look at Haskins' legend score, say goodbye to a trio of senior receivers, look forward to the heirs of DBU, and analyze Ohio State's fast start. 
Haskins Has Already Cemented His Buckeye Legacy
In what may have been his final game as a Buckeye, Ohio State quarterback Dwayne Haskins added a Rosey-Red capstone to the greatest passing season in the illustrious history of the Big Ten.
His 251-yard, three touchdown performance put him at 50 passing touchdowns on the season, making him just the sixth member of that exclusive club. Haskins ended with 4,831 yards on the season, leading former-leader Curtis Painter by almost 900 yards. 
His season consisted of two insane 400-yard streaks, each spanning three games.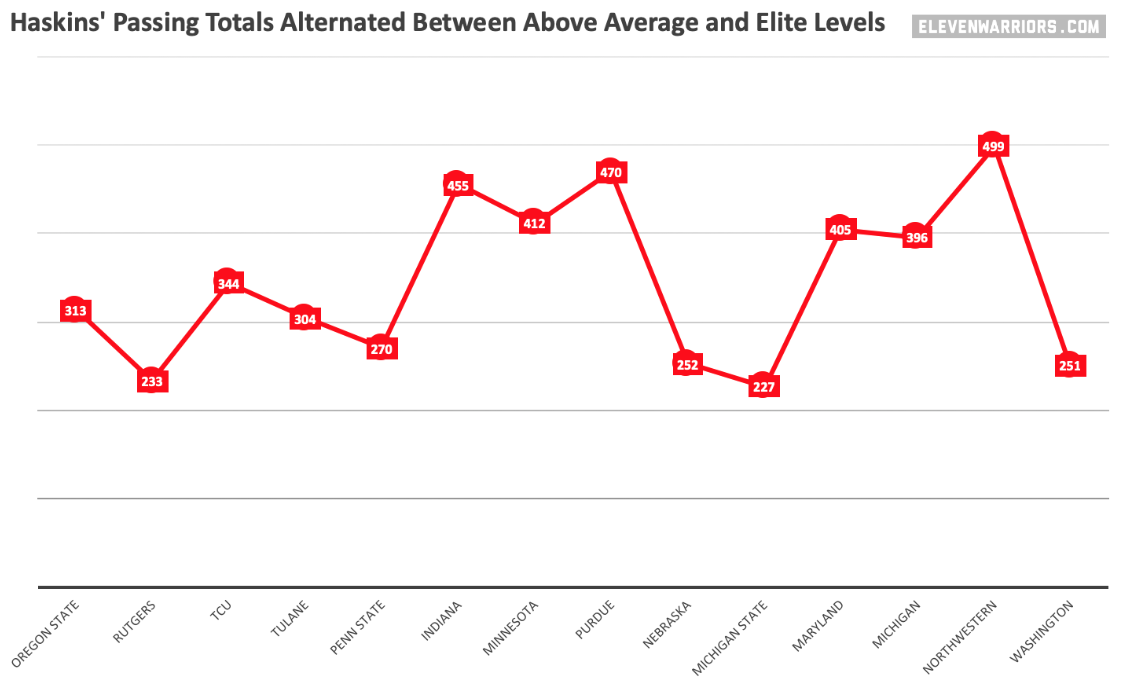 While Washington was Haskins' second-worst full game performance, his three touchdowns passes and pinpoint accuracy in the first 35 minutes of the game was enough to survive. The Ohio State offense struggled the rest of the way, but Haskins did enough to win the Rose Bowl.
If the top quarterback prospect in this year's draft does decide to leave school, he will already be a Buckeye legend. With a Rose Bowl, a Big Ten Championship, 13 wins, countless school and conference records, and a video from 10 years ago that will never stop showing up, Dwayne Haskins will forever be ingrained in the minds of Buckeye Nation. 
Senior Receivers Led the Way
To Urban Meyer, this senior class was special. He'll tell you himself.
These relationships will be eternal. Love, respect, and admiration to these three Buckeye Greats, @TheTerry_25 @PCampbell21 @YoungKing_JD5 pic.twitter.com/6OsmvFwE1T

— Urban Meyer (@OSUCoachMeyer) January 2, 2019
Parris Campbell was always the speed-demon that could house it on any given play. Johnnie Dixon found his role mostly as a deep threat and jittery technician, hauling in eight touchdowns this season. Terry McLaurin made highlights as a gunner and a receiver, often making the plays that fail to show up in the box score. The two epitomized effort and team play, whether it was by hawking a defender after an interception or downing the ball inside the one. 
On Tuesday, this trio played their final game together.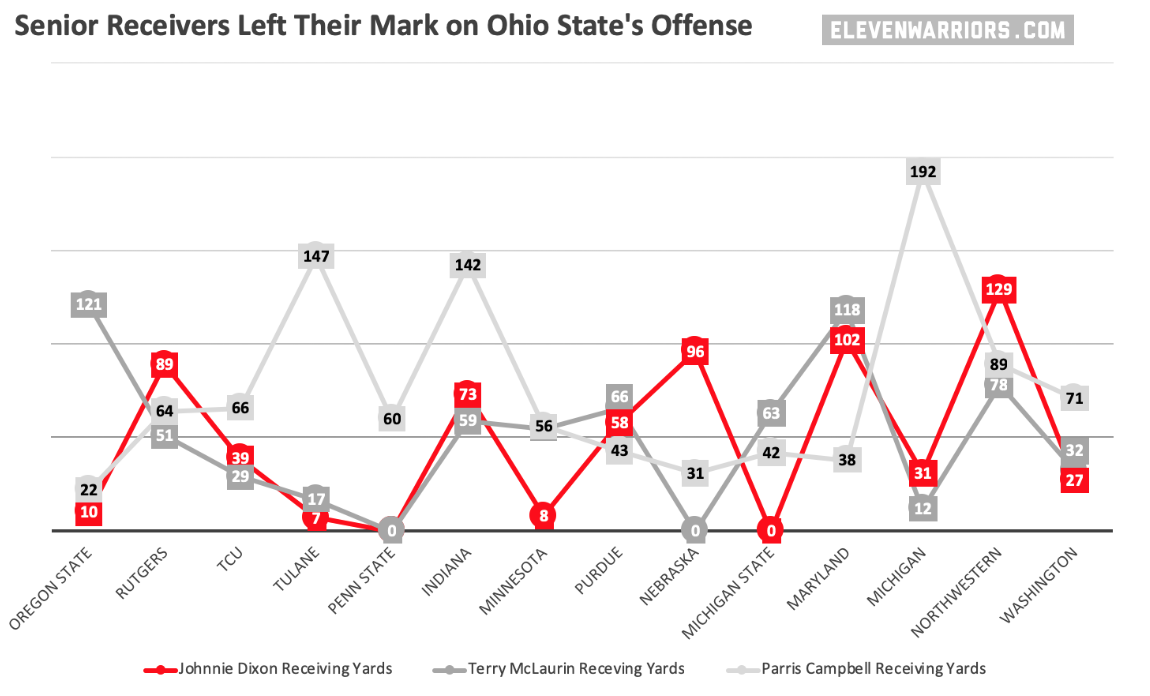 Campbell, Dixon, and McLaurin combined for 130 yards and two touchdowns in their final game donning the scarlet-and-gray. The trio averaged 173 yards per game and scored a total of 31 touchdowns. 
Parris Campbell had the best statistical season of the bunch, ending with over 1,000 yards and Ohio State's single-season record for receptions, quietly making him one of the most prolific pass-catchers in school history. 
Ohio State's Young Defensive Backs Corralled the Huskies
Ever since his insertion against Nebraska, Brendon White has become one of the more valuable players on the roster. The true sophomore safety has stabilized a defense that, at one point, was allowing more big plays than any other defense in the nation. 
White's eight tackles (all solo) against Washington were his most since his stint against Nebraska. He also put together two tackles for loss, tying his career high. 
While White won the Rose Bowl Player of the Game Award, Jeffrey Okudah was arguably the best player on the field. Okudah put together the best game of his young career, matching his season-best statistics against Washington.
Jeffrey Okudah had his Breakout Game

|  Performance | Tackles | Passes Defensed |
| --- | --- | --- |
| Previous best | 5 | 2 |
| Against Washington | 5 | 2 |
Okudah's performance is promising considering the secondary situation next year, as both Kendall Sheffield and Damon Arnette are eligible for the NFL Draft. With him and Brendon White, the future of DBU is in good hands. 
The Buckeyes Relied on Their First Half Performance
As a 21st century philosopher once said: 
1 thing Ive learned about watching OSU football, dont watch until the 2nd half unless you want to throw your remote at the TV. #GoBucks

— Cardale Jones (@Cardale7_) October 6, 2018
Well said, Cardale. And, for the most part, this statement holds true.
Against Washington, it did not. Ohio State was up 21-3 at the half and added a touchdown within five minutes of the third quarter, one of the fastest starts the Bucks have had all year. Then, the scarlet-and-gray stumbled to the finish line. With five straight punts, including one that was blocked, the Huskies made it a game with less than a minute to go. 
Washington Flipped the Script

| Scoring Differential | First Half | Second Half |
| --- | --- | --- |
| AVerage  | +8.2 | +9.6 |
| Washington | +18 | -13 |
Ohio State's performance was out-of-the-ordinary, but a Rose Bowl victory is nothing to complain about. 
Looking forward to next year, Ohio State's offensive future depends on Dwayne Haskins' decision. Defensively, a number of talented underclassmen could bring Ohio State's defense into a new era.