Northwestern kept it close for a bit, but that's all it could do in the Big Ten championship against a talented Ohio State team.
In the fourth quarter, the Buckeyes pulled away in large part due to Dwayne Haskins.
So, let's not waste too much time. Let's get into this week's stock report and begin with the quarterback who likely will play one more game in scarlet and gray before heading to the NFL.
Stock Up

Dwayne Haskins

He probably won't win the Heisman Trophy, but Dwayne Haskins made quite the case in the final two weeks of the season. Nearing the end of his record-setting season at Ohio State, he combined for 11 touchdowns and nearly 900 yards in wins against Northwestern and Michigan.
Pure dominance.
Somehow, he has flown under the radar to the national audience this season. We'll look back many years from now and wonder how that happened. It seems that the Heisman Trophy race will come down to Kyler Murray and Tua Tagovailoa. Both are tremendous quarterbacks and have earned praise and accolades, but Haskins deserves to be right there with them. 
With one game remaining, Haskins has 4,580 passing yards and 47 touchdowns. Could he be the first Ohio State quarterback to ever reach both 5,000 passing yards and 50 passing touchdowns in a single season? I won't be the one to bet against it. 
Chase Young

Just as he did earlier in the season against Penn State, Chase Young rose to the occasion in the Big Ten championship game. The physically gifted defensive end had a single-game high of three sacks, along with a forced fumble, against Northwestern. The Wildcats don't have a particularly impressive offensive line, and Young showed them no mercy.
Now, he's just 1/2 sack away from double-digit sacks in his first year as a starter. Jake Browning better keep an eye on him.
Young still has one more year of eligibility. He, Jonathon Cooper, Jashon Cornell, Tyreke Smith and Tyler Friday should make up an intriguing defensive end unit next season. Each of them are underclassmen, and they all were forced into playing more snaps than expected due to Nick Bosa's injury.
Touchdown Terry McLaurin

Last season, I started calling Terry McLaurin by the nickname "Touchdown Terry." It was meant as a joke. He was clearly an impressive blocker and had made strides as a receiver, but I never thought he would develop into a key pass-catcher. I was wrong. Oh my, I was wrong.
McLaurin caught six touchdowns last season, then proceeded to catch six scores in the first six games of this season. His touchdown catch in the first quarter of Saturday's game against Northwestern gave him double-digit touchdown, making him the first Ohio State player to achieve that feat since Devin Smith in 2014. Smith had 12 scores, and McLaurin has 11.
Urban Meyer loves him for good reason. He has always done all the little things right, and this season he's the total package.
Nick Bosa

Early in the season, I wrote that Jordan Fuller was the most indispensable player on Ohio State's defense. I was wrong, but I think even Urban Meyer might have thought that at the time.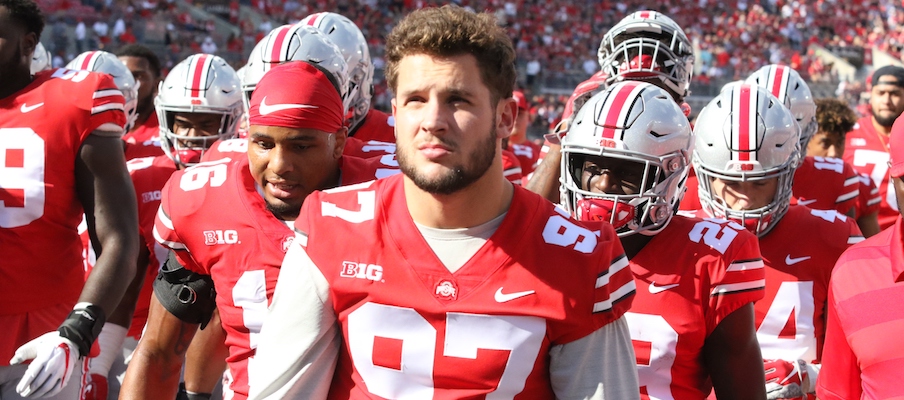 Now, he certainly wouldn't believe that to be the case. The loss of Nick Bosa changed the ceiling of the team.
On Sunday, Meyer admitted just how much of a "rock" Bosa was.
"When Nick Bosa went down, that changed our team," Meyer said. "And I didn't realize how much until witnessing the change made. It changed everybody not seeing him. I know he's a great player, but he was so much more than that."
We all knew how much of an impact the loss of Bosa was, but did we all also not completely realize just how devastating the loss was for Ohio State? 
Stock Down

Ohio State's Playoff Hopes

Big Ten champion. Eleven wins. One loss. Two top-12 win. No College Football Playoff nomination.
As it turns out, the Buckeyes weren't even the first team out of the four-team playoff field. Georgia earned that honor. Ohio State was sixth, and it felt like a distant sixth. Some years have chaos and others don't. The Buckeyes needed chaos and they didn't get it. Honestly, they didn't even need chaos. They just needed some things to go their way.
But an SEC team, an ACC team and Notre Dame each went undefeated. So, the rest of college football was left to fight for one playoff spot. Ohio State lost the game it couldn't lose by an unexplainable amount of points, and it played inconsistent for more than a month. Had the same team that tore up the Wolverines and Wildcats shown up for the majority of the season, the Buckeyes would have made the playoff. But that didn't happen, so they're left to play in the Rose Bowl. Could be worse consolation prizes.
Central Florida

Josh Heupel's Central Florida could go in the "Stock Up" section for going undefeated for the second season in a row, but it's down here because for the second straight year, the Golden Knights were left out of the College Football Playoff.
There's certainly reason to leave Central Florida out of the playoff. It's not as simple as just picking which teams are undefeated at the end of the season. If I were a committee member, I wouldn't pick them, and it wouldn't even be much of a discussion.
Still, view it from Central Florida's perspective. For the second year in a row, you won every single games. Yet, you never really had a chance to make the playoff. That's tough. And it doesn't seem like it'll change any time soon, unless playoff expansion happened.