Big Ten Championship Edition. This one is for all the marbles.
10. How can you hate Northwestern?
Let's start with the obvious: it is pretty tough to hate this school. 
Northwestern is a fantastic academic school with decent athletics located near one of the best cities in the world. The school offends few people, its alumni and fans are respectful, and its sports teams always lose to Ohio State. 
What is there to hate?!
9. 1995 Michigan -  Ohio State Game
In 1995, Northwestern was looking for its second Rose Bowl appearance. All they needed was a little luck from Michigan. 
Man oh man did they ever get it. 
Michigan's Tim Biakabutuka ran for over 300 yards that fateful day, giving Ohio State its first loss of the season and sending Northwestern to the Rose Bowl. It was just one of many losses to Michigan in the Cooper years. 
Northwestern was, of course, thrilled by the result. The team spent their time in SoCal partying before their eventual loss to USC. 
8. Northwestern Denied Me
Alright, time for some self-loathing.
Once upon a time, I thought I was a smart kid. Man, those were the good old days. I visited in the summer and, as any kid would be, was extremely impressed with the skyline of Chicago and the smell of Lake Michigan. So, I applied, had an interview that went terribly, and was swiftly denied within a few months. 
Ever since that generic rejection letter, I have had a mild vendetta against the school. It was probably a good thing, however, because otherwise, I would have missed out on everything Ohio State had to offer. 
7. Darren Rovell
The former ESPN analyst turned gambling specialist is among the most disliked journalists in the sports industry. Rovell is a Northwestern alumnus, but based on his dry personality and insistence to look at everything as a business decision, you probably already knew that. Like most Medill graduates (Stewart Mandell, Mike Greenberg, etc), Rovell is extremely arrogant and condescending. 
Rovell also views everything as an effect on his/someone's brand. When discussing his move to the Action Network earlier this week, he stated: "They're buying me as a brand". Rovell then went on to say how important his two million Twitter followers were to the company.
If that is not enough, he sucks the life out of sports and has some pretty interesting #takes on Twitter: 
No one forces people to work at Nike factories. They work there to make a living and are given what the marketplace says they're worth.

— Darren Rovell (@darrenrovell) May 7, 2013
And he can never let anyone else get the last word on him: 
@warriorsworld My work on this topic in China, Vietnam & Hong Kong resulted in an National Emmy Nomination.

— Darren Rovell (@darrenrovell) April 17, 2016
Rovell is the worst kind of person. 
6. Evanston
Evanston is not Chicago. Evanston is where the old people who hate cities but want to be "near the action" live. These are the same people who sit courtside for basketball games and read books. 
it's so true, too pic.twitter.com/BrXXiTY3B5

— Festive Levi (@xlevix10) June 3, 2016
Yes, those people. Evanston was a temperance stronghold during the Prohibition era, which tells you just about everything you need to know about the city.
5. Too Prestigious
Like Michigan, Northwestern clings to its U.S. News Collegiate rankings like no other. With an alumni network that includes three Supreme Court Justices and a number of world-renowned physicians, however, I guess it makes a bit of sense. 
Like mentioned before, Northwestern is in Evanston. Not exactly a party town. The location combined with the prestige of the school makes Northwestern one of the lamest colleges in the Big Ten despite its proximity to Chicago, the biggest city in the Midwest. 
4. Willie the Wildcat
Willie is just so unhateable.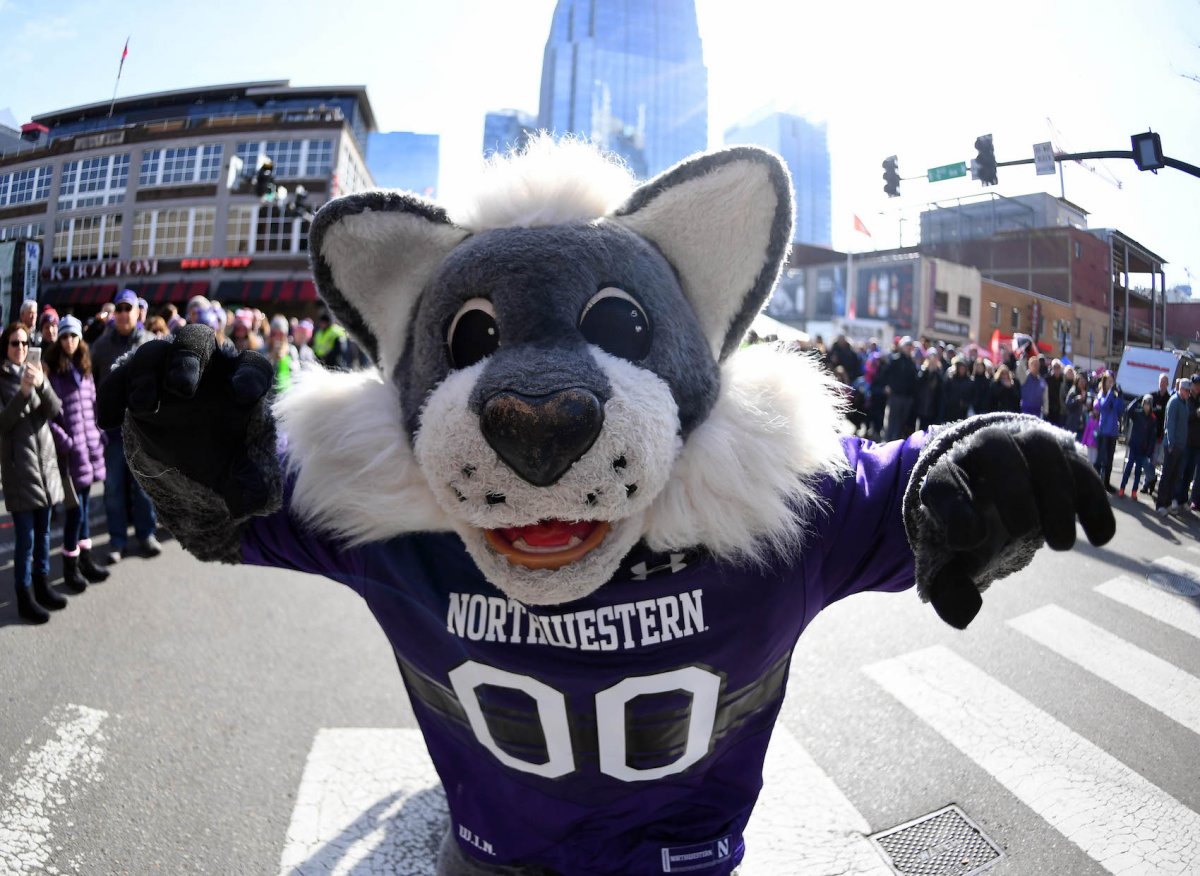 Willie looks like something I would see on my niece's bed, not the mascot for the team Ohio State will be playing in the Big Ten championship game. He definetely falls into the "family friendly" category of mascots, giving the Wildcats no intimidation factor. Willie running from the tunnel down a path lined with fire would make me laugh before anything else.
3. Quarter System
I think everyone can agree that college is really tough. Now, doing that at an elite university must be near impossible. Now on top of that, imagine having to take more classes than the average student. Congratulations, you now attend Northwestern. 
The quarters system, which splits the school year into three 10-week sessions, results in students taking at least two more classes than their peers per year. As a student, this is unimaginable. Cramming more classes into less time takes away from life outside the classroom and further hurts a university already struggling with mental health issues. 
2. Not the Most Relevant College Sports Team in Chicago
Shoutout to the REAL kings, Loyola-Chicago! 
After the Rambler's Cinderella run to the Final Four last year, Loyola Chicago officially has double the amount of Final Four appearances as Northwestern does NCAA tournament appearances. Not a great look for "Chicago's Big Ten team".
Sure, Northwestern may be competing in the Big Ten championship for football, but let's face it, Chicago is a basketball town. And it is pretty sad that a team from the Missouri Valley Conference annually outperforms "Chicago's Big Ten team".
1. Only Private School in the Big Ten
The root of all of Northwestern's issues.
Northwestern has the worst attendance in the Big Ten. Because it is an academically tough private school.
Northwestern is the smallest school in the Big Ten. Because it is a private school.
Northwestern is the most expensive school in the Big Ten. Because it is a private school (and also really good at school).
Private schools are not inherently bad; they just tend to be more expensive/worse at sports/smaller than public universities. For some, that is the perfect situation. As fans of Ohio State on a pro-Buckeyes site, however, I would assume that the majority of readers prefer the inexpensive, athletically superior, huge schools that contain every personality imaginable.
The vast majority of the Big Ten subscribes to the above ideology. I am not one to discriminate, but I do believe that if 13/14 schools are big, public institutions, there is no reason not to make the fourteenth like the rest.