While Ohio State's offensive line excelled in the Buckeyes' first two games of the season, they faced a much tougher test in their third game of the season against TCU.
Still, the Buckeyes' big men up front got the job done once again.
Against a talented Horned Frogs defensive line that had seven sacks in its first two games of the season, Ohio State allowed only one sack in Saturday night's 40-28 win over TCU, while the Buckeyes also averaged a solid 4.3 yards per carry in the running game.
That was enough for the offensive line to earn high marks from Ohio State's coaching staff, as all five starting offensive linemen – left tackle Thayer Munford, left guard Malcolm Pridgeon, center Michael Jordan, right guard Demetrius Knox and right tackle Isaiah Prince – graded out as team champions for their performances in Saturday's win.
"All of them played very well," Urban Meyer said of the offensive line's performance against TCU. "Very much improved group. Isaiah Prince, Michael Jordan, Thayer Munford and Demetrius Knox … Knox is doing so well. Malcolm Pridgeon, a first-time starter against that kind of defensive line, played well."
Prince agreed with his head coach's assessment, believing the offensive line effectively handled new challenges from TCU that they hadn't yet seen this season.
"They brought some new stunts, they brought some new blitzes that we hadn't seen on film," Prince said. "I think we played really good as a unit. I thought we played good for the amount of blitzes they brought."
The Buckeyes had to overcome some adversity in Saturday's game, as they failed to score an offensive touchdown for the first 38 minutes (and trailed in the game as a result) against what Prince described as "definitely one of the better defenses" he has played. Prince felt the Buckeyes did leave some points on the board. But he also thought the way the Buckeyes bounced back from their early struggles – ultimately finishing the game with 526 total yards and three offensive touchdowns – showed the resiliency of the Buckeyes and specifically, their offensive line.
"There's a couple times we got hit, and nobody flinched," Prince said. "We kept going, we kept hitting back. I feel like the more we got hit, we just came back swinging harder. So I think that's a testament to the offensive line of how hard we play, and tough guys."
Saturday's game was a continuation of a strong start to the season for the Buckeyes' offensive line. All five starters previously graded out as champions for their performance in the season-opening 77-31 win against Oregon State, while Prince, Jordan, Munford and Knox were also champions in the 52-3 win against Rutgers. All five of them have been durable, as well, playing every snap with the first-team offense – including every snap of the game against TCU – so far this year.
Pridgeon, who made one of the key blocks of Saturday's game when he caught a defender in space to spring Parris Campbell to a 63-yard touchdown off a screen pass, said he believes the key to the offensive line's early success has been their understanding of their responsibilities and comfort playing with one another.
"Everyone knows their roles," Pridgeon said. "Knows each other's roles, knows the center's role, knows the guard's role … just playing fast."
Prince said the offensive line has also benefited from the competition it faces from Ohio State's defensive line every day in practice.
"That's just the hard work of going against the best D-line in the country every day," Prince said. "We practice against them every day, and I don't think there's a better D-line in this country better than ours, so that's just us competing every day against our D-line."
"There's a couple times we got hit, and nobody flinched. We kept going, we kept hitting back. I feel like the more we got hit, we just came back swinging harder."– Isaiah Prince on the offensive line's play against TCU
One negative from the TCU game was the snapping of Jordan, playing just his third game at center after making the move this summer from left guard, who too frequently sent low snaps back to quarterback Dwayne Haskins on Saturday. Yet Jordan still played well enough to grade out as a champion, and Pridgeon – Jordan's roommate – expressed confidence on Tuesday that Jordan will improve in that regard.
"I haven't noticed it, but probably it's just practicing," Pridgeon said. "Looking out and calling out the front, calling down the stunts. That's about it."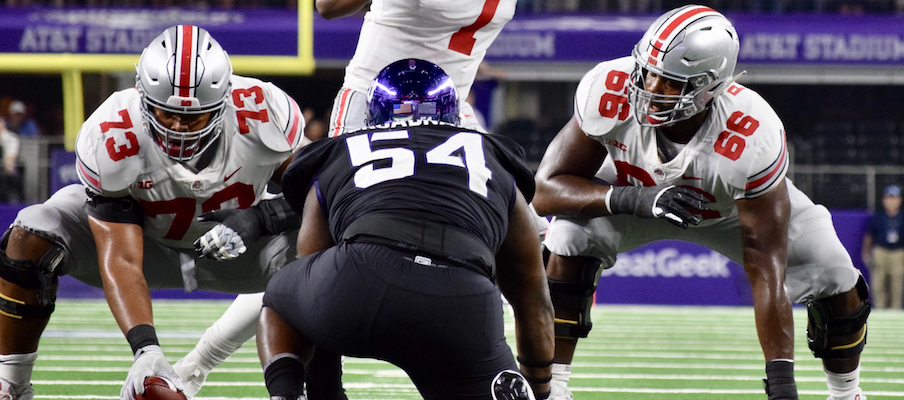 Overall, Ohio State's offense currently ranks second in the Football Bowl Subdivision in points scored per game (56.3) and third in yards gained per game (608.7), and the offensive line has played a big role in that success. The Buckeyes have allowed just three sacks on the year, all the while averaging 5.8 yards per carry (17th-best in the FBS) on the ground.
The Buckeyes still believe, though, that the best is yet to come for their offense, including their offensive line.
"I think right now, we're in a really good place, but we haven't showed everybody what we really can do," Prince said. "I think as the season goes on, the offense is going to keep getting better, and you just got to watch it. We have big stuff coming."