Just in case you haven't heard, Ohio State is going through a bit of a controversy. 
Urban Meyer has been placed on paid administrative leave following a report from Brett McMurphy that suggests Meyer knew about Zach Smith's alleged domestic violence case in 2015. Meyer publicly denied knowing about those allegations at Big Ten Media Day, though he did acknowledge knowing about a 2009 incident involving Smith and his now-ex-wife at Florida. 
With Meyer on leave, Ryan Day has been named acting head coach in his absence, a move that came as a surprise to some considering Ohio State has two former head coaches on staff in Greg Schiano and Kevin Wilson. Considering their past controversies, however, Day was likely given the nod because of his clean history and promise as a young head coach. 
Regardless of what happens in the next few weeks regarding Meyer and his future at Ohio State, one thing is for certain: the Buckeyes' expectations for the 2018 season will not change, no matter who is guiding the ship. 
Even if Ohio State decides to part ways with Meyer, the Buckeyes are still left with one of the most talented rosters in the Big Ten, if not the country.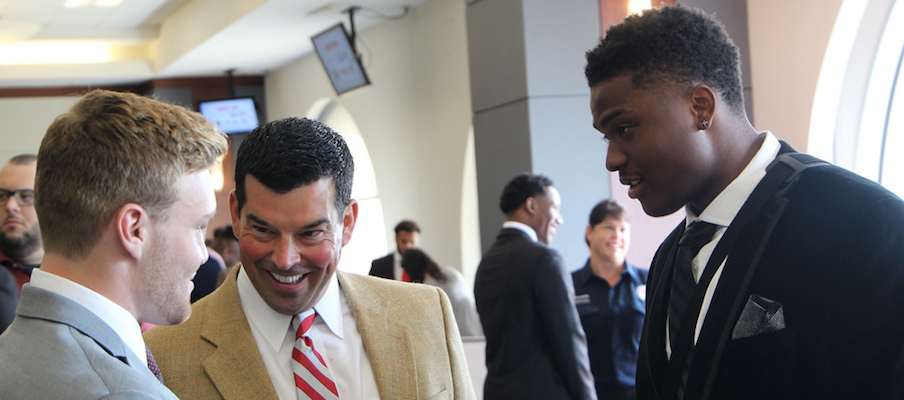 Nick Bosa and Chase Young still figure to dominate opposing offensive tackles, while J.K. Dobbins and Mike Weber remain one of if not the most talented running back duo in the country. The Buckeyes also boast an offensive line with three returning starters in Isaiah Prince, Demetrius Knox and Michael Jordan. 
Questions surrounding the quarterback position still remain, but Dwayne Haskins appears to have all the potential of a first-round draft pick, while Tate Martell has shown his talents with the ball in his hands as well. If Day's role as acting head coach becomes more permanent, he will have a larger influence on that decision, which could put more stress on the rest of the staff, but the talent remains the same. 
If Meyer is fired or resigns, however, more will be put on the rest of the staff to pick up the slack, especially on the offensive side of the ball. Day was already helping out with the receiver unit before Zach Smith was fired, and now Ohio State has tabbed Brian Hartline as its interim wide receivers coach. Should Day remain the coach for the 2018 season, Hartline's coaching talents will be greatly tested as he goes from a quality control coach to position coach without much outside help in the matter of less than a month. 
The coaching staff Meyer has assembled in Columbus, though, is one of the best he has ever had according to him, and if there is a staff that could navigate through controversy without him, it might be this one. 
"This is the best group of young coaches I've had on both sides of the ball," Meyer said at Big Ten Media Days. "And they're very involved with our preparation, game plan and development of our players."
There is no denying Urban Meyer is one of the best coaches in college football. He has won three national titles, including one in Columbus, and has carried on Ohio State's tradition of being one of the top-tier programs in the nation. 
If Meyer has coached his last game in Columbus, the pressure will be on Day and the rest of the staff to continue that tradition. Considering the talented roster, though, that task might not be as hard as it looks, as the Buckeyes are still, on paper, one of the most talented teams in the country.
"Very talented team, very good people, guys have worked hard," Meyer said last week. "The difference between today's calendar as in years past, I see them all the time. I've been at the last four workouts, I believe, so I know what we're getting. Even the young players, a lot of times you have no idea what you're getting until you watch them go, but the incoming freshmen, we have a good feel, obviously not the contact part but the athleticism. Very good team."