When Ohio State won the national championship in 1968, it appeared as though the Buckeyes were set up to win three straight, as the Super Sophomores ran through their schedule. 
As diehard Ohio State and Michigan fans well know, the hopes of a second title were derailed in the 1969 edition of The Game, as Bo Schembechler's first Wolverine team knocked off the No. 1-ranked Buckeyes, 24-12. 
Years later, the Buckeyes were on a similar trajectory. Despite losing a game early in the 2014 campaign, Ohio State ran the table with a group of young stars and won the first national title of the playoff era. The majority of the 2014 team returned in 2015, but the Buckeyes were upset at home in the penultimate game of the regular season against Michigan State. 
Had either team been able to repeat, there is a good chance the respective teams would have been considered the best in their era. Instead, all that remains are the questions of what happened and what could have been.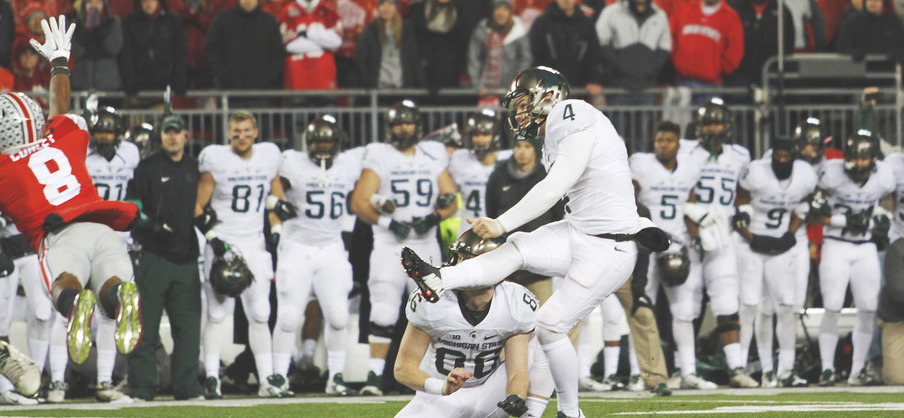 Former Ohio State quarterback Rex Kern, one of the Super Sophomores and an All-American, spoke with Eleven Warriors about both teams and their successes and downfalls. He said ultimately, Michigan and Michigan State were simply the better teams on Nov. 22, 1969 and Nov. 21, 2015, respectively. 
"We played two better teams those days. That's just one of those things. When we went up to That School Up North in '69, that particular day they were a better football team than we were," Kern said. "I think the same thing happened with our Buckeyes against Michigan State.
"Just like we were waiting for Purdue (in 1968), everyone was waiting in the wings for us (in 1969)."
Kern added, though, that he and his teammates knew Ohio State would be in for a challenge against Michigan before the 1969 season began. While the Buckeyes were in Pasadena, Calif. to play for the 1968 national title, Schembechler was announced as the head coach of the Wolverines back in Ann Arbor. 
It was at that moment Kern said he knew Michigan would give the Buckeyes some problems. 
"We are our at the Rose Bowl and we hear that the School Up North hired a new football coach named Bo Schembechler," Kern said. "Bo was a good friend of mine and had recruited me at Miami of Ohio, and we thought, 'Uh oh,' this might be a different ball game."
While it is difficult to compare different generations of football, the 1968 team and the 2014 Ohio State teams are often looked at as two of the best – if not the top two – teams in school history. 
The 1968 Buckeyes played in a generation where passing the ball was rare, while by 2014, it was more than an integral part of the offense. To compare, Kern attempted 364 passes in his three-year varsity career for Ohio State. During the 2014 season alone, J.T. Barrett attempted 314 passes in 12 games. 
Despite Kern throwing the ball just 135 times in 1969, the Buckeyes were one of the most prolific offenses in school history. Ohio State averaged 46.4 points per game in the eight games prior to the loss to Michigan in 1969, beating its opponents by an average of 37.8 points per game. 
We can never know for sure, but Kern believes if you put the likes of him, John Brockington, Larry Zelina, Jim Otis and others of the Super Sophomores into Urban Meyer's offense, the Ohio State recruiting class of 1967 might have never lost a game.
"I think our team, given what the game of football looks like today, we may have gone 29-0. We had so much talent, but more than that, we had great chemistry, especially on the '68 team," Kern said. "We had great chemistry, great leadership and we were so multi-talented. We were overloaded with talent. 
"If you would then take the offense that we ran then and (exchange it) for Urban Meyer's offense today, would we still be scoring the kind of points that Urban did this year or last year? Well, if you go back and look at our '69 team, we were scoring those kind of points just with that antiquated offense. I would put any of (our athletes) against any of the athletes today."
Much like the LeBron James vs. Michael Jordan debate, the argument over which Ohio State team is the best in school history will likely rage on for years to come. For now though, Kern simply wants people to remember how skilled the 1968-69 teams were, much like the 2014 and 2015 teams that saw a multitude of athletes go onto already successful NFL careers.
"You've got to understand, we did no strength training. We had no dietitians and all of the fluff that they have today," Kern said. "I hate to sound like I wore a leather helmet, but we had talented people when we played."
---
Make sure to stay tuned to Eleven Warriors for more from our conversation with Kern, who discusses the 1968 team in further detail, J.T. Barrett's legacy as a Buckeye and how Ohio State's current coaching staff compares to the one OSU had in his time as a player.