Five members of Ohio State's 2017 football team will be looking to improve their stocks for the 2018 NFL draft when they participate in one of a pair of all-star games for NFL draft prospects this week.
Recently departed Ohio State quarterback J.T. Barrett, linebacker Chris Worley and safety Damon Webb are in St. Petersburg, Fla., for this week's East-West Shrine Game, while tight end Marcus Baugh and defensive tackle Michael Hill are in Pasadena, Calif., for the NFLPA Collegiate Bowl.
While some of their former Buckeyes teammates like Denzel Ward, Billy Price and Sam Hubbard are projected to be early-round selections in April's NFL draft, the Buckeyes participating in this week's all-star games aren't expected to be high picks, nor are they even sure bets to be drafted at all. If they were, they'd likely be participating in next week's Senior Bowl in Mobile, Ala., where Tyquan Lewis and Jalyn Holmes will take their shot at impressing NFL scouts.
That said, all five Buckeyes participating in this week's all-star games will have a real opportunity to elevate their chances of being drafted if they can impress the NFL scouts who will be on hand to watch them up close in Florida and California.
The Prospects

Barrett will be the headliner of the week, perhaps not only among Buckeyes but among all players participating in the Shrine Game. Ohio State's all-time winningest quarterback will be looking to prove that his success at the collegiate level can translate to the NFL.
Questions about Barrett's ability as a downfield passer, which pervaded over him throughout his last couple seasons as a Buckeye, continue to linger as he begins the NFL draft process. He'll have an opportunity to prove himself in that regard this week, though, as the NFL coaches he'll be working with will certainly look to put his ability to make tough intermediate and deep throws to the test.
After taking nearly every snap of his Ohio State career from the shotgun, Barrett will also spend time this week working on taking snaps from under center and dropping back to throw, and will be evaluated on how quickly and effectively he is able to pick that up.
One area where Barrett should shine, presumably, is in the interview process. Ultimately, though, Barrett will be evaluated this week on whether he looks like an NFL quarterback on the field. In order to improve his draft stock, Barrett will need to impress scouts with his arm while making throws from the pocket.
The top NFL prospect participating in this week's games might be Webb, who is coming off a strong senior season in which he led the Buckeyes with five interceptions. While he isn't as highly touted a safety as Malik Hooker or even Vonn Bell was, he's shown playmaking ability and solid tackling in run support that give him the potential to earn a spot in an NFL secondary.
If Webb can continue to make plays on the ball in St. Petersburg and have a consistent week in coverage, he could make a real move up draft boards.
Worley's calling card for the NFL could be his versatility, after he played all three linebacker positions in Ohio State's 4-3 defense this past season. He was at his best for the Buckeyes as an outside linebacker, so his NFL draft stock could ultimately depend on how well he tests athletically in pre-draft workouts.
Sound tackling and showing playmaking range in St. Petersburg, though, could certainly elevate his standing on NFL scouts' radars. The 2017 Ohio State captain should impress in interviews with NFL team representatives, and will likely look to demonstrate his leadership qualities on the field.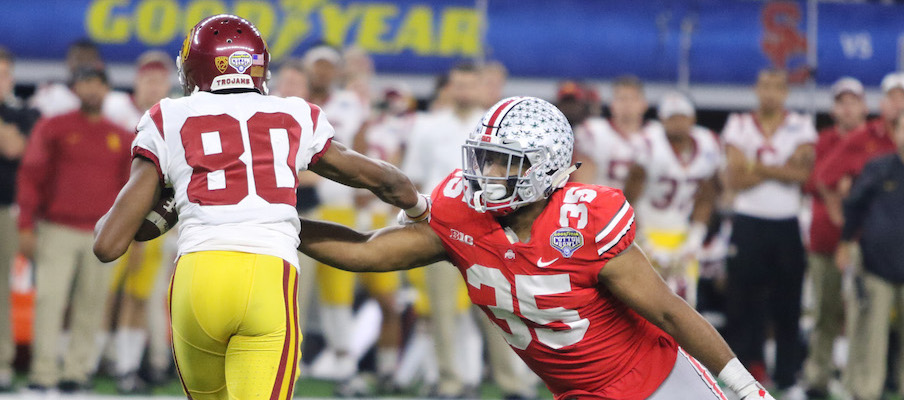 Baugh, a two-year starter for the Buckeyes who caught 24 passes for 269 yards and two touchdowns in 2016 and 28 passes for 304 yards and five touchdowns in 2017, will make his pitch to NFL scouts in Pasadena. Baugh has prototypical size for an NFL tight end (6-foot-5, 250 pounds) and made demonstrated improvement this past season as a blocker, which helps his chances of playing professionally.
Baugh never emerged as much of a big-play threat for the Buckeyes, so whether he can bring much value to an NFL passing offense is questionable. Ohio State's offense doesn't exactly have a reputation for being tight end-friendly, however, so the NFLPA Bowl could be an opportunity for Baugh to shine in a different setting – a familiar setting, as well, for the Southern California native.
The Buckeye who most needs a big showing at this week's all-star games to have a chance of being drafted is Hill. Coming off of his junior season in 2016, in which he started all 13 of Ohio State's games and recorded 21 total tackles, Hill had the chance to legitimize himself as an NFL prospect with a strong senior year. Instead, however, Hill was suspended for the Buckeyes' first six games of 2017, played only 61 defensive snaps upon returning and recorded only one total tackle.
The fact that Hill was nonetheless invited to the NFLPA Bowl, though, suggests that NFL teams are interested in getting a closer look at him as a prospect. He has the size (6-3, 305) and stoutness to be an NFL defensive lineman, particularly as a run-stopper. He has to take advantage of his playmaking opportunities in Pasadena, however, after having very few such opportunities this past season.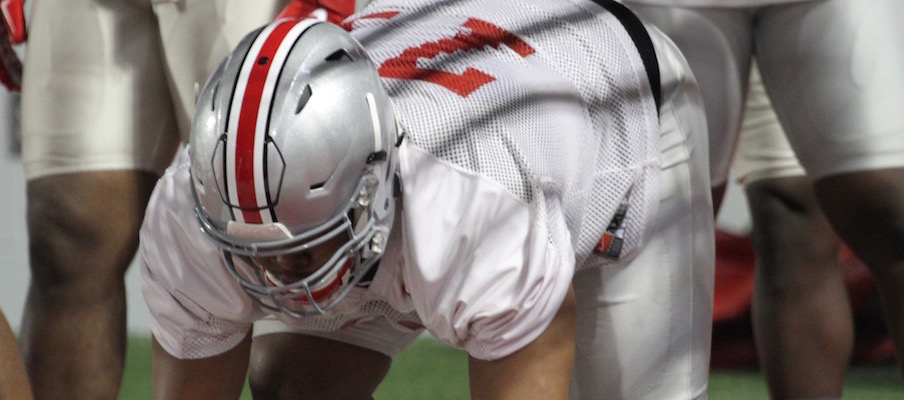 Worley was originally slated to participate in the NFLPA Bowl, which is considered third in the pecking order of all-star games for NFL draft prospects, but was called upon the Shrine Game, which ranks as the second-tier game behind the Senior Bowl.
Former Buckeyes left tackle Jamarco Jones was originally slated to participate in the Shrine Game, having accepted his invitation to participate in December, but is no longer listed on the Shrine Game's roster.
The Process

This year's Shrine Game participants arrived in St. Petersburg on Saturday and spent time visiting patients at the Shriners Hospital for Children in Tampa on Sunday.
Shrine Game practices – which NFL scouts put more stock into evaluating than the game itself – begin for the East team, which Barrett, Webb and Worley are all playing for this week, on Monday at 1:40 p.m. at Shorecrest Preparatory School in St. Petersburg. The East team will then practice at 9:40 a.m. on Tuesday, Wednesday and Thursday before playing in the 93rd East-West Shrine Game at 3 p.m. Saturday at Tropicana Field in St. Petersburg.
Eleven Warriors will be on site to provide coverage as Barrett, Webb and Worley go through their week of practices. If you happen to be in Florida, practices will be open to the public with free admission. Saturday's game will be televised live on NFL Network.
NFLPA Bowl participants, meanwhile, arrived in California over the weekend and will also go through a week of practices in front of NFL scouts before they play in the seventh annual NFLPA Collegiate Bowl at the Rose Bowl Stadium in Pasadena at 4 p.m. Saturday. Baugh and Hill will play for the National team in Saturday's game, which will be televised on Fox Sports 1.
All-star games like the Shrine Game, NFLPA Bowl and next week's Senior Bowl are just one step in the NFL draft process for those Buckeyes participating. They'll look to further impress league decision-makers at the NFL Scouting Combine (for those who are invited) and at Ohio State's on-campus pro day in March, and will train at facilities around the country to work on improving their conditioning and perfecting combine drill techniques in the weeks before that. After that, prospects will make visits to team facilities or hold private workouts as requested in hopes of selling individual teams on drafting them come April.
Ultimately, though, each player's potential to play in the NFL – and in turn, where they should be drafted – comes back to what they are able to do on the field when actual football is being played.
This week will give Barrett, Webb, Worley, Baugh and Hill one more chance to do that in front of evaluators from throughout the league.