Indianapolis is about to be invaded. The Buckeyes are in Indy ready to fire Bucky Badger into a cheese vat. Get ready with 10 reasons to hate Wisconsin.
10. Joe Thomas
Hate Wisconsin for developing Joe Thomas into the greatest left tackle of the last 20 years in professional football. Had he not been a product of Wisconsin, the Browns might not have been able to draft him third overall, because he would have gone lower in the draft and been less developed. 
I fully believe he'd still be a Hall of Famer, he just might actually have some team accolades to show for it somewhere else.
Also, hate Wisconsin for making Joe Thomas stay another year. During the Capital One Bowl at the end of his junior season, the Badgers had Thomas play defensive end during the bowl game because of injuries along the interior line. Lone behold, Joe Thomas tears his ACL and gets punished by being selected by the Browns a year later because of it. 
9. Bucky Badger
He's a glorified skunk, nothing else needs to be said.
8. 1999: No. 12 Ohio State v. Wisconsin
You'd think that when you go up 17 points on an unranked Wisconsin team with a backup, redshirt freshman quarterback making his first collegiate start, the rout would be on. But alas — Barry Alvarez had to deal another blow to ole John Cooper legacy in Columbus.
Hate Wisconsin for the utter embarrassment of that game. After going up on that 17-point run, the Buckeyes gave up 42 unanswered points and what had started as a rout ended as one as well, with the Buckeyes getting embarrassed in Ohio Stadium by a quarterback named Brooks Bollinger and this guy who won the Heisman named Ron Dayne.
7. Alex Hornibrook
Hi, if you've never watched a Wisconsin game outside of last season's matchup in Camp Randell, viewer discretion is advised.
As we move forward with the show, please take a look at the clips showcasing the throwing motion of one Alex Hornibrook throwing completions and making plays as a freshman last fall.
Now that you've educated yourself, please try and tell me that Alex Hornibrook's throwing motion isn't so bad and that he doesn't look like he's throwing with his less dominant hand.
Sure, Hornibrook makes plays. 13 of those plays have gone for interceptions this year. But I am just bewildered and quite frankly flustered at the anomaly before my eyes. I thought about it all last year watching the game to the point that it wasn't enjoyable.
Alex Hornibrook is a closet right-handed quarterback.
6. Jonathan Taylor raining on the J.K. Dobbins parade
Hate Wisconsin for having five steers up front and a fringe-average quarterback. Thanks Badger fans, because of your interception-happy quarterback, your freshman running back overshadows J.K. Dobbins and if he has a good game against Ohio State, is likely to break the single season rushing record for a freshman (1,925 yards, Adrian Peterson).
To be honest, it kind of makes me bitter at the Ohio State offensive staff for the disparity between the two. Not kind of, I'm actually absolutely bitter, but oh well.
Sure, Taylor has 616 more yards rushing than Dobbins has (1190), but he also has 94 more carries. That's an average of roughly eight more carries a game than Dobbins. Imagine if J.K. Dobbins had 258 carries in this Ohio State offense behind the Ohio State offensive line? I'm taking Dobbins.
All. Day. Long.
5. Scott Tolzien
Scott Tolzien was so not-talked-about as a quarterback I legitimately thought that he was left-handed until I went back and watched the tape. And sure enough, the gunslinger was heaving ten-yard slants with his right hand. 
I honestly think Tolzien may be the worst part of the 2010 loss at Wisconsin. Worse than even giving Bert a victory against Ohio State, worse than Ohio State letting the rumbling and bumbling John Clay go thunderstruck against the heart of the Ohio State defense.
I mean, hypothetically speaking, Ohio State was never going to retain any national championship it might have won following the 2010 season giving the tattoos, memorabilia and all that what-not, but it would have been pretty fun to win a national championship before it all came crashing down. 
(scott tolzien folks.) 
4. That time they photoshopped in an african-american student
When it came time for Wisconsin so push their new application booklet in the fall of 2000, they did something oddly peculiar but extremely offensive.
Diallo Shabazz, an African-American student at the time attending the university, was photoshopped onto the cover of the application depicting Shabazz at a Wisconsin football game. All was fine and dandy, except the fact that the student had never been to a football game during his time in Madison.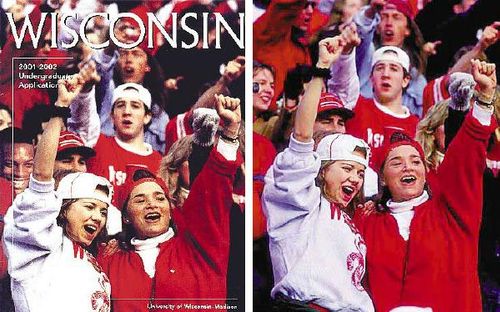 It shed a horrible light on the university trying to showcase the diversity that they apparently did not have if they had to go to that kind of measure.
Now sure, you could say, "Why Jimmy, that was nearly 20 years ago, haven't the times changed?"
Well, fair question to raise, but we're only a year removed from Badger fans showing up to football games sporting Obama masks wrapped in nooses.
3. Polka
Where is the most annoying dance and accompanying music most popular within the United States? That's right, welcome to Wisconsin, where the state dance is the polka. Since 1993 the polka has been the official get-down of the natives who have nothing better to do with their free time because outside of Milwaukee, Madison and Green Bay, Wisconsin may as well be eastern Siberia.
One can only imagine the amount of unpasteurized milk and corn liquor (essentially the same thing) that was and is still consumed at polka dance parties in the backwoods of northern Wisconsin on a cold winter night.
2. Selling Lifetime Hunting Licenses to children
The premise of hunting wild game is a completely justifiable practice to a certain extent — deer are overpopulated and it helps population control, plus Arby's makes a good venison sandwich.
But there's a difference between ethical hunting and giving lifetime hunting licenses to infants. A few continental states do it. Yes, Wisconsin sells hunting licenses to children that are more likely to leave their own human trace in the woods than be able to square up a deer from 50+ yards out.
How young are they exactly, well shoot! Who cares about the first step milestone anymore, because Wisconsin Governor Scott Walker issued TEN (!!!) hunting licenses to children that are under the age of one year old. The state also issued 52 hunting licenses to children that are under the age of five — just enough to conceptualize that guns send screaming mimis of death where they target, but not mature enough to grasp the ramifications of their actions should they point their gun at the wrong thing and pull.
Thanks, Wisconsin.
1. bert
Ah yes, the aforementioned Bret Bielema. Since the last time our beloved Bert appeared on 10 Reasons, he's come under a bit of a pickle having been fired for going 11-29 in SEC play at Arkansas.
So why hate Wisconsin Bielema in lieu of Iowa Bielema now that we're here? Well, for starters, Bielema was the coach of the 2010 team that upset No. 1 Ohio State at Camp Randall. In his six seasons at the helm of the Badgers, that was the only time that Wisconsin ever defeated Ohio State. Ohio State outscored the Badgers by 40 points during that swing from 2007-2012 (161-121).
So it figures that after Bielema tucked his tail, ran out of town after his 7-5 Badgers team put up 70 points in the Big Ten Championship game that he'd have a little pride in where he came from and the team that made him child's play, right?
No. Ole Bert had this to say about Arkansas playing in the mighty SEC in comparison to Ohio State's strength of schedule.
Bielema: "Ohio State has one game remaining with a ranked opponent. We have eight remaining against teams that are ranked."

— Barrett Sallee (@BarrettSallee) September 9, 2015
*puts reading glasses on, licks finger and flips to the page I'm looking for, ~gets very satisfied~* AH! RIGHT! After saying those words, the Ohio State of the north (Toledo, baby) went into Fayetteville that weekend and beat Arkansas.
Best of luck in your future endeavors as a quality control coach bud!