It's 2017 and the Florida Gators are making college football history.
They fired their coach Jim McElwain on Sunday with two extremely winnable games coming up the next two weeks - including one against previously-fired Gators coach Will Muschamp at South Carolina. Losing to him would have returned Gainesville to Steve Spurrier-era indignities from a time when Urban Meyer's anxiety was consuming him into early retirement. McElwain had to go.
But Florida being 3-4 and currently coachless has nothing to do with the history it's making. The Gators have not allowed a single kickoff return yard this season. Zero. In seven games. If you're wondering how that compares to, say, pick any blueblood analog program - let's choose Ohio State - the Buckeyes have allowed 988 return yards off of kickoffs. 
Florida (3-4) has not allowed a single kickoff return yard. Ohio State (7-1) has allowed nearly a thousand.
Let's be fair: Ohio State has participated in one more game than Florida has, and the Gators just might allow 1,000 return yards to Missouri on Saturday (the Tigers have 474 total on the season). But this isn't so much about Florida as it is about Ohio State.
Only Maryland, Hawaii and Georgia State have kicked for fewer touchbacks this season than Ohio State's six - and the Buckeyes kick off a lot more than those teams do because kickoffs are a team's reward for scoring (the nation's 2nd-ranked scoring offense, hooray!) No FBS team is remotely close to allowing the 988 return yards the Buckeyes have given up in 2017. 
Special teams as a whole have been a bit of an adventure the past few seasons, from The Jalin Marshall Experience™ to directly empowering Penn State to go on its run last season by giving away the 2016 game on multiple blocked kicks, to the history being made this season with what is arguably the weakest unit of any kind Ohio State has put on the field since Meyer's arrival. Zone Six last year, 2013 secondary - you've got competition.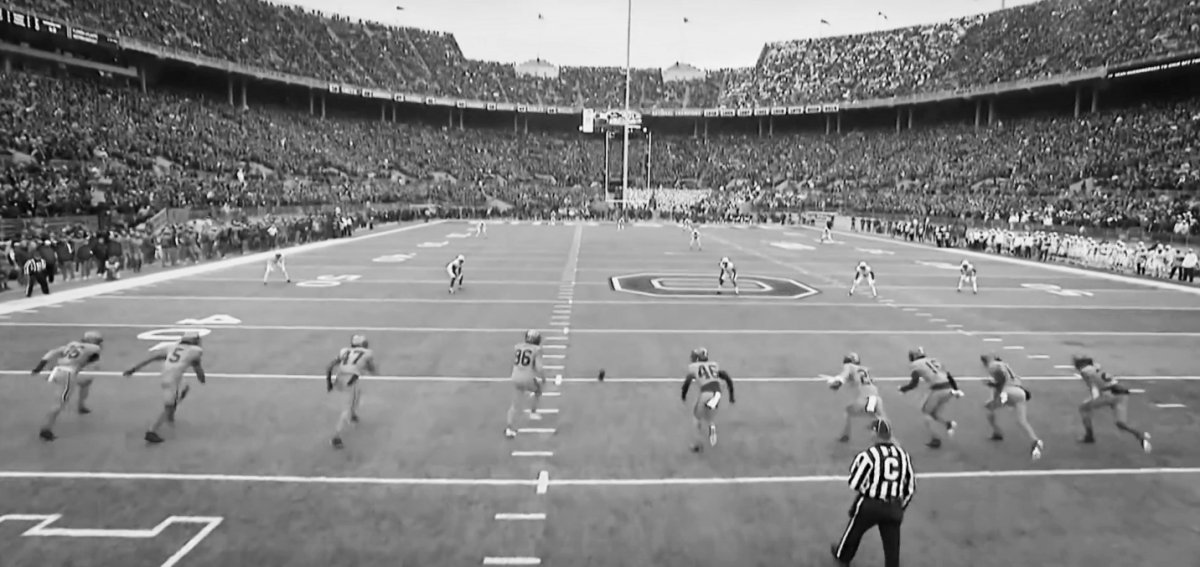 Florida kicker Eddie Pineiro averaged 64.8 yards per kickoff last season, which means his arcs were landing at the two-and-a-half inch line in 2016. He's averaging 2.5 inches more this season in going 28/28 on getting touchbacks. The Buckeye kickers have kicked off 30 more times than Pineiro has. Your kickoff envy should end there. You wouldn't trade points for touchbacks. Florida would.
Even more confounding, Ohio State is a respectable 41st in average yards per return at 19 even, and just one yard from being in the top 20 nationally. Granted, returning a kick 19 yards looks a lot different when it's received at the 15 than when it's caught at Pineiro's 2.5 inch line.
The strategy isn't crazy. The execution is - let's be kind - spotty at best.
So what are the fixes for the Buckeyes that reduce kickoff headaches and return yardage while lowering starting field position?
Score less
Personnel changes
Touchbacks
Kick the ball at a fat guy
Change the strategy
Tweak responsibilities
Score more
Score less - the Buckeyes fewest kickoffs this season came against Oklahoma. Points are good. That's just the fear talking.

Personnel changes - early NFL entries have bitten the Buckeye secondary, which in turn has impacted the gunners covering kicks. This unit has the fewest freaks of the nine. Plugging in for underperforming players means potentially compromising depth elsewhere, on football's most dangerous play. However, Urban said this was going to happen ahead of the Iowa game. Enough is Enough, Volume IX.

Touchbacks - ah, you thought of that too. Apparently it's not possible. Weird, I know.

Kick the ball at a fat guy - it's a trade-off, as fatties generally line up where good field position lives. A live ball is always a possibility when you kick at a fatty, which makes this a better option than kicking it out of bounds. That said, a 240-lb Penn State linebacker returned a kickoff 59 yards on Saturday. And yes, 35 pounds and two years ago he was actually the Lions' leading kick returner. Danger lurks everywhere.

Change the strategy - Urban has discussed this at length. I've written about Ohio State football for 20 years now and cannot remember a single season or even week when Kickoff Strategy was a topic of conversation. Also, the numbers supporting the mortar kick - the current strategy - are clear. Execute properly and the other team scores fewer points.

Tweak responsibilities - there are guys who keep lane integrity to force the returner into progressively worse options, and there are freelancers whose jobs are see-ball-get-ball. You can Zapruder the bad kicks and the bad follow-through, point fingers and either or repeal and replace who's at fault. One thing is clear - on both Maryland and Penn State's touchdowns, the ballcarrier was gone when he was still inside the 20. Catastrophic fail.

Score more - see, this works too. By the way, lost in all of this - Ohio State is 2nd nationally in kick return yardage themselves, and no team that hasn't housed a kickoff is ranked higher. Wyoming (No.1) and Penn State (No.3) have each housed two.
There's something to be said about the Buckeyes having such a glaring deficiency heading into November while being ranked outside of the CFP's top four providing additional energy, ambition and urgency to the cause. It's far better to be pursuing a goal than fending off challengers. Consider how much more successful The Chase was compared to The Grind.
On top of that, Ohio State absorbed a flurry of questionable calls that swung points in Penn State's direction and had kickoff fiascos for the ages - and yet still beat the No.2 team in the country. The Buckeyes have mended many of their deficiencies over the past month and have just one more glaring problem to manage as they attempt to make college football history.
The Gators are making that history their way. The Buckeyes will do it their own.